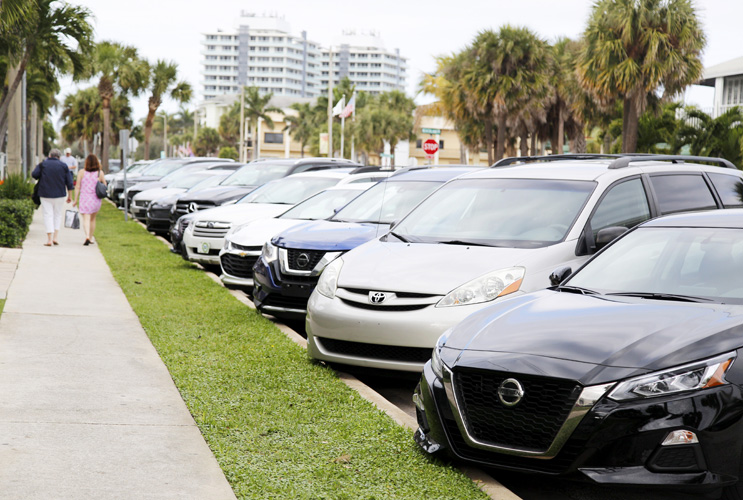 Shop operators along Ocean Drive are cautiously optimistic Vero Beach will finally find a solution to the parking shortage that's been plaguing the beachside area for at least a decade before it begins to take a more serious financial toll on businesses.
The optimism comes after the Vero Beach City Council voted to authorize planning and engineering firm Kimley-Horn to proceed with the second phase of a parking study of the Oceanside District to formulate fixes for the persistent parking problem – particularly on Ocean Drive – at a cost of nearly $40,000.
Kimley-Horn just wrapped up the first phase of the study, which cost roughly $31,000, in which the company analyzed more than 3,000 beachside parking places spaces, to see whom the spaces belong to and how they are being used.
The study found a majority of the 3,108 beachside parking spaces are privately owned, with only about 750 public spaces. During peak demand, on Thursday, March 14 at 2 p.m., all off-street public parking was taken and 89 percent of on-street public spaces were occupied, the study found. Meanwhile there was a surplus of 655 private parking spaces.
"Public parking is very well utilized," Kimley-Horn engineer David Taxman told the council on Tuesday, May 21.
Phase two of the study will use the data collected in March and should be completed by the end of August, culminating in a presentation of possible solutions to the council, which will make a determination on how best to address the issue.
The city and its consultants will hold public meetings to garner input from the community and businesses as part of the study. Some preliminary solutions include building a parking garage, paid parking and city partnerships with private lots to free up more spots, according to city documents.
Shop owners and employees attribute most of the parking shortage to hotel and resort workers who occupy many of the available public spaces and to beachgoers who ignore the two- or three-hour parking limits for on-street parking, instead opting to pay the relatively cheap $20 ticket to park all day.
They say the problem is a serious one that needs resolution.
"On a scale of one to 10, I'd say the problem is a nine," said Kathleen Wagner, an employee at Charleston Shoe Co. on Ocean Drive. "It hurts businesses. It frustrates the heck out of employees – we have to keep moving our cars every two to three hours – and I just think the bottom line is people will stop coming here if they can't find parking."
Joanne Robinson, a sales associate at European fashion store Mélange on Ocean Drive, echoed Wagner's sentiment, stressing if a fix isn't found soon, businesses will take a significant financial hit. Fed up customers have already given up on shopping when parking spaces are packed, she added.
"People aren't going to be able to stay in business and you're going to lose your shops here and that's going to affect all of Vero Beach and the whole county," Robinson said. "I won't have a job if they don't get it rectified."
Nancy Cook, owner of Twig Swim & Sportswear Shop on Ocean Drive, believes center-street parking on Cardinal Drive could create more parking spaces. Setbacks and multiple entrances and exits into private businesses could also be adjusted to make more spaces. Cook also suggests paid parking could help pay for beach maintenance and streetscape improvements.
"They just need to reconfigure what they have," Cook said of the city.
"What we'd like to see is that it's easier to park where you want to park and that if you wanted to spend more time in that area, you could," Mayor Val Zudans said.
"This parking problem . . . hasn't gone away, so we're doing something different to address it," said Matthew Mitts, acting city engineer referring to the two-part study. "We've come up with solutions internally, but none of them have been palatable with the community."
While considering solutions, the city and its consultants will factor in anticipated population growth, especially out west, Mitts said.