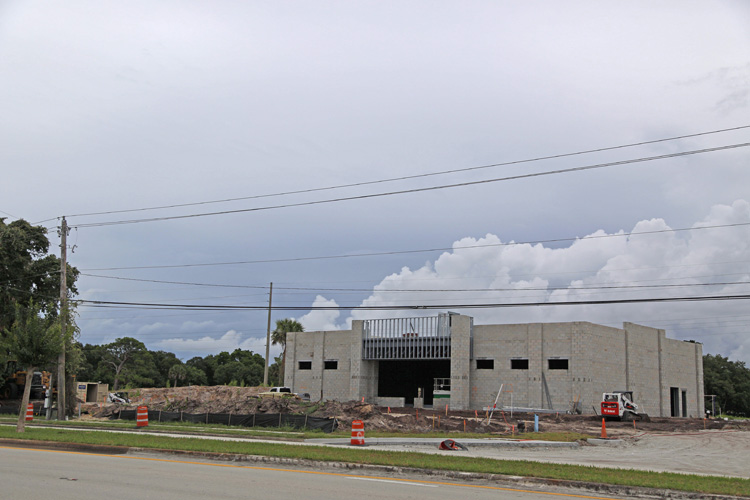 A new commercial development on the south side of State Road 60 west of 43rd Avenue is slated to become a home for the county's fourth AutoZone.
Construction is already well underway for an AutoZone store at 4905 20th Street while developers are expected to submit plans for a carwash next door at 4915 20th Street.
The triangular 3.6-acre development property is situated between Route 60/20th Street and the main relief canal, adjacent to Sonny's Barbeque. The land was purchased in two parcels in December 2018 for an undisclosed amount by Palmetto Vero Beach-20th Street, a Florida limited liability company formed by a Georgia developer.
Some idea of the property's value can be gleaned from county records, which show one of the parcels, totaling 2.1 acres, was sold earlier in 2018 for $1.53 million.
The 5,210-square-foot carwash is slated to have one drive-thru carwash bay according to preliminary plans along with a number of self-service bays. Project engineers hope to submit formal plans to the county in a month.
The development has already received a green light from the county for site improvements to make it ready for development. The carwash will likely be manned by attendants there to assist customers – not to detail cars – project engineer Joseph Schulke for Vero Beach-based Schulke, Bittle & Stoddard, said.
"The [final] plans are going to be substantially the same [as the preliminary plans]," Schulke said. "The changes we're making are moving some pavement around in an effort to save some of the oak trees."
Schulke anticipates the approval process to take seven to 10 months. Construction will likely take six months, he said.
Meanwhile, construction on the 6,815-square-foot AutoZone is well underway, with the building's structure beginning to rise. Palmetto Vero Beach-20th Street received site plan approval shortly after acquiring the land, according to a Jan. 3 letter from the county to CPH Engineers – the engineering firm heading the auto-parts store project.
The developer received a permit to begin work on March 29 and began clearing the land the following week, county officials said. When construction on the auto parts store will wrap up remains uncertain. The project's engineer told Vero Beach 32963 he was not authorized by AutoZone to comment on the development. AutoZone did not return calls for comment.
County officials are also uncertain when the project is expected to be completed, they said.
AutoZone, originally known as Auto Shack, had expanded to 194 stores in 13 states by 1984, according to the company's website. It grew quickly in the 80s and had 513 stores in 17 states by 1989. There are currently over 4,400 locations in 48 states. Annual revenue in the U.S. in 2017 was $10.89 billion. The new store will be the fourth AutoZone in the county, according to the company's website.