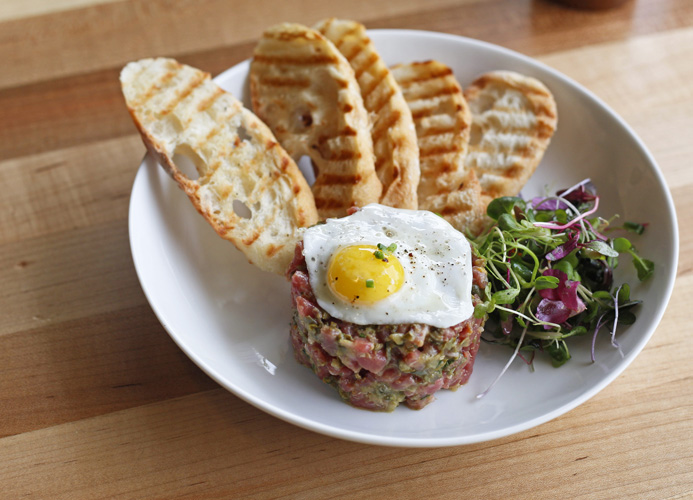 Five years after Chef Michael Lander closed the doors of his well-regarded Ocean Drive restaurant, Michael's Table, saying it was too small to be financially viable, he has returned to the dining wars with Michael's on 7th just off Miracle Mile.
Headline news: The most important news is that Chef Lander, who for the past several years has been only able to offer a very limited menu from an outpost in the Orchid Island Brewery, is now once again in a position to put his culinary creativity on full display.
Look & feel: Michael's on 7th occupies the space previously home to the popular frozen yogurt and sandwich shop Brain Freeze. It has been tastefully redecorated to impart the same feeling of casual elegance – i.e., no white tablecloths, but faux wood tabletops with placemats – as Lander's original restaurant on the island.
Food: Last Thursday night, our party of four sampled an assortment of appetizers, entrées and desserts.
For starters, we tried the curry cauliflower soup, the green goddess wedge salad and steak tartare appetizer. Our companion liked the steak tartare, topped by a quail egg, but thought it was a bit heavy on the capers. The creamy soup was absolutely delicious.
For entrees, I had the Chatham day boat scallops, my husband opted for the C.S. Farms prime beef short rib, one of our companions went for the meatloaf mignon wrapped in smoked bacon, and the other tried the carved Creekstone Farms prime striploin. It would be hard to say which of us was most enthused about his or her choice.
My pan-seared scallops were perfectly prepared, served with creamed corn, smoked bacon, scallions and broccoli. But my husband's short rib, braised in balsamic and port wine, was falling-apart tender, and was accompanied by a mac and cheese gratin that was among the best anywhere.
Our companions were equally enthusiastic about their choices. The medium-rare slices of striploin, served over a demi glaze, were termed "fantastic," and the meatloaf – wrapped in bacon – looked like a nice and juicy filet mignon atop the demi glaze. My husband wanted to go back the next night and give it a try.
The meal concluded with a couple of great desserts – a crème brulee and warm bread pudding surrounded by warm custard. Yum.
Drink: Michael's offers a small but adequate selection of wines and beer. (If you want a wider beer selection, Chef Lander plans to continue operating his mini-restaurant at the Orchid Island Brewery.)
Service: For a new restaurant, service was more than attentive.
Prices: Prices for starters range from $7 to $12, with entrées starting at $20 and topping out in the low $30s.
Initial impressions: This restaurant, which also is open for lunch Tuesday through Saturday, only serves dinner Thursday, Friday and Saturday. It currently is in the getting-better-every-week stage. With Lander – a former executive chef at The Moorings – at the helm, it should be a big winner.
I welcome your comments, and encourage you to send feedback to me at tina@verobeach32963.com.
The reviewer dines anonymously at restaurants at the expense of Vero Beach 32963.
Michael's on 7th
Hours: Dinner – Thursday-Saturday, 5:30 p.m. to 9 p.m.; Sunday Brunch – 11:30 a.m.
Beverages: Beer & Wine
Address: 2217 7th Avenue, Vero Beach
Phone: 772-213-8554