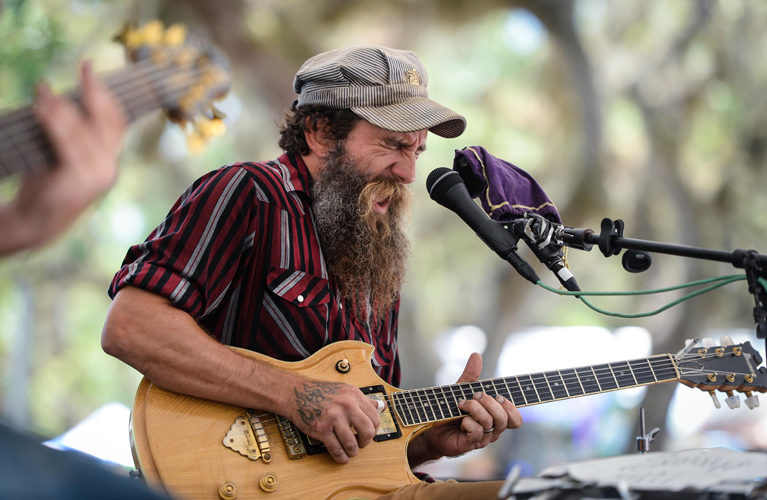 Enjoy a melange of local arts and crafts on the second day of summer: Spend a pleasant few hours this Sunday, June 22, at the Emerson Center's free Arts and Crafts Fair and you'll be reminded of the wealth of creative talent that flourishes in our community.
Bring your reusable totes in case you find some treasure beckoning to you from amongst the original works of ceramic, wood, fiber, soap, glass, jewelry, photography, sculpture and the ever-present "more." There'll be food trucks, too, and you won't even have to hang out in the (probably) sweltering Florida summertime heat. It's taking place inside.
And it's for a good cause – the nonprofit Bridges Early Learning Center, an all-year-long childcare provider to help working parents, which includes a summer camp for school-age kids. Time: 10 a.m., to 4 p.m. Admission: free. 772-480-4883.
Speaking of arts and crafts: The Kilted Mermaid is a cozy little neighborhood (beer and wine) pub in Vero's Historic Downtown, with an eclectic, artsy vibe, and live music on the weekends (with a focus on original music Fridays and Saturdays).
In addition to the regular music schedule, the Mermaid holds their very own music and art mini-fest in their own little alleyway (north side). It's aptly called the "Third Friday Alley Party and Mural Fundraiser." Why?
The Mer-folk are raising the wherewithal to buy art supplies and engage artists to create eight murals in downtown locations, to support local artists and amp up the vibrant, artsy ambiance even more. And this Friday, June 21, is it. Wine in hand, check out an alley-full of "spices, dog treats, handmade soaps and lotions, plants and macrame plant hangers, et cetera."
Here's the weekend music lineup: Friday, Jon Prestage brings the Alley Party tunes. The Orlando Sentinel calls Prestage "one of Florida's most eminent, and simply best, one-man bands and bluesmen," and he's sure popular at the Mermaid. Saturday it'll be singer/songwriter Trevor Bystrom and his Band.
An acoustic musician with an Indie vibe, Bystrom, according to GoTonight.com, plays "a wide range of instruments in various styles," among them a Weissenborn slide guitar, a 12-string guitar and an instrument he built himself, called a ngoni or African harp. Sunday brings Indiantown native Abby Owens to the mic.
Abby Owens, says her bio, is "a storyteller of songs," who plays roots-style music "inspired by the South," and usually about her own experiences. Owens' unique sound combines a "percussive acoustic guitar" style with smooth vocals. Times: Fridays and Saturdays, 8 p.m. to 11 p.m.; Sundays, 7 p.m. to 10 p.m.; Third Friday Alley Party, 6 p.m. to 9 p.m.
Nothing spells summer like live music and fireworks on iconic Daytona Beach. Soak in the sights and sounds of summer: Take a little road trip up to the Daytona Beach Boardwalk and Pier on any summer Friday and Saturday and join the festive crowd enjoying a free, live concert at the historic coquina bandshell in Oceanview Park.
This Friday, June 21, check out "Purple Masquerade," a Prince tribute, and Saturday, June 22, it's "Let it Be," a Beatles' tribute. "Purple Masquerade has toured extensively across the U.S. and Canada. In the role of Prince is El Cavitt, who was Prince's stunt double, and performed in several Prince videos.
"Let It Be" has, thus far, accumulated 20-plus years of research and performances to bring you their current show, with accurately recreated instrumentation and costumes, "from Hollywood to Halifax and Chicago to New Orleans," according to the show promo.
Parking is easy-peasy in the Ocean Center garage, then just take the crosswalk. You can rent a chair, buy a beverage and enjoy the free concert, and you'll want to stick around for the fireworks display that follows. Times: music – 7:15 p.m. to 9:30 p.m.; fireworks, 9:45 p.m. Admission: free. 386-255-0415.
There seems always to be something cool and fun happening at Lou's Blues in Indialantic. It's been called "a local legend" and the place "where the party's at." Could well be. The décor is eclectic and fun, the vibe is "relax-hang out-enjoy," there's food and drink, of course, and the broad patio overlooks the beach and the deep blue sea.
Ocean breezes come at no extra charge. The music menu is broad, too, from classic blues and rock to '70s, '80s, '90s hits. Take this weekend for example: Friday, June 21, 9:30 p.m. to 1:30 a.m., Umbrella Thieves takes the stage. They describe themselves as "a high-energy collective" that pride themselves on their ability to "pull off countless genres of music with precision and finesse."
Saturday, June 22, from 1 p.m. to 5 p.m. it's Michele Wood, a powerhouse soprano with amazing pipes and a diverse repertoire that, says her bio, "spans many decades and many styles of music." Thing really get cookin' as the night deepens, 9:30 p.m. and 1:30 a.m., when Vibe's got you covered, musically.
This dynamic group of young singer/musicians has rhythm, talent and vitality aplenty, taking you into tomorrow with R&B, jazz, soul and funk. Between Michele and Vibe, there's karaoke. Order that second one, and grab a mic.
Sunday, June 23, brings Love Valley, a rock band out of Merritt Island, summoning back that "Jam Band" sound from the '60s and '70s, 2 p.m. to 6 p.m.; and trop rock singer/songwriter John McDonald's music will have you kickin' your shoes off and getting your island on (there could be a conga line involved, you never know). 7 p.m. to 10 p.m. 321-779-2299.