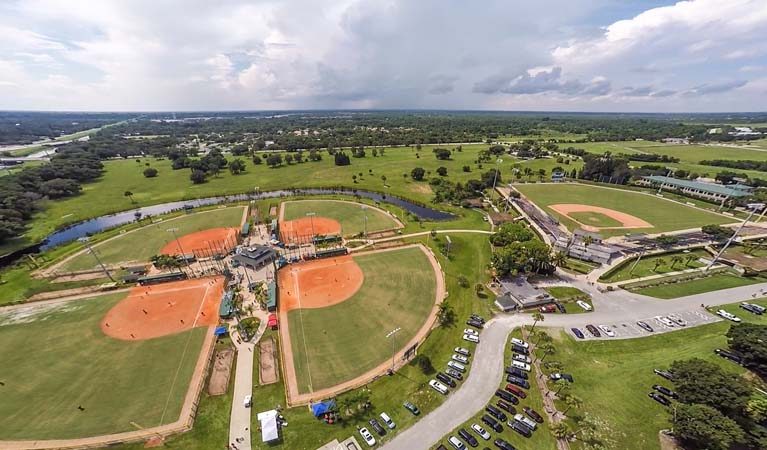 INDIAN RIVER COUNTY — The county is planning a major upgrade to the recently acquired defunct Dodgertown golf course.
A roughly mile-long walking trail is slated to be carved out on the long-shuttered course, providing the public improved accessibility to the adjacent historic Jackie Robinson Training Complex with a pedestrian connection to 43rd Avenue and Aviation Boulevard. The proposed walking trail, which has yet to be designed and could be longer than a mile upon completion, will likely include a pedestrian bridge connection to the cloverleaf fields and a new tree line buffer along 43rd Avenue, according to county documents.
Construction on the nearly $600,000 trail is expected to begin in six months and last another six months, county officials said.
The Indian River County Commission on Tuesday unanimously approved a $39,000 contract with MBV Engineering, Inc. for design services. The local engineering firm will also complete construction work, officials said Tuesday.
"We want it to be a nice public space where people can go and enjoy that and have a nice walking trail there," County Administrator Jason Brown said. "Dodgertown is very important for tourism and economic development for the community. This supports that and it's also a community amenity that people can use and get on the property and benefit from."
The Vero Beach City Council in February accepted the county's $2.45 million offer for the 35-acre former golf course after the county struck out on two previous offers. Under the terms of the sale, the city would get the initial chance to buy back the property should the county ever want to sell it. The county also promised to create the walking trail, landscaping and refrain from building a hotel on the property.
The county uses the defunct golf course for extra parking during special events at Jackie Robinson Training Complex, formerly Historic Dodgertown, and feared if the property sold to a private developer, it would lose the overflow spaces. The county needs around 2,000 parking spaces as part of its 10-year lease agreement with Major League Baseball for the Jackie Robinson Training Complex.