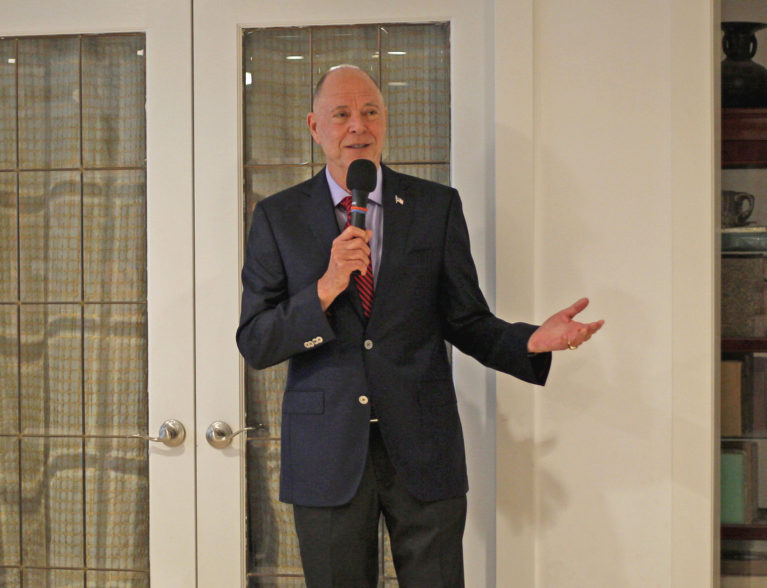 A Vero Beach veteran's group stepped up its efforts to raise $300,000 to create a monument that will honor Iraq and Afghanistan veterans during an all-star fund-raising event attended by dozens of the most powerful and influential leaders in Vero Beach and throughout Florida on Monday.
The event, which was held at the Central Island home of Mayor Val Zudans, featured keynote speaker, Congressman Bill Posey.
"We've raised $100,000 already, and hope to make a sizable dent from tonight's event," said Zudans, who is spearheading the effort along with the local organization, Next Generation Veterans. "The monument will honor those veterans who have fought in desert wars since 1990 and bring attention to the issues of suicide and post traumatic stress that many of these veterans suffer from."
The monument, which will be called Words From War, will stand more than 9 feet tall with a diameter of 18 feet and will be installed in Riverside Park when completed, said Bruce Cody, board chairman of Next Generation Veterans, a nonprofit organization. The concrete monument will feature three T-Walls which will have 48 words boldly cast into the walls. Those words will include "Freedom," "Pain," "Valor," "Honor," "Survive," and "Sacrifice" – chosen because they are considered a symbol of safety words known by all desert combat veterans.
Renowned Vero Beach sculptor Ross Power, said the base of the sculpture should be completed by Veterans Day and the completed monument is tentatively scheduled to be unveiled at a ribbon cutting event on Veterans Day 2020. Power, who is being paid $300,000 to create the sculpture, announced Monday that he will donate $150,000 of his commission to the Veterans Council of Indian River County. The funds will be used to provide mental health and social services to local veterans.
Power, who interviewed several veterans prior to starting work on the sculpture, said he was so moved by their stories he will also create a multimedia kiosk next to the monument which will allow local veterans and their families will be able to share their stories and memories.
Congressman Posey reminded event attendees that men and women in the military, and their families, make many day-to-day sacrifices so that everyone else can enjoy their lives and freedom.
"I'm here to honor our veterans," Posey said. "They are why we're here today speaking English."
To find out how to make a donation visit www.wordsfromwar.org, or donations can be dropped off or mailed to Next Generations Veterans, Inc., P.O. Box 650795, Vero Beach, FL 32965.