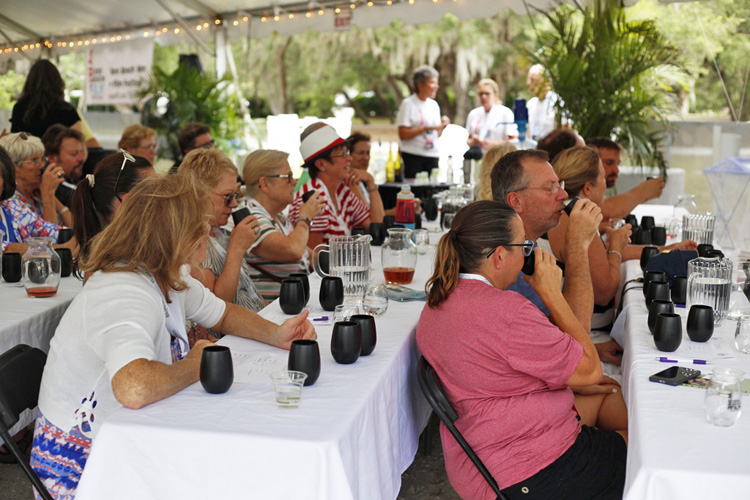 "We're all here at the fourth annual Vero Beach Wine and Film Festival to see some good movies," said an enthusiastic Jerusha Stewart, standing in a shining ball gown on the Riverside Theatre Stark Stage Friday night at the start of the Cinema Uncorked Awards, Screening and Opening Night Bash. "I started the film festival four years ago as a board member for Suncoast Mental Health Center, wanting to have a way to bring awareness to positive mental health. Having you all here tonight shows me that this is a cause that's near and dear to many of us here in our community."
"The theme for our festival every year is A Life Worth Living," added Anthony Aruffo, VBWFF board chair. "We like to think that everything that we do is a celebration of humanity, is a joyful celebration of everyone, and of everyone getting to know that their life matters."
Suncoast Mental Health was honored as the festival beneficiary, with Stewart presenting a $10,000 check to Debra Engle, Suncoast CEO. Suncoast provides mental health care to limited-income children and families on the Treasure Coast and Okeechobee.
"One in five Americans suffers from mental health issues at some time in their life. It's really important when you look around a room like this; it's here," said Engle, grateful for the exposure afforded by the festival. "The good news is that there are things that we can do about it."
Recalling the massacre of 17 people at Marjorie Stoneman Douglas High School, Engle said, "That really struck me." She added that this year's theme of A Wide Lens on Life is "about looking out there and it's about talking about it."
Additionally, Jeffrey Woolnough presented an inaugural VBWFF 2019 Visionary Honoree award to Casey Zilbert, whose film "Hang Time" was shown that evening.
"Making this film saved my life. I am one of the many New Zealanders with mental health issues," said Zilbert. Despite its impression as a beautiful paradise, Zilbert said New Zealand has the highest suicide rate in the western world and globally, the highest per capita incarceration rate.
"We are in trouble, and we don't know how to talk about it," said Zilbert, saying the film had given her a reason to live. "I am so glad I didn't kill myself when I thought I was going to, because I would not have known that my life could have been this."
Hoping to touch the lives of others, she "made a comedy to get the men in my world in my country to talk to each other. If we don't start talking about it, if we don't create a space for people to share themselves with each other unashamedly, we are dooming ourselves as a species."
Festival Filmmaker Awards were also presented, including to Documentary Feature winner Bo Landin, whose film "Toxic Puzzle," about research on algae blooms, hits close to home.
"This is the first film festival in Florida that dared to show this film," said Landin. He said they filmed around the world and saw the same issues in the Baltic Sea and Lake Erie as in China.
"It's the same fight the same struggle. The problem can be solved, but it needs political pressure, and it needs you to put that political pressure on people to stop the fertilizer."
Hermann Weiskopf, whose film "Otto Neururer – Hope through Darkness," won for Narrative Feature, had just presented it at the Vatican.
Weiskopf said that the day after, "I had the opportunity at the general audience to be in the first row and to talk to the Pope. I had tears in my eyes and could hardly speak to him. It was such a strong sensation. Film is a dream factory. I've worked in this industry for decades, but dreams can show up and come true."
Earlier in the weekend, the first Film Festival award was presented Thursday night at the Majestic 11 Theatre, a first-time venue. The Vero Visions Award was presented to Kenneth George, director of "Let the Lovely Sun In," about German-born Vero resident, Gerda Smith's escape from Russian occupiers after WWII.
"We love Kenneth George," said Stewart. "He is our director of digital media and education, so he's helped us grow our student film festival program to what it is."
Every seat was taken for the free event, which featured nine films by local filmmakers Amanda Cox, Dee Fairbanks Simpson, Xaque Gruber, Dale Metz, Chloe Cappelen, Ethan James, Bob Belinoff, Kenneth George and Dan McGee.
"It's going to be really great tonight because everything you are about to see – all these short films – are about Vero Beach," said Mayor Val Zudans. "The directors, the producers and the storylines fit in with Vero Beach."
Thursday evening also featured two sold-out special event dinners attended by lucky gourmands.
Chef Michael Howell brought a taste of his world-famous Nova Scotia-based Devour! The Food Film Fest, to town, debuting the Devour! Vero Beach Chefs & Shorts Gala Dinner at the Kimpton Vero Beach Hotel & Spa, pairing short films with courses prepared by Howell and several top Florida chefs.
Chef Norman Van Aken, of Miami's Ad Lib, paired his creamy cracked conch chowder with "Charlie Trotter: After Love There is Only Cuisine."
"When they asked me what I would like to make I chose something that I knew Charlie would love," said Van Aken. Trotter is considered "the best chef in the world" among his contemporaries.
Chefs gave detailed descriptions of their dishes and the vintners of the accompanying wine, with courses served after each associated film, fully immersing the epicures in film and food.
"These are really seasoned chefs. We collaborated well and it's great to be able to create in this environment," said Cobalt Chef Winston Guerrero. "It's inspiring."
It was a return engagement with a twist at the Vintner Dinner at Costa d'Este Resort. The Craft Brews + Fine Wines: The New Tastemakers event featured wines from the cellars of guest vintner Ali Nemo, considered one of the leading female winemakers in the United States, and local award-winning craft brews.
The liquid libations were paired with a tantalizing four-course dinner prepared by The Wave's Executive Chef Armando Galeas. From the chilled melon gazpacho to the mango white chocolate cheesecake, the evening was an adventurous explosion for the taste buds.
Among the intriguing Sip! See! Savor experiences offered throughout the festival in the WOW (World of Wine) Tasting Pavilion, one on Friday afternoon caused 'temporary blindness.' A full contingent of oenophiles at the Triple-Blind, Wine Tasting Sniff n' Sip hosted by VBWFF wine director Bob Stanley used their sniffers and sippers in an attempt to name that wine. To confound attendees, wines were served in blacked-out glasses, and the wine colors were also changed – think blue Pinot Grigio.
A select group of invitees gathered Friday afternoon at the JM Stringer Gallery for the VSP (Very Special Person) Welcome Party, which was abuzz with excited chatter, the camaraderie palpable.
"Film is art. The film festival is a wonderful thing for Vero Beach and it's part of the arts," said John Stringer, event host with Caesar Mistretta. "It's celebrating creative personalities and valuing that. We need more of that."
"The film premiered in Santa Barbara, but Vero Beach is rad," said Nic Davis, whose star-studded documentary "Enormous: The Gorge Story" is about a musical venue in the middle of nowhere in Washington state. "For a town as small as Vero Beach to have the caliber of a festival that you do is a tribute to Jerusha Stewart. It's an incredibly well-done festival. The community here is fantastic."
"This is a very interesting festival. The town is small, and people are so welcoming," said Gai Corley. An experienced fester who has attended Palm Springs, Sedona and Montreal festivals, Corley traveled from Mississippi for the festival with her Dallas-based daughter.
Film fans later packed the WOW Tent for the Opening Night Bash, where they sampled wines and craft brews, nibbled on a feast created by Chef Ashley Allison, and debated their favorite films.
Beth Mendelson, who debuted last year with "Boko Haram" and this year brought "After Parkland," was thrilled to return. She was drawn as much by the people of Vero Beach as the festival itself.
"I was honored to be selected last year and I'm equally happy to come back this year. It's a great festival. It's got the makings of a really great festival," said Mendelson. "Five years from now, this is going to be built up."
"To have something like this in Vero Beach is amazing as far as broadening our horizons in what's usually a conservative town," said Margot Kornick.
Stewart announced the addition of a second festival – the Vero Beach Wine and Film Festival West – to be held Feb. 1-2 at Vero Beach Outlets. For more information, visit VBWFF.
Saturday and Sunday VBWFF festivities will be featured in our June 20 issue.
Filmmaker Festival Award winners:
Animated Shorts: Don't Lose Heart, Christine Arnold
Documentary Feature: Toxic Puzzle, Bo Landin
Documentary Short: Warbonnet: An Odyssey of Honor, John Harrington
Dramatic Short Film: The Musician, Mark Schimmel
Comedy Short Film: Sorry Not Sorry, Monique Sorgen
Narrative Feature: Otto Neururer – Hope through Darkness, Hermann Weiskopf
Devour! Vero Beach Chefs & Shorts
Photos: Denise Ritchie
Vero Visions Awards
Photos: Kaila Jones
Craft Brews & Fine Wines Vintner Dinner
Photos: Denise Ritchie
Double Blind Wine Tasting
Photos: Kaila Jones and Stephanie LaBaff
VSP Welcome Party
Photos: Denise Ritchie