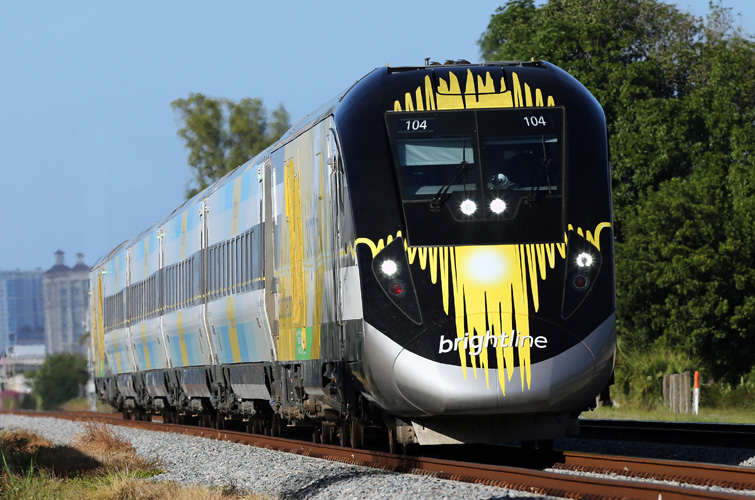 Virgin Trains USA spokesman Rusty Roberts touted the passenger rail project as safe and lucrative in the face of protestations by several skeptics during a recent Indian River County Republican Club dinner.
An opponent of the project, Paul Westcott, argued it's too dangerous to speed 34 trains per day through the Treasure Coast at 110 mph and Virgin Trains will never attract enough riders to earn a profit.
Robert's ventured into a veritable lion's den of opposition to the train project on June 6 at Grand Harbor Beach and Golf Club. The all-Republican County Commission is pursuing state and federal lawsuits challenging the project and state Sen. Debbie Mayfield, R-Vero Beach, has proposed legislation to beef up state regulation of passenger trains.
Virgin Trains plans to start construction in Indian River County this year on upgrades to Florida East Coast Railway tracks and crossings for the extension of passenger rail service between West Palm Beach and Orlando in 2022.
Virgin Trains and FECR, which were once under common ownership, have a deal to share the tracks for 34 passenger trains and approximately 20 freight trains per day.
Virgin Trains expects annual ridership to eventually reach 6 million, company records show. Virgin Trains carried about 244,000 passengers between Miami and West Palm Beach in the first three months of 2019, many fewer passengers than the company had projected for that time period.
"That ridership number continues to grow," Roberts told the audience of more than 100. "That's part of the plan. We know you can't build something like this and make it profitable from Day 1. There's a ramp up period."
"This is the best corridor in the country to build a train like this and make it successful," Roberts said. "Orlando is the most visited city in America. Miami and South Florida is the capital of Latin America. It is an international city. The synergy between those two cities and those two regions in Southern Florida cannot be matched."
Virgin Trains officials are conferring with Treasure and Space Coast government officials about construction plans and detours around crossings that are closed for construction, Roberts said.
Plans call for the installation of new railroad crossing signal systems, the construction a second main track and the replacement of 19 bridges, a company news release says.
"We're going to be closing crossings," Roberts said. "They're going to be rebuilt to what we call sealed corridor standards."
"Up here, you're going to see, almost every intersection is going to have what they call four 'quad gates,'" Roberts said. "Instead of two gates, it's going to be four (with) a center median," Robert said. "Anything to try to keep a car from trying to beat the train by circumnavigating around the gates, which happens quite a bit."
A safety education program will be undertaken in schools and neighborhoods near the train tracks to teach children to stay away from the tracks, Roberts said.
"In the Palm Beach County school system, we mailed 45,000 pieces of mail to the school children who live near train tracks," Roberts said. "We make the kids sign little pledge cards that say, 'I will not walk on the tracks.'"
"Operational safety is very important, as we know," Roberts said.
Several club members questioned Roberts about safety issues, particularly about the dangers of at-grade railroad crossings and the merits of installing fencing along the tracks to ward off trespassers.
A total of 22 people have been killed in mishaps on the FECR tracks since the first Virgin Trains started rolling in early 2018, published reports indicate.
"Recently my wife and I took the London to Paris to Nice Eurostar. And I don't remember seeing a single level crossing on the whole trip," said Mike Springhold of Vero Beach. "So my question for Virgin is: How can Virgin possibly justify using [that type of] railroad crossings safely when the rest of the world realizes its unsafe?"
Roberts responded Eurostar travels faster than Virgin Trains and federal regulations allow at-grade crossings for trains going up to 110 mph.
The Virgin Trains tracks will be elevated along State Road 528 from Cocoa into Orlando International Airport where the train will travel 125 mph, Roberts said.
"There are two other systems, one is now operating, one is about to start operating, at 110 mph at-grade," Roberts said. "That's Detroit to Chicago and St. Louis to Chicago. It is operating safely. We expect to do that as well."
Virgin Trains is willing to install fencing along the tracks where local officials believe it is needed, but wants the governments to pick up the maintenance costs, Roberts said.
"We will put fencing anywhere a community thinks they want a fence, even if we think it won't have a beneficial effect," Roberts said. "Safety is a shared responsibility. It's just not on the railroad, it's also on the community."
"It doesn't make sense to fence an entire rail corridor," Roberts said. "The Federal Railroad Administration has studied fencing three times since 1972. And each time they said the fencing would be ineffective."
So far, there have been no reports of Virgin Trains blocking emergency vehicles at railroad crossings in South Florida, Roberts said.
It takes a nine-car Virgin Train 48 seconds to traverse a railroad crossing, Roberts said.
Westcott asserted the project's financing is shaky and questioned whether taxpayers would eventually be left to pay the bills for construction and operations.
Ratings agencies did not grade the $1.75 billion in private activity bonds Virgin Trains USA sold in April to finance the construction between West Palm Beach and Orlando, Westcott noted.
When Westcott asked the audience, "What do you call a bond that is not rated?" several attendees responded: "Junk."
"The default rate for these types of bonds is . . . 36 times higher than rated bonds," Westcott said.
People who travel between Miami and Orlando will continue driving cars because it's cheaper than Virgin Trains and nearly as fast, Westcott said.
"We need to truly look at the financial feasibility because my concern is sometime in the future the bonds may not be able to be supportable," Westcott said. "Do they really have enough money right now to do it and where is it going to come from if they don't?"
"A Japanese rail is the only one generating a profit without government support," Westcott said. "If the ridership doesn't support it, who is going to?"
But Roberts argued Amtrak makes a profit on its Acela line in the northeast and as well as lines to Washington, D.C., from Norfolk and Lynchburg, Virgina.
"We believe that we're on track with these other railroads towards economic sustainability," Roberts said. "We believe we're bringing a product everybody wants to use and wants to invest in."
He claimed the bonds were not rated because there are no comparable railroad projects on which to base an assessment.
"This is the first time anyone has tried to do this," Robert said. "If you don't have a 'comp,' it's hard to get rating."
"But the interest from investors was there and we're very excited about that," Roberts said. "Sixty-seven investors bought those bonds, so 67 investors believe that this project can work. In fact, the run on the private activity bonds was so strong, we had subscriptions to sell $4 billion worth."
"We are the first and only privately-owned and operated intercity passenger rail startup in just about a century," Roberts said. "So, we are blazing new trails. We are a disruptor in the industry."