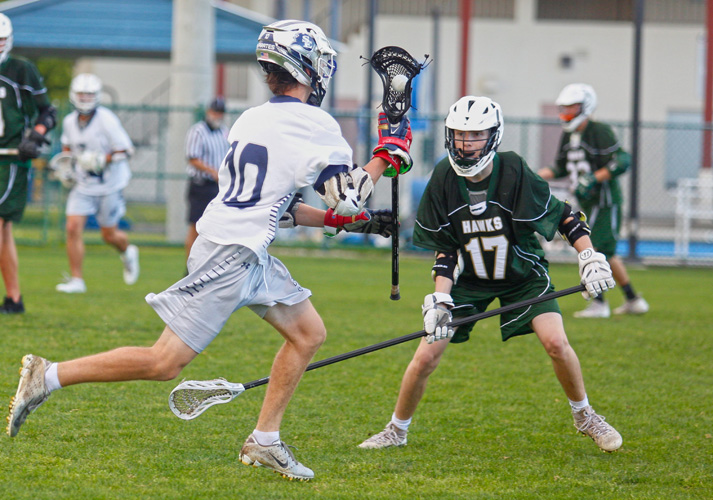 St. Ed's varsity lacrosse teams are moving ever closer to a status reminiscent of two decades ago when the girls and boys were collecting a total of five state championships. That was back when lacrosse was first being introduced to high school sports in Florida. Today it is fully established in the mainstream and more popular than ever in schools and clubs.
We chronicled recently the rebirth of the girls program under Rick Cassara, and this past season the boys kept pace by capturing a third straight district championship in Doug Bailey's fourth year as head coach.
"In particular we had a lot of different people step up on a more consistent basis," Bailey explained. "The players have raised their lacrosse IQ. They are not only playing hard, they are playing smart. That made for a pleasurable season in that people from other schools watching our games noticed that visibly. We were multifaceted and a tough team to plan for."
In all likelihood that will be the case again next year when everyone is eligible to return with the exception of one lone graduate, Will Sternberg. That very tough loss should be partially offset by realistic optimism for the Pirates' chances to get to the "next tier" in 2020.
"Getting to the next tier of lacrosse in Florida is really a matter of our players continuing to grow physically and developing a little more mentally," Bailey said. "The next tier is to consistently be a top ten team in the state rankings.
"We were not inside the top 10 this year and I think that has a lot do with not having a lot of seniors. Physical maturity and more of a veteran presence on the field will help us get to that level. I wasn't necessarily expecting to attain that this year because we had a lot of ninth- and 10th-graders.
"My team will tell you that I did not settle for not being there this year, but next year I am certainly expecting to be there. We had a lot of nice juniors and all of them contributed in some way, but not all of them were ready to be the huge physical presence we needed on the field.
"I was pleased that we were able to play lacrosse that looked like lacrosse. You would only be able to appreciate that if you played, coached or been around teams that really focused on learning the game and playing smart. We are getting there – we were not always there this year – but we are getting there."
Measured by those standards, there is not all that far to go. The 2019 Pirates were 14-5 overall. They were 5-0 in regular-season district play before tacking on two more in the postseason tourney to claim the championship. The five defeats were all by teams in the top 15. St. Ed's climbed to No. 13 in the final statewide poll by MaxPreps.
Hence the bright outlook for next year with as many as 20 players coming off a season of varsity experience.
The attack was led by Ryan Bird (42 goals), Oscar Lindenthal (41 goals) and Joshua Pusser (23 goals). Midfielders Luke Jayne (team leader in points with 35 goals and 30 assists), Reid Bartosch (27 goals) and Drew Sternberg (16 goals) provided additional firepower.
Goalie Liam Murphy had a 55 percent save rate behind a defense anchored by Sam Cardosi, Sam Toomey, Drew Eidemueller, Brennan Wolfe and Ian Horvit. Opponents were limited to single-digit scoring 14 times.
"We have the bulk of our kids coming back and we have some great kids coming up," Bailey said, referencing the 13-0-1 record of the middle school team. "To be able to hang in there with great competition we want to develop the patience, discipline and fundamentals during the regular season that are required for success in the playoff hunt."
If the blueprint remains intact, and the players stay healthy, the Pirates can crack that top 10 ceiling in short order. Bailey is anxious to check that box, but he has another, more far-reaching challenge in mind.
"One of my goals was to design a program in which kids wanted to go on and play in college. If they have the ability, and the opportunity, we want to help them get there. The next thing is that once they get there, how to be successful. They will have the knowledge base, but what happens from there will be based on their desire.
"The first priority is the classroom. St. Edward's helps in that regard, but I also believe that a multi-sport athlete is best equipped for success, and there are a lot of good coaches here. The athlete is able to experience the richness of learning from coaches with different approaches, systems and expectations.
"That is exactly what you need when you get to the practice field in college."