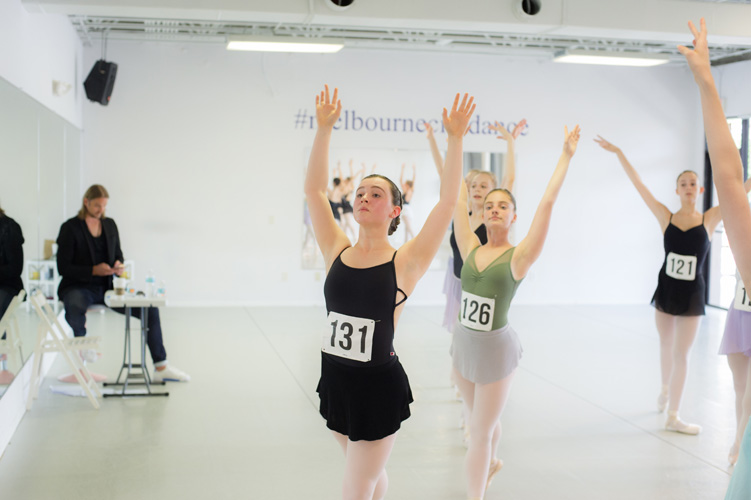 The Christmas holidays may be half a year away, but excitement is already mounting, as two nearby dance companies prepare to delight audiences with elaborate productions of "Swan Lake" and "The Nutcracker," both in December at the Maxwell C. King Center for the Performing Arts.
An intricate ballet comes together like a complex recipe, with a talented and graceful cast needed as a key ingredient. Finding that a perfectly blended cast requires an arduous yet exhilarating audition process, one that took place recently as dynamic young dancers from across the region danced their hearts out in open auditions, hoping for a coveted role.
An elegant, sumptuous classic that virtually every ballerina dreams to star in one day, "Swan Lake" is being presented by the Melbourne City Ballet Theatre in collaboration with the National Ballet Theatre of Odessa. The Satellite Symphonic Orchestra will be providing live accompaniment from the pit.
"The Nutcracker," a perennial crowd-pleaser that remains a magnificent annual holiday tradition, is being performed by members of the Space Coast Ballet Company, accompanied by the Brevard Symphony Orchestra.
Auditions for the two productions were held within the last month – "The Nutcracker" on May 19 and "Swan Lake" the afternoon of June 2. Hopefuls were slotted into times by age group, with seasoned dancers and beginners competing alongside their peers.
Ninety-four dancers, ages 3 and up and hailing from all over Central Florida, arrived at the Melbourne City Dance Center for the "Swan Lake" auditions, primed and ready to go; their hair in perfect buns and wearing colorful leotards, tights and skirts, with ballet or pointe shoes.
Available roles ranged in complexity – from parts created for tiny tots and teenaged pointe dancers to those for seasoned adults. Some dancers were cast in minor or cameo parts, while others got roles that will provide them with a great deal of time in the spotlight. Role selections all come down to their demonstrating the qualities that the artistic directors are seeking.
"We test their coordination, listening to the words [of the music], and [how well they listen] to the teacher as well," said Ekaterina Vaganova-Yachmennikov.
"It's more about discipline," added Artem Yachmennikov, the other half of the husband-and-wife duo who co-directs the show. This show follows their widely acclaimed 2018 production of "Sleeping Beauty."
Palpable nervous energy buzzed throughout the studio, as dozens of auditioners continued their warm-ups while waiting their turn.
"I stretched at home, then when I got here I stretched again. Then I made sure that my shoes were nice and broken in," said Elizabeth Wallace, 17, as if ticking off a pre-flight checklist. "I made sure my hair was all out of my face, which is sometimes really hard when you have long hair."
As part of the audition, dancers were shown a combination of dance steps which they had to learn on the spot. After committing the pieces of the dance to memory, they performed the steps for the artistic directors' experienced, discerning eyes.
"It's kind of scary, but it's also fun knowing that you could possibly be in this show. It's more fun for me," said 13-year-old Claire King.
All 94 dancers were chosen for roles in "Swan Lake," with everyone who tried their very best earning a role, large or small.
A production such as "Swan Lake" requires hundreds of hours of dedicated rehearsal time. Even during the school break for summer, dancers will meet twice a week, Wednesdays and Saturdays, with different groups rotating in and out for a full eight hours each day.
"This is a really professional ballet, so we need to see quality. That is why we need so many rehearsals and hours," explained Artem Yachmennikov.
"Swan Lake" performances will be held at 7 p.m. Dec. 27 and at 2 p.m. Dec. 28 at the King Center on the Melbourne campus of Eastern Florida State College.
Three weeks prior, the Space Coast Ballet Company will present the holiday classic "The Nutcracker" on the King Center stage for the 17th time. This ballet, under the direction of artistic directors Ekaterina Shchelkanova and Anton Boytsov, will have its performances at 2 p.m. and 7 p.m. on Dec. 7, with tickets on sale Aug. 17.
More than 100 dancers, ranging in age from 3 to 78, traveled from Sebastian to Titusville in May to audition for "The Nutcracker," with 98 cast in the production. Those dancers expect to rehearse more than 200 hours before the performance. Additional auditions for certain roles will be held in August for anyone who was unable to try out earlier.
"Ninety-eight percent [of local dancers] will be cast in roles that are suitable for them. We are also the only company on the Space Coast that is not associated with a particular studio," said Loretta Grella, vice chairman of the Space Coast Ballet Company board.
With parts cast, the hard work begins for the two must-see holiday treats.
For performance details and ticket information, visit kingcenter.com or call 321-242-2219.
Article by: Anna Grenevicki, correspondent