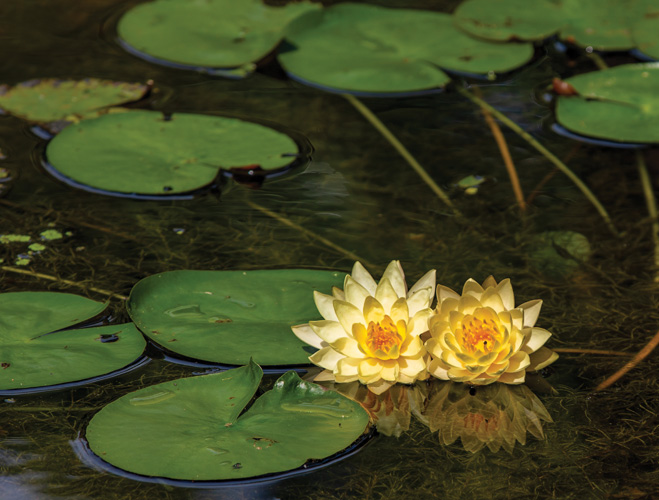 A not-to-be-missed botanical treat returns this Saturday. It's the annual McKee Botanical Garden's centerpiece event, the Waterlily Celebration, a gorgeous, joyful day to share with family and pals, or an enriching solitary experience.
The Garden, brimming with beauty all year long, outdoes itself on this day, when 80 waterlily varieties and more than 300 potted and 100 free-range plants go Petals Forward to put on a dazzling show, proving once again that Mother Nature's artistry is unparalleled. Scattered throughout the garden will be plein air artists, capturing the beauty on canvas, in a variety of styles. Peek over their shoulders and see how they do it. In the Hall of Giants, you'll find the blooms interpreted in another medium: all entries in the Water Lily Photography competition will be on display. Water lilies are right up there with pelicans in Florida photography popularity, and you can be sure there'll be some gorgeous, creative shots. A popular feature of the celebration is the hands-on repotting demonstration, led by one of the Garden's experts, standing in a pond, ankle-deep in a waterlily favorite – muck. "Waterlilies love muck." Join the crowd that always gathers on the bank, listening intently as the water gardener hoists a dripping lily, its legs dangling soggily. Here, invariably, as visitors stroll around the ponds and along the paths, they slow their pace, speak softly to one another, pause often, smile a lot. A tip: both day- and night-blooming lily varieties will be on display so, to be sure you see the night-blooming residents before they fold their petals, arrive at 8:30 a.m. Time: 8:30 a.m. to 2 p.m. Admission: adults – $10, seniors – $9, ages 3-12 – $5, McKee members and children under 3 – free. 772-794-0601.
One of Historic Downtown Vero's excellent galleries, Flametree Clay Art Gallery, presents its June exhibit "Made in Vero," a diverse collection of works by its resident and exhibiting artists. I'm a longtime fan of clay art in most all its forms: My most recent piece, a totally charming, obviously irresistible armadillo, was acquired there a few years back. You can easily spend a few pleasant hours visiting the downtown galleries, grab a bit of lunch and a cold beverage at one of the nearby restaurants and pubs. It's becoming an art-centric destination. Flametree resident artists include: Rae Marie Crisel, Keko Ekonomou and Heidi Hill, joined by exhibiting artists John Aruffo, Jim Cohoe, Mary Goetz, Judi Nickelson, Judy Nye, Ginny Piech Street (love the name); and jewelry artists, Myrna Renkert and Leah Cody. "Made in Vero runs through June 30. Gallery hours: Tuesday through Thursday, 11 a.m. to 4 p.m.; Friday, 11 a.m. to 6 p.m.; Saturday 1 p.m. to 6 p.m. Closed Sunday and Monday. 772-202-2801.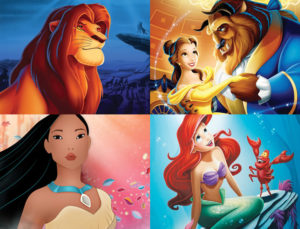 Disney and Broadway – a sure-fire combo. Taking a line from Disney's musical "Beauty and the Beast," the terrific Space Coast Symphony brings it again, this Sunday, June 16, at Community Church in Vero Beach, inviting you to "be our guest," with its 2019-2020 season opener "Disney and Broadway." If the Disney tunes don't get you humming along, the Broadway numbers will: Disney's "Beauty and the Beast," "The Little Mermaid," "Mary Poppins," " Aladdin," "The Lion King" and "Pocahontas," and from Broadway musicals "Funny Girl," "Evita," "Grease!," "Chicago," "Showboat," "Fiddler on the Roof" and "Mamma Mia." See what I mean? Maestro Aaron Collins says it succinctly: "Disney's musical accomplishments are astounding. For nearly 80 years, Walt Disney has produced some of the greatest songs in cinema history. When all is said and done, you gotta love the mouse." Word. To nourish the love of music as soon as possible, the SCSO has cleverly created the nationally recognized 18 and Under Club, wherein students 18 and younger or with a college student ID can attend the concerts for free. The lobby tickets desks have these tickets, pre-concert. Just show ID and ask. Time: 3 p.m. Tickets: $25 in advance, $30 at the door. 855-252-7276.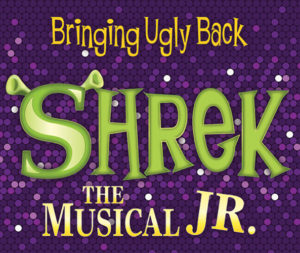 Beauty is in the eye of the ogre. Kids, parents, grands, neighbors – everybody will enjoy this one. Guaranteed. It's Riverside Theatre for Kids summer camp students' presentation of "Shrek The Musical JR." this coming Friday and Saturday, June 21 and 22. If you have never seen one of this group's performances, you're in for a major treat. As Vero Beach 32963's theater writer aptly puts it, the nationally recognized, award-winning Riverside Theatre for Kids "is not your grandfather's children's theatre." The professional staff at Riverside makes sure of that. The summer shows are way more than a cut above the norm. They're polished performances, with "grander scenery, flashier lighting, better acoustics and costumes, all designed by Riverside's professionals." And, as director Kevin Quillinan says, "we hold a high bar which the kids always meet." "Shrek The Musical JR." is the irreverent, romantic, twisted fairy tale of a very large, very green, very disgruntled ogre and his accidental pal, a wisecracking donkey. When Shrek finds his swamp invaded by fairytale misfits, banished by the Lord Farquaad, "a tiny terror with big ambitions," the unlikely pair sets out to confront Farquaad and, in typical fairy tale fashion, rescue the beautiful Princess Fiona, who has one or two secrets of her own. Time: June 21, 11 a.m., 2 p.m. and 7 p.m.; June 22, 2 p.m. and 7 p.m. Tickets: $10. 772-231-6990.