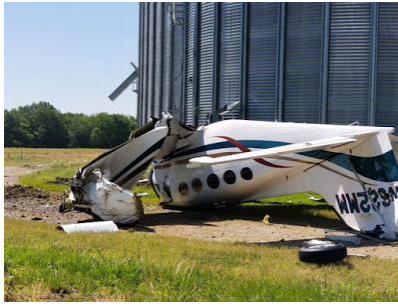 An 80-year-old Vero Beach man was identified as the pilot killed in a plane crash Monday near a Missouri airport, according to the Bates County Coroner.
The man was identified as John N. McConnell Jr., said Bates County Coroner Greg D. Mullinax. Mullinax said McConnell also had a home in Kansas City.
Mullinax said an autopsy would be performed Tuesday on McConnell. A preliminary crash report will be ready in 10 days, said Keith Holloway, spokesperson for the National Transportation Safety Board, the lead investigative agency.
It remains unclear what caused the wreck.
McConnell flew the Cessna C425 turbo-prop plane about 7 a.m. Monday from the Vero Beach Regional Airport, officials said. The fixed wing multi-engine aircraft was scheduled to land about 10:30 a.m. at the Olathe New Century Airport in Olathe, Kansas, according to flightaware.com.
But, McConnell never made it to his destination.
The aircraft climbed to about 26,000 feet and maintained a steady speed, according to a flight log chart from flightaware.com. Then, about 11 a.m., the plane dropped in speed and altitude, and began to descend.
McConnell crashed into a grain silo about a mile northeast of the Butler Memorial Airport in Butler, Missouri, Federal Aviation Administration officials said. Olathe, Kansas, is about an hour northwest of Butler, Missouri.
McConnell was the only person on the plane, according to the Bates County Sheriff's Office. The aircraft was registered with Sante Fe Investments, Inc., according to the FAA registry.
This is the third reported crash this year involving a plane that either departed from or was returning to an airport in Indian River County. Two of the crashes were fatal.
For the most recent incident, it will take at least a year before the final investigation is complete, Holloway said.