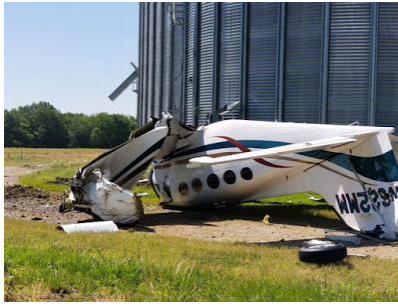 A small aircraft that departed from Vero Beach crashed into a grain silo Monday near a Missouri airport, leaving one dead, according to preliminary reports from Federal Aviation Administration and Bates County Sheriff's Office.
The Cessna C425 crashed about a mile northeast of the Butler Memorial Airport in Butler, Missouri, FAA officials confirmed. It was unclear what caused the the wreck.
The plane took off from Vero Beach Regional Airport shortly after 7 a.m. Monday, officials said. The aircraft was scheduled to land about 10:30 a.m. at the Olathe New Century Airport in Olathe, Kansas, according to flightaware.com.
The time of the crash was not immediately available. Olathe, Kansas is about an hour northwest of Butler Missouri.
The Bates County Sheriff's Office and Bates County Coroner confirmed one person, a male, died in the crash. Bates County sheriff's officials said there was only one person on the plane.
The name of the deceased individual was not released pending notification of family members, officials said.
The turbo-prop plane was a fixed wing multi-engine aircraft, according to the FAA registry. The plane was registered with Sante Fe Investments Inc.
FAA investigators were headed to the scene. The National Transportation Safety Board will investigate the incident.
Vero Beach Regional Airport officials were not immediately available for comment.
No further details were immediately available.