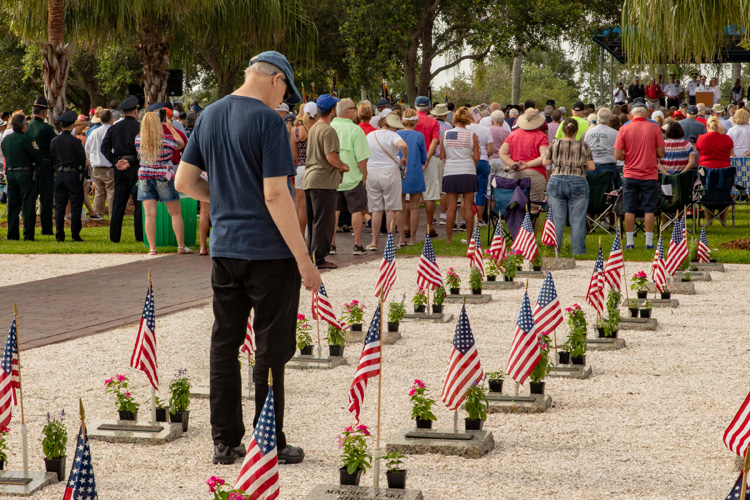 Memorial Day brought out the best in our community, as thousands of residents gathered at the Veterans Memorial Island Sanctuary to remember the fearless men and women who perished while serving in our armed forces, and honor their sacrifices.
As the crowd began to arrive, enthusiastic Boy Scouts passed out event programs, small American hand flags and ice-cold water, while volunteers shuttled the elderly and disabled via golf carts to the festivities, and the Salvation Army handed out donuts and coffee.
The pageantry was stunning and the mood was one of patriotic pride, as attendees, ranging in age from toddler to nearly 100, carried their own private memories within their hearts and drew upon the strength and camaraderie of the crowd.
Members of the Vero Beach High School Band were on hand to play rousingly patriotic music, despite not being required to do so as the school year has ended. And proud men and women representing all branches of the armed forces, as well as members of local law enforcement and firefighter units, marched in full dress uniforms during the color guard presentation.
U.S. Army Spec. Patrick Williamson stood guard over the poignantly symbolic 300 Boots on the Ground in front of the bandstand. The sight of American flags in those empty, tattered boots literally took one's breath away.
"This is a small representation of the 6,997 servicemen who have perished since 9/11. Each boot represents about 23 fallen soldiers. It is my honor to stand guard over this display for about 24 hours straight," said Williamson.
This year, two cenotaphs of Vero Beach men were unveiled and added to the existing 78; each of which honors a hometown hero who died in service to our country: U.S. Navy HM3 Edward Troy Reynolds, who died in 1979, and Navy Petty Officer 1st Class Jonathan Richard Clement, a 2006 Vero Beach High School graduate, who was killed in 2018.
Another exceptionally poignant tribute was the dedication of a new Gold Star Grove of green buttonwood trees bordering the sanctuary. The grove will provide a special place where Gold Star families can go to honor loved ones who, while not from here, ultimately gave their lives for our country. The American Gold Star Mothers of Indian River County nominated the fallen soldiers whose markers grace the trees, and family members were recognized at the ceremony.
"We are here today to remember the sacrifices of our fallen soldiers" said keynote speaker Lt. Gen. Robert L. Caslen Jr., who retired after a 43-year career in the U.S. Army where he received three bronze stars and 16 superior military service awards. "Our freedoms are secured only by the sacrifice of the brave men and women who serve. They fight the dangers of the world in order to protect our values and way of life. We have an obligation to remember their sacrifices and share their stories. Most of all, we have an obligation to live a good life and earn what they have given us."
Photos by: Denise Ritchie and Kaila Jones
Click HERE to see more or buy photos