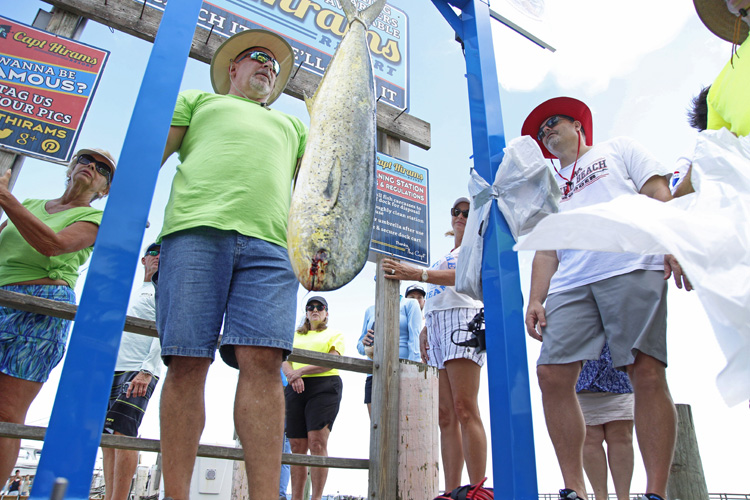 The Exchange Club of Sebastian had the blues last weekend – blue skies, blue water and even some blue fish during its 26th annual Blue Water Open Charity Offshore Fishing Tournament to benefit the various local children's charities they support.
Serious fishermen and women began gearing up Friday evening at the Captain's Meeting in the Ramp Lounge at Capt. Hiram's. Before they got busy reelin' in the big fish, participants gathered for an evening of revelry – grabbing 50/50 chances, dropping in tickets on chances for a wide range of items in basket drawings and bidding on live-auction items, including a trip to Ireland. Quite a few friendly bets and challenges were made as the anglers enjoyed drinks and live music before actually pitting themselves against their fellow fishermen and women and the deep blue sea.
Saturday, after a long day on the water, boats returned to Capt. Hiram's for the weigh-in. Anglers competed for top honors, hoping to tip the scales for the biggest dolphin, wahoo, kingfish, amberjack and grouper. Anglers competed for top honors.
Fishing may not typically be considered a spectator sport, but here the docks and shoreline were filled with family and friends ready to cheer on their favorite piscator.
"This is a fishing community; it just makes sense. A lot of people in this community like to fish and want to give back to the community," said Eva Chapman, tournament co-chair with Michael Natale, commenting on the Exchange Club's decision to feature the popular pastime as a fundraiser.
While locals represented the lion's share of the approximately 140 boats that headed out at dawn's early light in hopes of catching their share of the $20,000 purse, the tournament actually drew anglers from near and far. This year there were even three teams from Cornwall, N.Y., who joined in on the fun.
The Exchange Club, whose primary focus is on the prevention of child abuse, offers scholarships to local students and contributes to school programs and nonprofit organizations such as Youth Guidance, CASTLE, Shiloh Youth Ranch and the Boys & Girls Clubs of IRC.
"We've built it up over the years. It's gotten bigger, better, badder. In the past 25 years the Blue Water Open has raised $644,000 to be funneled back into the community," said Chapman. "I joined the Exchange Club because it was a way to be involved in the community as a businessperson. It was a way to network but give back to the community as well."
However, she noted that she had been so inspired by the Exchange Club's four pillars of service – Americanism, community service, youth programs and the prevention of child abuse – that she continued her membership even after retiring this past fall.
For more information, visit fishingforcharity.org.
WINNERS
Dolphin: 29.79 pounds, Bottoms Up
Wahoo: 50.61 pounds, Far Side
Kingfish: 51.29 pounds, Easy Drinkin'
Grouper: 22.27 pounds, On The Rock
Top Boat: 97.71 pounds, Far Side
Photos by: Denise Ritchie and Kaila Jones
Click HERE to see more or buy photos