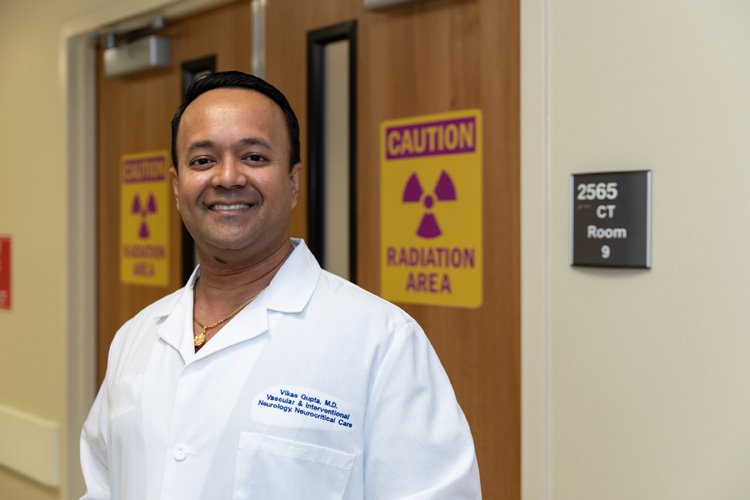 Nearly 800,000 Americans suffer a stroke each year.
Eighty-seven percent of those are what's known as "ischemic" strokes and these strokes are stunningly indiscriminate.
As Cedars-Sinai Hospital in Los Angeles points out, "strokes can happen to a person of any age, including children. However, the older a person is, the higher their risk of stroke. Strokes are more common in men, but more women die from them."
Ischemic strokes occur when the blood supply to the brain is cut off. This is usually caused by a blood clot that narrows or blocks an artery delivering blood to the brain.
The National Institutes of Health adds that "stroke is the second most common cause of death and adult disability," both in this country and worldwide.
Worse for Florida residents, the Centers for Disease Control and Prevention says, "the country's highest death and disability rates from stroke are in the southeastern United States," while the Heart Attack and Stroke Prevention Center states the risk of stroke in this 11-state area is 34 percent higher than it is in the rest of the country.
Despite those gloomy statistics, Dr. Vikas Gupta of the Cleveland Clinic Indian River Hospital's Arubah Neuroscience stroke team says there is good news, too, about ischemic strokes and their treatment.
How good? Let's go back to June 2018 when the Cleveland Clinic stroke center opened its doors in Vero.
One of the very first patients treated, according to Gupta, was simply "dropped off outside our ER" which, he adds, "is not an uncommon event."
An enormous smile comes over Gupta's face as he goes on to say that with CCIRH's newest and most sophisticated stroke treatments, that drop-off patient went on to fully recover.
That patient was lucky to receive timely and expert treatment.
If blood flow to the brain is not restored quickly after a stroke, according to NIH, it can result in permanent paralysis, loss of the ability to use or understand language, or death.
Had that medical school student been dropped off back in 1995 when there was only one FDA-approved treatment protocol for ischemic stroke, things could have gone very differently. In fact, she might very well have been ineligible for any treatment at all.
Back then there were a number of exclusions on who could be treated. People who showed up more than three-and-a-half hours after the actual stroke occurred, those who'd had a recent fall or a previous stroke or a recent surgery, and those taking certain medications all could have been denied treatment under approved medical guidelines.
Moreover, some current procedures, including what's known as a mechanical thrombectomy – a minimally-invasive procedure to remove clots – weren't introduced until almost a decade later.
That three-hour time limit was particularly onerous because, as the American Academy of Neurology admits, "at least one in every seven strokes occurs when someone is sleeping," which creates obvious problems for figuring out when exactly the stroke happened. Someone waking up with stroke symptoms might not know when during the night the event occurred.
Gupta happily reports that a 2018 clinical trial called "WAKE-UP" shattered those 1995 restrictions by showing that treatment could be successful more than 3 hours after a stroke.
Subsequent trials this year called "EXTEND," "DAWN" and "DEFUSE3" all confirmed the "WAKE-UP" findings.
Today, with the use of new, sophisticated scanning such as CT perfusion or MR perfusion that show blood flow inside the brain, and the injection of "Tissue Plasminogen Activators" (or tPAs), that three-and-a-half-hour window can be opened a bit wider, though Gupta does caution that "everyone is different."
Gupta knows from experience some people will still delay calling 911 even if they do wake up with symptoms of a stroke such as numbness or weakness in the face, arm or leg, or trouble seeing with one or both eyes.
"The single most important message that needs to get out," says Gupta, raising his voice a decibel or two, "is to get yourself to the right place in the right amount time. Do not wait or delay."
That right place is the ER. That right time is immediately. And the best first move is to call 911.
Turning to mathematics to emphasize his point, Gupta adds, "we say that one minute equals 2 million neurons" that are permanently lost. Calling 911 can save millions upon millions of your brain cells. The ER will be notified and given your vital information by the emergency medical technicians, which will allow the whole stroke team to be prepared to go to work the moment you arrive at the ER.
And the EMTs won't just drop you off at the front door.
Dr. Vikas Gupta is a vascular and interventional neurologist with CCIRH and the Arubah Neuroscience stroke team. His office is at 3450 11th Court in Vero Beach. The phone number is 772-563-4646.