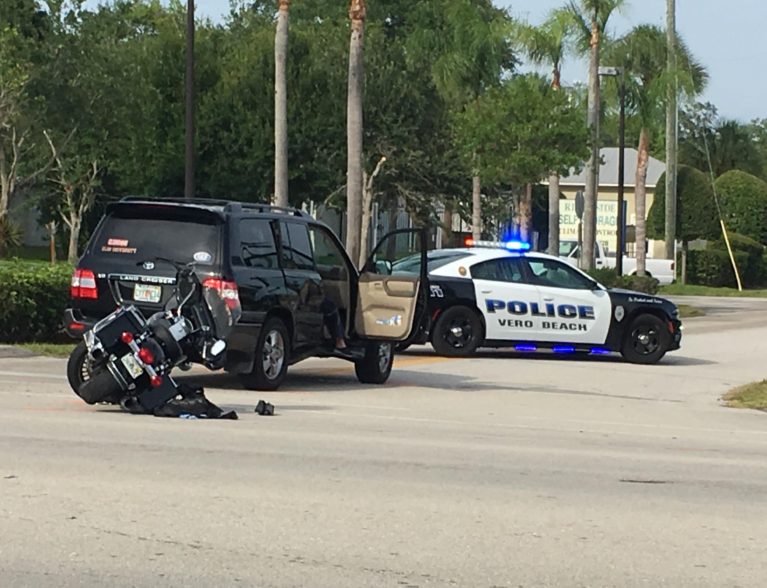 INDIAN RIVER COUNTY — A motorcyclist was seriously injured in a two-vehicle wreck Monday afternoon that partially blocked U.S. 1 in the immediate area, officials said.
The motorcyclist – a man – suffered trauma to his head and legs, Vero Beach police spokesman Cpl. Darrell Rivers said. Rivers said the crash appeared to be accidental and that speed and alcohol were not involved.
The collision involving the Harley Davidson motorcycle and a Toyota Land Cruiser happened about 5 p.m. Monday in the 1500 block of U.S. 1, across the street from a shopping plaza, Indian River County Fire Rescue Battalion Chief Kyle Kofke said.
A woman driving the Toyota was traveling southbound on U.S. 1 when she made a left turn into the path of the motorcycle, Rivers said. The motorcycle struck the right rear door of the Toyota, Rivers said.
The motorcyclist was flown by helicopter to Lawnwood Regional Medical Center & Heart Institute in Fort Pierce with serious injuries, Kofke said.
No other injuries were reported and there were no other passengers in the Toyota, Rivers said. Police continue to investigate the crash.
No other details were immediately available.