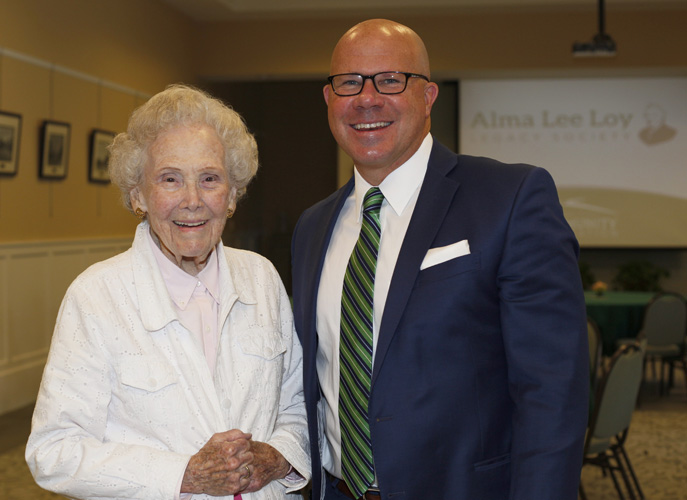 Members of the Indian River Community Foundation's Alma Lee Loy Legacy Society sang a heartfelt round of Happy Birthday to Loy in advance of her 90th birthday in June, as they gathered last Tuesday at Northern Trust for an ice cream social, where everyone was treated to delicious Yami's Ice Cream.
The Alma Lee Loy Legacy Society was established in February 2011 to honor her continuing dedication to the community through estate bequests, entrusting the foundation to carry out their philanthropic legacies of providing future benefits to this special community.
"There are many things in this community that add to its beauty, and I love that. And there will be projects that will come along in the future that I don't know anything about," said Loy.
Saying that she would encourage others to consider doing as she has done, she explained, "I have set up a special fund and I'm working real hard to build that fund and get it as big as I possibly can. So that goes to the Community Foundation and then it's up to them, with no strings attached, to support this community in the areas that they think I would be happy with."
Jeff Pickering, IRCF CEO, related that the foundation will have another record year at the end of its fiscal year, June 30.
"In 11 years, the Community Foundation has taken in approximately $130 million in contributions and we've distributed more than $60 million in grants, and that's even with another month and a half to go," said Pickering. He added that the IRCF remains one of the fastest growing new community foundations in the country, second only to the $13 billion Silicon Valley Community Foundation.
"Members of the Alma Lee Loy Legacy Society are special people whose estate gifts will provide significant benefits to our community in the future," said Pickering.
He added that from details provided by the more than 50 Legacy Society members, they know that as the estates mature, the gifts will provide at least $50 million over time, and could exceed more than $100 million.
"In a tiny beachside and agricultural community like Vero Beach and Indian River County," said Pickering, "that is an exceptional amount of generosity. So we're here to celebrate that."
Kerry Bartlett, IRCF executive director when the Legacy Society was formed, said that the board had felt that the Legacy Society would ensure that philanthropic resources would be available to sustain a future community that would likely look and feel entirely different.
Bartlett said that Loy had related many times that she chose to leave part of her estate to the Community Foundation because she doesn't know what the future needs of the community will be.
"But she does know that she would want to provide the capital to address them in the very best possible way. And if Alma Lee doesn't know what the future generational needs are, I'm thinking not many other people do either," said Bartlett.
"It's pretty obvious to all of us why the board sought permission to name the Legacy Society in honor of Alma Lee Loy. Giving is personal, and is built on an authentic, trusting relationship. And who's more authentic and trustworthy than Alma Lee Loy?"
Photos by: Kaila Jones
Click HERE to see more or buy photos