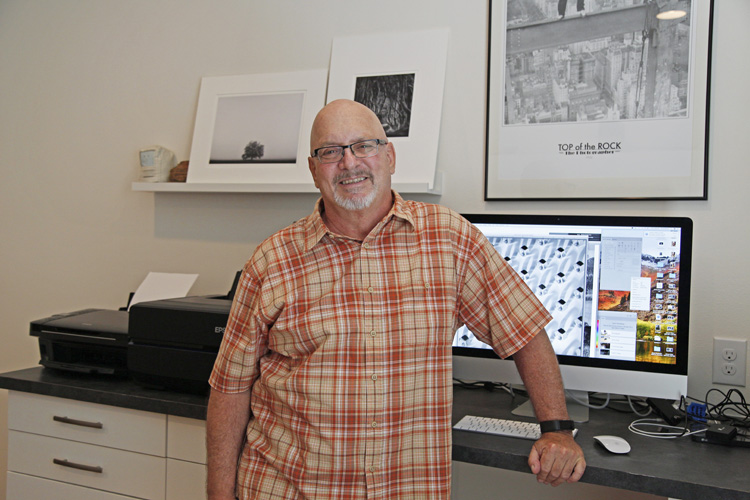 When locals think about the old Vero Beach City Power Plant, few of us can say we will miss the industrial structure on Vero's prime riverfront. Most of us have viewed the towering cooling stacks of Big Blue as eyesores. But David Bence saw something else. Captivated by the beauty of the shadows they cast, he spent six years of vacation time photographing the plant for what he calls his Gas Tower Studies.
"I was visiting my parents in Vero Beach, when we drove over the bridge and I saw the beautiful geometric shadows on the stairs around the towers," says Bence. "I asked my father to stop the car and grabbed my camera. The sunlight filtering through the clouds cast the most extraordinary shapes and angles. I was memorized."
Then a Detroit ad man, Bence scheduled his vacation time at various times of the year just so that he could see how the changing sun and lighting would affect the appearance of the tanks and cooling towers. He even went so far as to befriend the plant manager; gaining access to the interior of the building so that he could photograph the valves, gears and small components of the power-generating equipment. At times Bence manipulated the light through his lens by leaving the shutter open for as long as several minutes.
The result is an unsurpassed collection of photos from Vero's bygone era. Two of his Gas Tower Studies photographs are part of University of Michigan's permanent collection.
Bence was raised in Michigan from the age of 5, and became intrigued by the magic of photography at an early age by a neighbor who had a dark room. He says his mother, an abstract painter, encouraged him to explore his creative side and was his greatest influence. She introduced him to various art forms, including painting, sculpting and woodworking, but he preferred being behind the camera, and in high school served as a yearbook photographer.
That led to his receiving a scholarship to Indiana State University, where he obtained a bachelor's in graphic design, before obtaining a filmmaking degree from Brooks Institute of Photography in Santa Barbara, Calif.
"I studied motion picture photography and animation," Bence explains. "Joseph Barbera (Hanna-Barbera Productions) was my mentor. I thought I wanted to be an animator and actually produced a six-minute animation film. Ultimately, I chose advertising as a career and moved back to Michigan."
It didn't take long for Bence to move up the corporate ladders at big-name advertising agencies including D'Arcy Masius MacManus, where he worked on national accounts such as Pontiac, Cadillac and Dow Chemical.
"I am particularly proud of the Pontiac Fiero campaign, where we had three double-page spreads in People Magazine," he says. "We had the first spread in the magazine, the centerfold and the last spread, so we dominated that issue. It had never been done before."
From there, he moved to Saatchi & Saatchi where he worked on the Jeep account, but explains, "I never shot any photography during my years as an art director. I would hire the best photographers I could to do that, but I loved orchestrating the shoot. We always tried to shoot at sunrise or sunset because that is when the light is best."
As vice president at Campbell-Ewald in Warren, Mich., Bence embraced the advancements that burgeoning technology was bringing to the advertising industry. He was one of the first art directors to use Photoshop when it was in its infancy, and was a pioneer in the implementation of electronic key lines, which allowed agencies to do their own production and typography in-house.
"Those were exciting and innovative times in the ad world," says Bence. But, after becoming a downsizing casualty during the 2010 economic downturn, he decided to return to his true love — photography.
"I was basically retired and since I wasn't quite ready to be put out to pasture, I embraced the next chapter."
He took a job at Home Depot, believing that everyone should work in retail at least once in their lives to have a better understanding what sales associates deal with every day, and still utilizes the home improvement and mill work skills he acquired.
Since moving to Vero permanently in 2015 to assist his aging parents, Bence has focused on perfecting his art.
"I prefer black and white imagery," says Bence. "There is so much left for individual interpretation. The viewer becomes involved imagining what color the trees or the pebbles or the water might be. With everything being digital these days, I shoot in color and convert it to black and white."
Noting that his favorite subjects are industrial buildings, landscape and nature, he adds with a laugh, "I'm better with subjects that don't move."
Bence is fine-tuning some of the lessons he learned from former mentors John Sexton and Howard Bond, both of whom he met at workshops decades ago, is active in photography clubs in Indian River and Palm Beach and is a member of the Vero Beach Art Club. In his spare time he enjoys working out at Planet Fitness and coaching Special Olympics swimming at Leisure Square.
"At this time, I am only showing my work in juried art shows throughout Florida. I have one currently on display in the Eye of the Camera show at the Backus Gallery in Fort Pierce and I look forward to the day I can have another gallery exhibit," says Bence, adding, "I am so fortunate to be able to retire in Vero Beach. It's literally paradise."