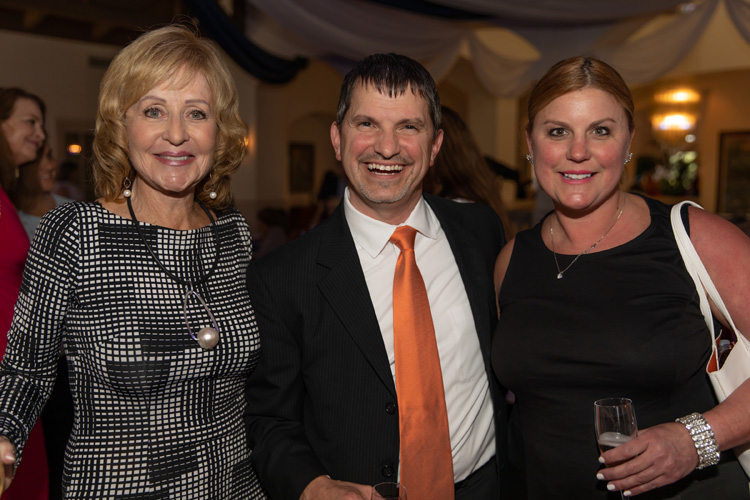 A trifecta celebration of individuality, creative expression and collaboration united last Monday evening at the Grand Harbor Clubhouse with the Jazz, Art and Fashion Show to benefit New Horizons of the Treasure Coast and Okeechobee.
Proceeds will enable New Horizons to remain true to its mandate of remaining open 24/7 and not turning anyone away due to a lack of financial resources, by providing mental health services to Indian River County's low-income residents and the homeless at two Vero Beach outpatient offices.
After enjoying cocktails and a buffet and perusing silent-auction items, vocalist Dana Ashton opened the show singing "Feeling Good," its sentiment eloquently promising "… a new dawn, … a new day, … a new life," precisely what New Horizons works with their clients to achieve.
Inspired by the beauty of the evening, artist Mark Burdette used his fingers to paint a palette of ocean blues and greens; the artwork was later auctioned off during a bidding frenzy wrangled by emcee Bobby Guttridge.
"Mental health is the essence of what a beautiful mind is," said Guttridge. "We somehow seem to forget that. Every one of these great artists, these creative people and amazing musicians, all have one thing in common – they all have a beautiful mind."
George Shopland, New Horizons CEO, told the crowd that he was humbled to be part of the organization, which celebrates more than 60 years in the Treasure Coast community. Rather than focusing on the opioid epidemic, the increase in young adult suicides, and the fact that Florida is 49th in nation in funding mental health, he noted that New Horizons' 450 employees are committed to working 24 hours a day, 365 days a year, to meet the needs of individuals who are struggling.
Keynote speaker Veronica Kolibab shared her own story of physical and mental abuse at the hands of her father, recalling beatings from early childhood, and said that she has worked hard to break the cycle of abuse.
"I know that every experience that has happened in my life has made me the woman that I am today and I really love the woman that I have become," said Kolibab.
She said their seemingly normal family, with educated parents in the medical field, couldn't have been farther from the truth. Her parents had each been abused as children and turned to alcohol and drugs to ease their pain; her father eventually committed suicide.
Their abuse toward her was so bad that Kolibab was emancipated from her parents at age 17. When she realized she was headed down the same path as her parents she began to work on improving herself.
"Today, I'm a 48-year-young, powerful, self-directed, self-loving, successful woman. My life made me better, not bitter," said Kolibab. She noted that suicide is the second leading cause of death in America for people ages 10 to 34 and is the ONLY cause of death that is 100 percent preventable.
During the fashion show, local models strutted down the runway showcasing creations by area designers Kristen Alyce, Annalise Bean, Sabre Mochachino and Mary Thornton, wowing the fashionista crowd with designs featuring daywear, swimwear and evening wear in a cacophony of color, texture and prints.
Presenting sponsor Bonnie Mixon closed the show, modeling a patriotic swimsuit amid a shower of confetti, showering the audience with reminders of the beauty that surrounds them.
For more information, visit nhtcinc.org.
Photos by: Denise Ritchie
Click HERE to see more or buy photos