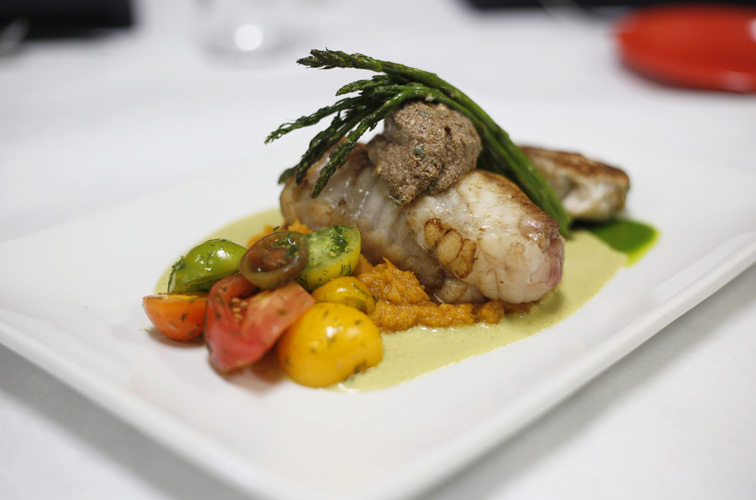 After two years, I have only one thing to say about Fire and Wine's claim that it offers "the best food in South County Vero Beach."
Waaayy too modest!
This restaurant could leave the words "South County" out of its boast if it were nestled among the dozen or so other restaurants on 14th Avenue instead of looking a bit out of place in an Oslo Road supermarket strip mall.
But a lot of people who had never been down South County way a couple of years ago now know precisely how to find Fire and Wine, which is a big part of the reason why this smallish bistro is now packed night after night.
While this restaurant gets strong support from its South Vero neighborhoods, Fire and Wine is a lot more than just a neighborhood restaurant. It has become a Vero dining destination.
You don't want to even think about going there as a walk-in; reservations are best made at least a couple days in advance.
On our most recent visit last Friday, our party of two was warmly greeted by manager Roger Lord, who launched this restaurant in the summer of 2017 in partnership with one of Vero's premier chefs, Chuck Arnold.
On this evening, I decided to start with the mushroom appetizer ($10) and my husband went for one of his favorites, the fried oysters ($13).
The mushroom appetizer was a mix of shitakes, porcinis and enokis served on seared polenta with a delicious short rib jus and white cheddar drizzle. A great start!
My husband's oysters, coated in semolina and fried until they were brown and crispy, were served with a red chili vinaigrette and lemon aioli, and were accompanied by microgreens. Very tasty.
Then for entrees, I opted for the Fire and Wine seafood stew ($32) and my husband decided to have the evening's seafood special, flounder ($32).
My seafood stew was a perfectly cooked mix of whitefish, shrimp, mussels and chorizo sausage with Tuscan white beans, served in a sweet onion broth with grilled bread. A hearty, very flavorful dish.
My husband, however, insisted that he had the best dish of the night – a beautiful piece of jumbo flounder, skillet seared, and served on a sea scallop pancake with some smoked bacon, sweet corn, grilled asparagus, heirloom tomatoes and a chive crème fraiche. Flounder atop a sea scallop pancake turns out to be a great dish. Who knew?
Other entrées we have enjoyed here include pan-seared salmon and pistachio encrusted corvina (nobody does seafood better than Chuck) and the red wine braised beef short ribs.
Dinner for two with a couple of glasses of wine is likely to run in $120 area.
When we first visited Fire and Wine last summer, we were apprehensive about how an upscale restaurant – even a very good and relatively moderately priced one – would fare so far from most of Vero's other fine-dining establishments.
We need not have worried. The only thing you need to worry about today is whether you've called far enough in advance to get a reservation.
I welcome your comments, and encourage you to send feedback to me at tina@verobeach32963.com.
The reviewer dines anonymously at restaurants at the expense of Vero Beach 32963.
Fire and Wine
Hours: Tuesday through Sunday, 5 p.m. to 9 p.m.
Beverages: Beer & Wine
Address: 2950 9th St SW
Phone:  772-794-7587