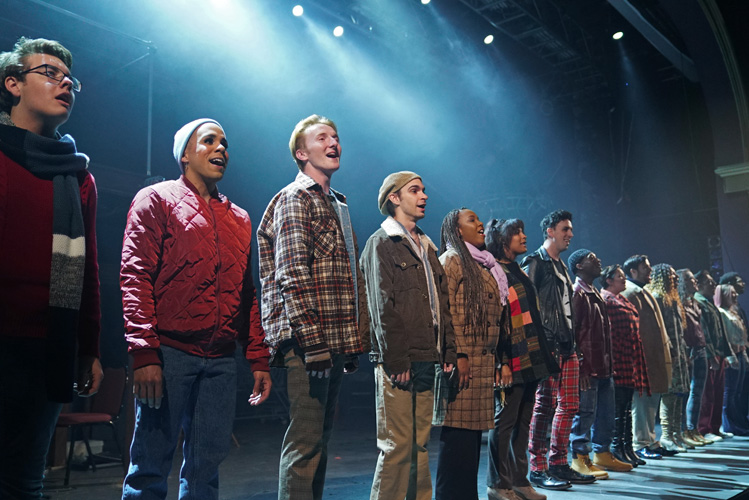 Rock music with a driving beat and a passion to match will fill the stage at the Henegar Center with a production of "Rent" June 7 to 16. The compelling show travels, cast and all, to Melbourne from a successful run at the Titusville Playhouse where, if you don't want to wait, you can still catch it through June 2.
Directed by Steven Heron, this production of the Tony Award-winning show is awash with musical talent and unforgettable performances. From the first downbeat, you know you're in for a rare community theater treat.
Inspired by Puccini's grand opera "La Boheme," the story in "Rent" revolves around a group of young artists who are living meagerly in New York City's "Alphabet City."
The group, haunted by HIV and AIDS, lives an existential crisis. They are the hopeless and hapless citizens in a nation more prone to pointing a finger than lending a hand; and which is doing nothing to avert a plague.
Talking to Heron, you soon realize this production is a passion project for him.
"It's one of the first Broadway shows that really spoke to me and what I was living through," Heron says. "As a gay man in the late '80s and '90s and moving to New York, it spoke to me completely."
Indeed, this musical continues to speak to many. It has also created a theater phenomenon where fans will flock to a production tour and follow it as it travels.
"Rent" opened on Broadway in 1996, where it ran for 12 years. Its creator, Jonathan Larson, reportedly worked seven years on his rock opera while, like his characters, living an impoverished life.
After its long birthing process, the show was about to open at the Off-Broadway New York Theater Workshop. Tragically, the night before opening, Larson, 35, died of an aortic aneurysm.
Then, within 24 hours of its Off-Broadway opening, the entire run sold out, according to pbs.org. Heron was one of the lucky ones who saw that Off-Broadway production.
He, like so many others, fell in love with the show immediately and followed it to Broadway. Audiences at the more than 5,000 performances went wild for great jubilant numbers like "La Vie Boheme," then wept at the show's iconic "Seasons of Love" which asks: "Five hundred twenty-five thousand six hundred minutes/How do you measure, measure a year?"
"I saw the original Broadway cast 15 times," Heron says. "I was obsessed with this show."
It was easy to get a ticket when it was Off-Broadway and then even early in the Broadway run, as Broadway snobs were not "really embracing the show," he says.
But then it won four Tony Awards, including one for Best Musical; the Drama Desk Award for Outstanding Musical; and the Pulitzer Prize for drama. It became nearly impossible to get a ticket.
Like he did when he directed the show in 2012 at Surfside Playhouse in Cocoa Beach, Heron has found a deep pool of talented performers to flesh out the characters.
"This cast is top notch," Heron says.
In "One Song Glory," Jordyn Linkous, wearing a T-shirt with the image of Velvet Underground's Lou Reed, hits the soul of rock as Roger, the musician longing to write a song that will live past him. Linkous, who was recently so funny as the maid in "La Cage aux Folles," totally surprises with a dramatic and very strong musical presence that easily fills the theater. And, he has also designed the wigs and co-designed costumes along with Niko Stamos.
Zach Thomas plays Mark, the documentary filmmaker who turns his back on his Jewish family in Scarsdale in order to film a year with the artists of Alphabet City. Thomas, who is constantly adjusting his eyeglasses, has some good numbers and exudes nerdy lovability.
Melinda (Lebo) Benya is sensational as Maureen Johnson, the performance artist who sings "Over the Moon," a nonsensical piece that is, at its heart, playfully earnest. But Benya sails in "Take Me or Leave Me," a hard-driving rock duet with the amazing Jataria Heyward, who plays Joanne, Maureen's lover.
Heron says Larson's intent was to take the role of Mimi from "La Boheme" and split it in two for "Rent" – Angel and Mimi. While the Puccini opera has its ill Mimi putting on a brave face to be the life of the party, in "Rent" the role of Mimi is basically an ill young woman and the role of Angel becomes the vibrant one.
Kellie Rhianne, who sings at Disney's "Lion King" show, portrays the sexy drug addict Mimi, who sings that she wants to go "Ow-ooo-t tonight!" But she's at her best the first time we see her in the alluring "Light My Candle" number she sings with Roger. And of course, that becomes especially chilling when considering the lighting of a candle off of another symbolizes not only love, but also the spread of AIDS.
Xavier Reyes is ideal as the character Angel, a drag queen who sings "Today 4 U." A professional performer, Reyes played Angel in the first national tour of "Rent." He was also in the national tour of "Kinky Boots," "West Side Story," "La Cage aux Folles" and "In the Heights." He has performed at regional theater around the country, including the acclaimed Geva Theatre Center in Rochester, N.Y.
But nearly stealing the show is a mighty singer in the modest person of Deejay Young of Orlando. As the character Tom Collins, Young sings "I'll Cover You" in a second act reprise that, yes, does stop the show. It's rare to find such power and expressive interpretation on a community theater stage.
Also on stage are musicians Paul Terry on drums and Nathan Taylor on guitar, who are led on keyboard by conductor Spencer Crosswell. The three pack quite the musical wallop, playing the driving, non-stop rock opera.
Asked how so much sound could come out of three musicians, Crosswell says he also folds in some recorded music. But the final result is big, loud, live music, thanks in a big way to Trevor Peters' sound design, which delivers a big, music-filled concert hall sound without sacrificing intimacy.
The look of the show is gritty and simple. Jay Bleakney's scenic design employs some scaffolding, made even grimier by scenic painter Jonathan Willis. And lighting designer Luke Atkison gives it all life with a complexity that feels very much like a rock opera.
You may feel your breath being stolen by a handful of thrilling theatrical moments, employing glitter, plastic and the like.
This is a big show designed to entertain as well as pay tribute to those who were lost to AIDS. It does just that. Your feet will tap and your heart will ache.
"Rent" runs at Titusville Playhouse through June 2. Tickets are $25 to $29, plus a $2 per ticket service fee. Seniors and military get a $2 discount. Titusville Playhouse is at 301 Julia St., Titusville. Call 321-268-1125 or visit TitusvillePlayhouse.com.
The same production, with the same cast and design, travels to the Henegar Center and runs June 7 to 16. Tickets are $29 general and $26 seniors, students and military. The Henegar is at 625 E. New Haven Ave., Melbourne. Call 321-723-8698 or visit Henegar.org.