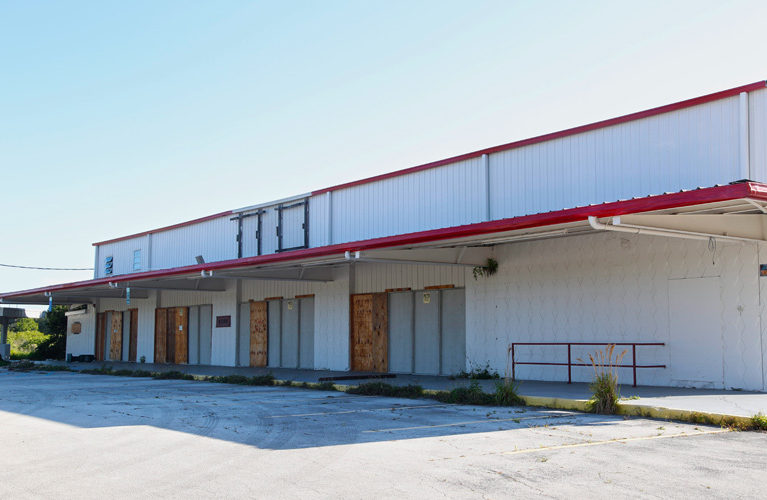 Things aren't as bad as they look for the former Hale Groves citrus store and warehouse, sitting shuttered and forlorn on a 3.65-acre parcel in Wabasso.
Long a U.S. 1 landmark, as well as the public face of one of Florida's largest citrus operations, the 25,500-square-foot building that began as a little family fruit stand in 1947 finally shut its doors in 2017, and it's been looking pretty sad for a while now – windows boarded up, sign in front torn and drooping.
But looks can be deceiving. Terry Torres, vice president of SLC Commercial Realty and Development, who is currently brokering the property for the Hale family, says inquiries from potential lessees have been "constant."
While the structure may appear rundown, even beyond repair, the bones are good, according to Torres – the framework is mostly steel, and the floor is concrete.
"We removed that large overhang, which had sustained hurricane damage; and we replaced the doors."
For a year or so, Torres says, the property, zoned ORC – office, commercial, residential – was for sale. There were offers, but nothing panned out.
Now the property is being offered for lease, at $5 a square foot – $127,500 a year – which Torres says is "negotiable." And he's seeing "constant interest."
In considering potential leases, Torres says, "we're being careful; we want to be selective," especially so because, behind the property to the east, is an 18.33-acre, multifamily residential-zoned property, owned by the Judd family and currently on the market for $3 million. Adjacent to it and also on the market is a second Judd-owned property – a bulk-headed, 5-acre riverfront site zoned residential, with a 30-unit potential.
With the probability of up to 140 residential units "next door" at some point, Torres says, it behooves the Hale Groves property owners to negotiate leases with "desirable" businesses that would be compatible with their residential neighbors, such as "grocery stores, pharmacies, fast food restaurants and the like."
When Steve Hale left the Navy after the Second World War, he and his wife Polly Hale opened that little roadside fruit stand back in 1947. According to the company website, they dreamed of sharing the fresh, tree-ripened fruit Indian River County was famous for with as many people as possible, but probably did not imagine how successful the business would eventually become during citrus' 20th century heyday.
Now, several generations down the road, old-timers wax nostalgic about the long-gone Golden Days of Florida citrus; and the quaint little fruit stand is only a memory.
The citrus business itself is no longer in the Hale family, and the current owners can't "justify a permanent retail presence" – aka a grove store – any longer. So they are looking for new tenants.
Meanwhile, the fruit and other products Hale Groves has always been known for remain available – via the Web and mail order. According to its website, the company filled half a million orders for fruit boxes, baskets and gifts last year.