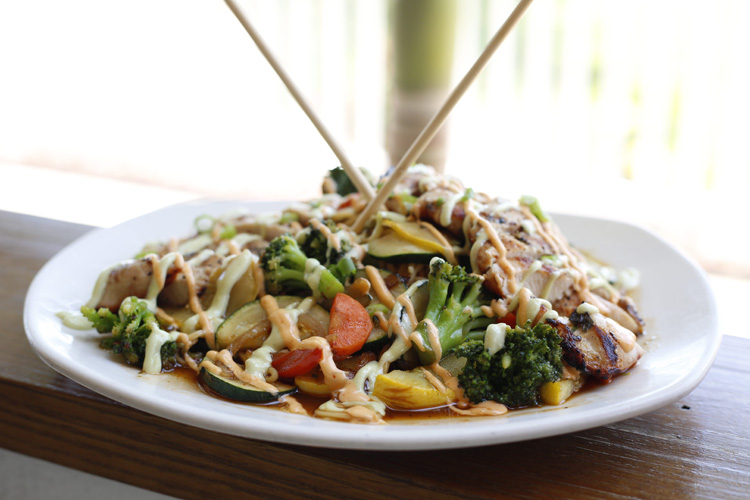 While we reported last week on our surprisingly pleasant dining experience at the new Chive, our favorite Lou Kolbauer restaurant remains the Green Marlin.
This two-year-old Bonefish Grill-type eatery, serving fresh seafood in the large building once occupied by the Outback Steakhouse on U.S. 1, finally seems to be developing a well-deserved following.
On a visit a couple of weeks ago, the entire front of the restaurant was full, but we were shown to a very comfortable booth against the far wall.
For starters on this evening, I ordered a baker's dozen of the steamed clams ($13.95). The sweet young clams were wonderful, served with a great garlic, lemon and herb butter sauce. While the dish comes with a couple of slices of toast for dipping, you will certainly want to ask for more.
My husband opted for a half dozen ceviche-style raw oysters ($11.95). The freshly shucked oysters prepared this way are served with a mignonette of onion, bell pepper and cucumber. The light mignonette perfectly complemented the bivalves, letting them retain their texture and briny flavor.
Then for entrées, I chose one of the evening's specials, mutton snapper ($23.95), and my husband went for the swordfish ($20.95).
Mutton snapper – not found all that often in restaurants here, but more common in the Keys and the Bahama islands – is wonderful eating. My beautiful piece of grilled mutton snapper was served "in the weeds" – over garlic spinach and grape tomatoes – and was accompanied by mashed potatoes. My husband had a gorgeous piece of swordfish in the same preparation.
For dessert, we had a slice of chocolate layer cake ($6.95). A decadent end to a very good meal.
On previous visits, we have dined on a variety of other fresh fish – grouper cheeks, wahoo, corvina. Lou buys and cuts the fish daily.
It's also fair to say that seafood choices dominate the entrées, but one of my co-workers recently was raving about the Green Marlin's burgers. And with slow-roasted prime rib on the menu Thursday, Friday and Saturday, it appears there is something here for everyone.
Dinner for two, including a bottle of a wine, is likely to run in the $80 to $90 range before tax and tip. It's possible to dine for even less by passing on the pricier appetizers and taking advantage of the Green Marlin's salad bar.
This restaurant is working at maintaining a year-around following by keeping prices of its entrées down, and offering a "Kids Eat Free" special on Tuesdays that makes dining out with the family a bargain.
While there are chain restaurants here that are somewhat similar, this is the best restaurant of its kind in Vero. And it's LOCAL! If you haven't tried the Green Marlin yet, we would strongly urge an early visit.
I welcome your comments, and encourage you to send feedback to me at tina@verobeach32963.com.
The reviewer dines anonymously at restaurants at the expense of Vero Beach 32963.
Green Marlin
Hours: Daily, 11 a.m. to 10 p.m.
Beverages: Full Bar
Address: 1475 U.S. 1
Phone: 772-999-5248
Photos by: Kaila Jones
Click HERE to see more or buy photos