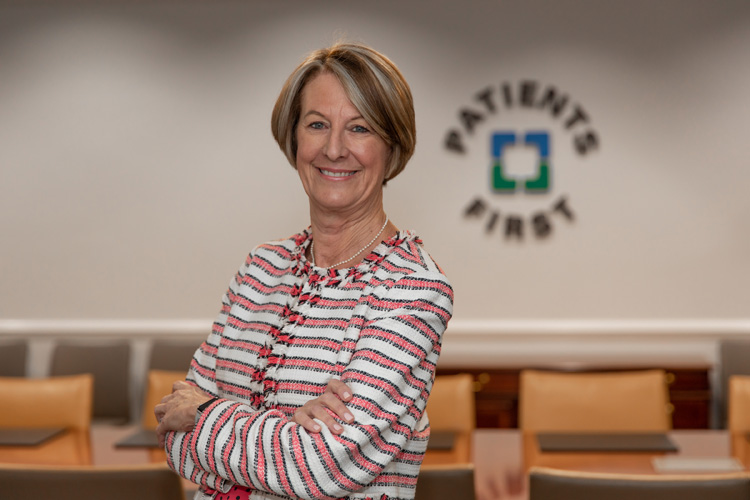 After undergoing a comprehensive, onsite evaluation, Cleveland Clinic Indian River Hospital has been awarded the Joint Commission's "gold seal of approval for advanced certification for total hip and total knee replacement," surgeries.
According to Sara Mondano, director of musculoskeletal services at the Vero hospital, "there are [only] 94 hospitals in the country, as of today, that have this certification."
And Cleveland Clinic Indian River "is one of only three such hospitals in the state of Florida to have garnered this certification." The other two are in north Broward County and in Zephyrhills in Pasco County.
Does that make CCIRH one of the top three hospitals in the state for total hip and/or knee replacement surgeries? Not necessarily. But the certification is significant.
Today, hip and knee replacements rank among to the most commonly performed surgeries in the country. According to the Agency for Healthcare Research and Quality, more than 600,000 knee replacements are now performed each year and the American Academy of Orthopaedic Surgeons says northward of 300,000 hip replacements are done annually.
But ranking individual hospitals is tricky. At best.
There are "awards" and "ratings" and "rankings" everywhere, and some mean much more than others.
For example, as Kaiser Health News reports, one Michigan hospital was named "one of America's best 50 hospitals" by a group called Healthgrades, yet the Joint Commission omitted that same hospital entirely from its "best hospital list" and Consumer Reports gave that Wolverine State facility a poor patient safety score of 47 out of 100, citing excessive re-admissions, poor communication with patients, and excessive use of scanning procedures.
So, just what is the Joint Commission and what does its gold seal of approval mean?
The Joint Commission is a universally recognized, independent nonprofit organization that accredits and certifies nearly 21,000 hospitals and healthcare facilities throughout the United States.
It is the nation's oldest and largest standards-setting and accrediting body for healthcare facilities. Which makes its gold seal certification of CCIRH a big deal.
Along with that impressive achievement, CCIRH also can take pride in its newest patient satisfaction scores.
Based on what's known as the hospital's HCAHPS scores – or Hospital Consumer Assessment of Healthcare Providers and Systems survey – those scores "are the first nationally standardized, publicly reported survey of patients' perspectives of hospital care," according to the Centers for Medicare and Medicaid Services.
CCIRH earned a 96 percent satisfaction rating from its joint replacement patients, according to Mondano.
This kind of recognition "demonstrates that our practice here for patients having a hip or knee replacement is based on the most recent, evidence-based, clinical practice, keeping the patient really at the center of everything we do.
"It takes a whole team of people to come together to make this happen," Mondano adds. "It's the scrub tech in the OR, it's the anesthesiologist, it's the housekeeper, it's the social worker," and it's also the six surgeons at the hospital who, last year, performed some 800 total hip and total knee procedures.
Nationwide most total hip or knee replacement patients are between the ages of 50 and 80, with an average age of 65. Here in Vero Beach, says Mondano, "the average age of our hip and knee replacements is somewhere around 80."
Statistically, age makes all surgeries somewhat trickier. The American Society of Anesthesiologists says, "while being older makes surgery more likely, it also increases your potential for risks during procedures," and can make post-operative re-admission to the hospital far more likely.
As anyone who has followed the evolution of healthcare already knows, reducing hospital re-admissions has been a top Medicare priority for in recent years.
"Our readmission rate, right now, is zero percent for total hip and knee replacement patients," Mondano says happily.
That said, there are always risks in any type of surgery. Your doctor should explain those risks before you undergo any procedure.