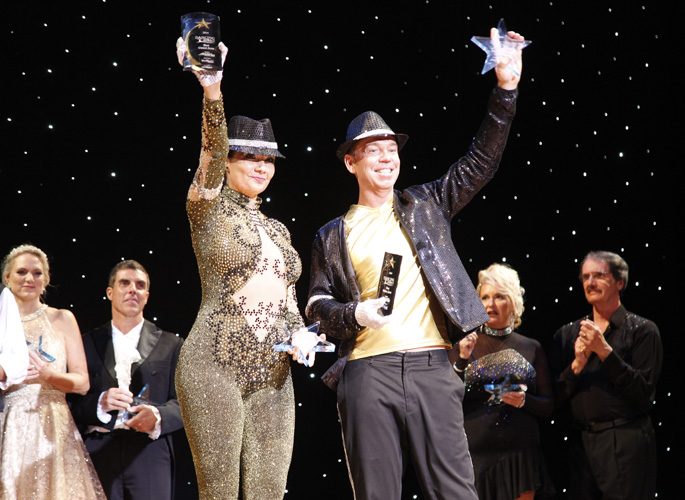 The Indian River County Healthy Start Coalition shook things up last Saturday evening at Riverside Theatre with a star-studded lineup during the 11th annual Dancing with Vero Stars to support a system of care for all local mothers, babies and their families.
Robby Rivas and Marianella Tobar won the Grand Prize, taking home the Mirror Ball Trophy, and Martha Redner, with partner Dr. Glenn Tremml, was the top fundraiser in the event's history, raising $132,000. Overall, dancers raised a record $495,000, a considerable increase from the roughly $40,000 raised at the first event in 2009.
John Moore got the mirror ball rolling as he chatted with dancers on the red carpet before they headed backstage to put on their dancin' shoes and the crowd moved inside to mingle over cocktails and hors d'oeuvres and peruse silent-auction items.
As the auditorium lights were dimmed, emcee Tiffany Corr charged the audience with the task of having fun and cheering on the dancers before introducing the judges: Chris Foster, owner of FW Productions, Dee Rose-Imbro, Vero Beach High School drama teacher, and Brad Stein, Broadway dancer and teacher. CPA Christine Horrocks oversaw the voting.
"I am honored to represent Indian River County Healthy Start Coalition and the mothers and babies and families that we serve. These amazing dancers have stepped outside of their comfort zone to support our mission," said Andrea Berry, executive director, before introducing an HSC client to share her emotional story.
Christine Walker, owner of Studio Gabriel Salon Spa and Boutique, and Joe Wynes started the show with a sultry Cha-Cha/Rumba to "Black Magic Woman," dancing across the stage in a flurry of purple and black feathers and scoring a 23 with a dance Stein said was "magic."
Realtor Hollie Billero Buldo and Brian Spector's fancy footwork, leaps and quick turns in a jazz number to "Let's Be Bad" earned a score of 26. Rose-Imbro said, "Honey, but you weren't bad at all. You were just fine."
Citrus Three owner Curtis Carpenter and Karren Walter earned a solid 27 dancing a romantic Viennese Waltz to "Perfect." "This was full of content and structure and at times simply breathtaking," said Foster.
Fitness guru Pamela Dechellis had no trouble keeping up with Nicholas Dimitrov in a fiery Argentinian Tango and Salsa to "Santa Maria" and "Fireball," which earned a 29. Rose-Imbro said, "You danced like a 20-year-old tonight."
Golf professional Bela Nagy teed things up for partner Yvonne Miller in a cheeky musical theater number to "All That Jazz" and "Hot Honey Rag" that earned a 25. "Not many grown men would want to do the things she asked you to do on this stage," said Rose-Imbro.
OBGYN physician Dr. Deni Malave-Huertas delivered a stellar performance with Amy Trammell in a Latin fusion routine to "Despacito" that sizzled with lifts, spins and flips, earning a perfect 30. Foster said, "This was fun, spice and everything nice."
Landscape architect Mark Sartain and Mary Margaret Hatch brought musical theater characters to life dancing to "Get me to the Church on Time" and earning 25 points. "Who knew there was so much talent in Vero Beach," said Stein.
Wearing a gossamer gown and tiara, Martha Redner, Quail Valley director of membership and marketing, and partner Dr. Glenn Tremml (who had graciously stepped in to replace her pro) told a "tale as old as time" with a Foxtrot to "Beauty and the Beast," earning a 24 for what Stein called a "dreamy dance."
Indian River County lifeguard, engineer and fire medic Robby Rivas, sizzled in a Salsa/Cha-Cha with partner Marianella Tobar to "Billy Jean" and "Smooth Criminal." Sheathed in gold lamé, the duo's quick turns, flashy movements, lifts and moonwalk racked up a perfect 30. "Hey, hey what do you say; this doer came to slay," said Foster.
White Orchid Spa owner Kelly Donovan showed her flair for the dramatic, twirling around the stage with Robert Scott in a nightclub two-step to the beat of "Bring It On," earning a 26 in what was a new dance style to the judges.
For more information, visit irchealthystartcoalition.org.
Prize Winners
Top online contributions: Kelly Donovan
Highest dance score: Tied between Robby Rivas/Marianella Tobar and Dr. Deni Malave-Huertas/Amy Trammell
Top Fundraiser: Martha Redner
First runner-up: Kelly Donovan and Robert Scott
Second runner-up: Pamela Dechellis and Nicholas Dimitrov
Photos by: Denise Ritchie and Kaila Jones
Click HERE to see more or buy photos