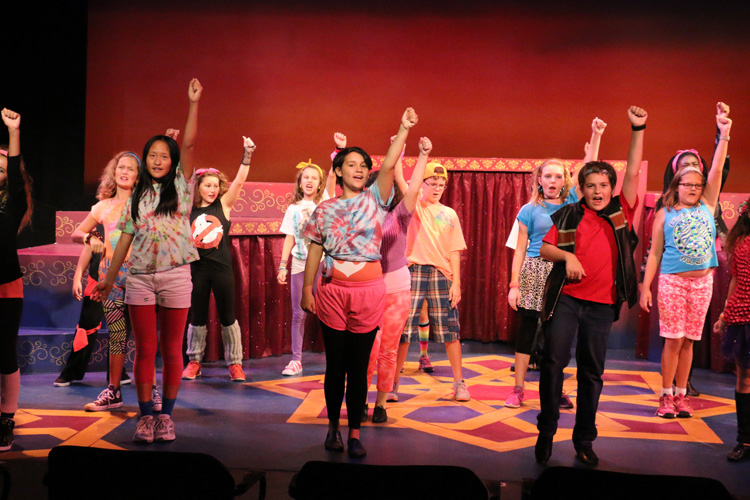 Children's theater often means cardboard scenery propped up in living rooms, school classrooms or rec centers. But in Vero Beach, children's theater goes big-time at Riverside Theatre for Kids.
Take a look at "Junie B. Jones," the next show opening May 30. Although performed by students, it will be presented on Riverside's fabulous Stark Stage, the mainstage home to lavish professional musicals.
Indeed, Riverside Theatre for Kids plumbs all the facilities, staff and generous resources of the well-heeled, acclaimed Riverside Theatre. Its productions, by and for the young, have grown so popular that they had to move shows out of the Agnes Wahlstrom Youth Playhouse and into the larger auditorium.
Of course, at Riverside, that translates into grander scenery, flashier lighting, better acoustics and costumes … all designed by talented professionals.
As the commercial might say, "This is not your grandfather's children's theater."
The group does such fine work that it typically wins awards at the annual Junior Theatre Festival, sponsored by huge names in American musical theater – Playbill, Disney Musicals and Music Theatre International.
"We're getting national recognition for the quality and reach of what we do," says Kevin Quillinan, director of theater education. "Being a part of Riverside Theatre means we have so much available to us, so many resources."
The shows are all fully produced and last about an hour in length. Some are productions of workshops and others productions of months-long classes. They typically feature casts of young performers, ages 8 to 17 years. Still others are shows starring early career professionals just out of college.
"They have such an energy and enthusiasm for performing," Quillinan says. "We get a great mix, from those who have never done anything before to those who have performed a lot."
Quillinan has a background in children's theater from Massachusetts and Virginia, where he had to design and create the all production values such as lighting, scenery and costumes on his own. Now though, at Riverside, he has hit the sweet spot.
"Being here, I don't have to focus on all that stuff so intently," he says. "The Riverside staffing helps out so much more and allows me, and other teachers and directors, to focus on that side of thing. It's great."
That assistance allows directors to make the shows as polished as can be.
"We have great quality," says Quillinan. "We hold a high bar and high standard for our kids which they always meet."
Oscar Sales, Riverside's marketing director and a father of two, says the program is singular in the way it treats both the young performers and their audiences.
Audiences, mostly families with children, enjoy the experience of the comfortable surrounds of the Stark Stage auditorium, where they are greeted by professional ushers who show them to their seats. And when the lights go down and the curtain goes up to reveal the splendid scenery, the excitement of being in a real theater becomes "palpable."
"It's bigger, grander," Sales says. "The audiences love it. They say this really feels like a big show."
And, of course, the performers are inspired to work on the same stage as the professional equity actors who perform mainstage musicals and plays.
"The first time we had a student show on the Stark Stage, you could see it in their eyes," Sales says. "It's rarefied air, almost."
In fact, this season, when the Riverside Theatre for Kids presents its production of "Thoroughly Modern Millie Junior," they will be performing it on the same stage on which the pros will present "Thoroughly Modern Millie." Both shows take place in January 2020.
While "Junie B. Jones" closes the 2018/2019 Riverside Theatre for Kids season, the 2019/2020 season begins about three weeks later.
On the schedule so far:
Junie B. Jones, May 30 to June 1: The musical is the area premiere of the show based on four of Barbara Park's best-selling children's books, about the adventures of plucky Junie B. as she enters first grade. It is designed to be fun, silly and a delight for the whole family.
Shrek the Musical Jr., June 21-22: This musical brings to life the hysterical and much loved animated film about a grumpy ogre, Shrek, who lives in an enchanted forest filled with fractured fairy tale creatures. He begrudgingly becomes friends with Donkey and helps rescue Princess Fiona. The nutty characters also include the wicked Lord Farquuad, the Three Little Pigs and the Gingerbread Man. The musical is by two Broadway notables known for their serious work – librettist and lyricist David Lindsay-Abaire, who wrote "Rabbit Hole," and composer Jeanine Tesori, who won a Tony for her music to "Fun Home."
Matilda the Musical, July 19-20: This will be the Treasure Coast's premiere of the award-winning musical. Based on the 1988 Roald Dahl classic children's story, it tells the story of an extraordinary girl who stands up to harsh authoritarians. The dark, delicious and satisfying musical was created by the Royal Shakespeare Company and the book by Dennis Kelly, who wraps everything up with surprising twists.
Polkadots the Cool Kids Musical, Oct. 3-5: This production stars recent college theater graduates on their way to professional lives in the theater. The musical follows Lily Polkadot, who tries to gain acceptance from her bullying peers.
A Charlie Brown Christmas, Nov. 22-24: This is the musical adaptation of the television Christmas classic. It revolves around young Charlie Brown as he tries to get his friends to see past the materialism of Christmas.
Frozen Jr., Dec. 5-7: The enchanting Disney-animated musical comes to life on stage, with award-winning music and lyrics by Kristen Anderson-Lopez and Robert Lopez. The story explores the love between two arguing sisters, Princess Elisa and Princess Anna and, with magic, adventure and humor, will teach you all to "Let It Go."
Thoroughly Modern Millie Jr., Jan. 4, 2020: This one-hour adaptation of the popular Broadway musical comedy is set in 1922 Manhattan. It follows courageous Millie Dillmount, who has moved to New York City to find a wealthy husband. This production is a fundraiser for the Junior Theatre Festival.
Show tickets are $10. For more information on Riverside Theatre for Kids productions, programs or show auditions, call 772-234-0852.
Riverside Theatre is at 3250 Riverside Drive, Vero Beach. To reach the box office, call 772-231-6990 or visit RiversideTheatre.com.