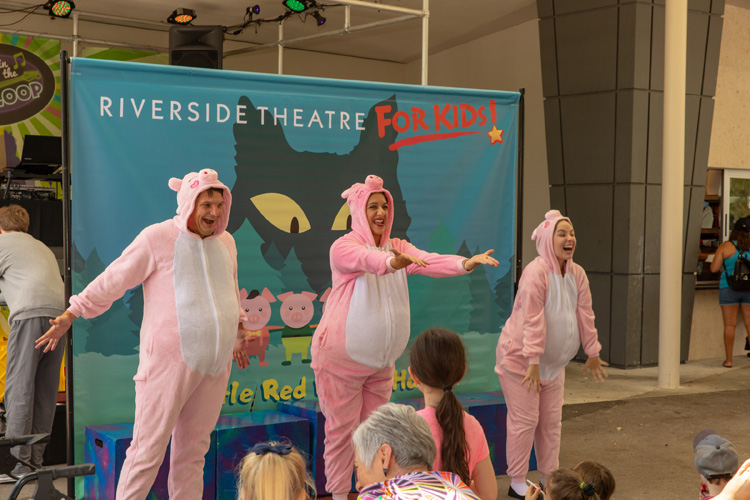 Youngsters were the focus of the recent RT Star's Big Birthday Party on the campus of Riverside Theatre, a free family day that featured performances, children's games and activities, hot dogs and snow cones. The hardest decision was determining what to do first.
There were performances throughout the day on the outdoor stage that included some of the high-energy students of Riverside Theatre's education programs showcasing their multiple talents with previews of the upcoming production "Junie B. Jones" the Musical," taking place May 30 through June 1 on the Stark Main Stage.
"She loves it; it's her life," said Brenda Lloyd, pointing out her 12-year-old granddaughter Chloe, one of the "Junie B. Jones" performers. "She was maybe 5 years old when she first tried out for a play. I took her to her first play when she was 3."
There was also information about the numerous Riverside Theatre for Kids summer camp options for students of all ages and abilities, from the new RT's Little Stars performance-based camps to the Rascals Revue performed by Little Rascals and Junior Rascals, as well as other campers who will be in staged performances of "Shrek the Musical" and "Matilda the Musical."
Additionally, students in the Intensive Summer Dance Study, presented by Riverside Theatre and Ballet Vero Beach, will perform onstage at the Riverside Dance Festival Aug. 4, the same date of RT's Back to School Bash, which is hosted in partnership with the Education Foundation of IRC.
"Since we do so much outreach now, we reach upwards of 10,000 students throughout the year," said Kevin Quillinan, director of theatre education. "Students throughout the community are reached in one form or another through all our different programs."
He noted that in addition to afterschool classes and summer camps, their Touring Shows take the show on the road to local schools, and their School Field Trip program provides an opportunity for school groups to visit shows at Riverside.
"We're for every kid. We do so much for the entire community; all kids of all ages and of all experience levels," said Quillinan. He added that there is sometimes a misconception that they are looking for the next superstar or that they cater to students hoping to become theater professionals.
"And that's not the case at all. Kids who have done a lot of theater can get a whole lot out of it, but so can the kid who's never done a thing; the shy kid, the quiet kid," said Quillinan.
"That's our overall message. And it's not just for those with means. We have scholarships. We have a variety of ways that we can reach all kids. So, whatever barriers people think there are to doing things here, I want to remove that. Everyone is welcome here; the more the merrier."
For more information, visit riversidetheatre.com.
Photos by: Denise Ritchie
Click HERE to see more or buy photos