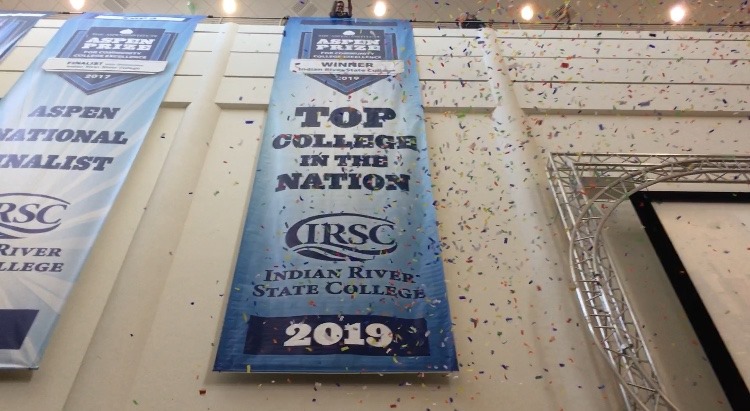 Two banners – each marking Indian River State College's journey to excelling in student achievement and performance – hung from a balcony inside the Kight Center for Emerging Technologies for several years.
One banner represents IRSC's milestone in being named a top 10 finalist in 2015 for the national Aspen Prize for Community College Excellence, a prestigious award sought out by colleges nationwide, officials said. The college advanced further, placing as a top 3 finalist 2017, a fact displayed on the second banner.
Now, the hard work of educators and faculty paid off in April, when the school was named as a top winner of the Aspen Prize.
Thursday, a third banner was hung inside the Kight Center, recognizing the 29,000 student college for its achievement. More than 100 spectators, including students, educators and legislators, cheered as the banner was unveiled, followed by the release of confetti.
"We're inspired by how IRSC has worked with students," Aspen Institute Vice-President and College Excellence Program Founder Josh Wyner said through a video message. "Students are graduating at higher rates, they are successful in labor markets. Data shows IRSC is deserving of the Aspen Prize."
More than 100 spectators cheered as a banner was hung at the Kight Center, honoring IRSC for its achievement in being named a top community college in the nation. #VeroNews pic.twitter.com/ZeX8kfQHSV

— Nicholas Samuel (@JournalistNickS) May 17, 2019
Dr. Edwin Massey, president of the college, passionately spoke about the school's achievement about 4 p.m. Thursday at the Kight Center in Fort Pierce. Massey said he was extremely proud of the college's employees to be operating at such a high level.
"The 2019 Aspen Prize is a credit to the people of Indian River State College and the outstanding communities we serve," Massey said in a statement. "IRSC is enriched with some of the most incredible people supporting our college mission, and this distinct honor validates their commitment on a national level. Bringing home the Aspen Prize is truly a celebration of their hard work."
Legislators in attendance, including state Sen. Gayle Harrell and Representative Toby Overdorf, presented IRSC with resolutions congratulating the institution on its achievement.
"It's phenomenal," Harrell said. "This would not have happened without community effort and everybody working together to make this the number one college in the country."
IRSC, which has five campuses on the Treasure Coast and in Okeechobee county, shared the top honor with Miami-Dade College, officials said. Three other colleges received the "Rising Star" award for improvement – Odessa College and Palo Alto College in Texas, and Pierce College at Fort Steilacoom in Washington.
The program at Aspen Institute has given awards every two years since 2011, officials said. The prize is funded by ECMC Foundation, Joyce Foundation, The Kresge Foundation and the Siemens Foundation.
This year's prize – $1 million – will be split among the five colleges, officials said.
The program facilitators conduct a selection process from a pool of more than 1,000 community colleges nationwide.
Facilitators focus on key areas – learning, degree completion, graduation and labor market success, success in transfer to four-year institutions, and fairness in access and success for low-income and minority students.
For IRSC, facilitators reviewed the school's transfer rate, percentage of students who go on to pursue Bachelors degrees, alumni salaries five years after graduation, affordability and other factors, all of which were above average.
"This is no overnight experience," Massey said. "We are proud to bring the award back to the Treasure Coast and Okeechobee county."