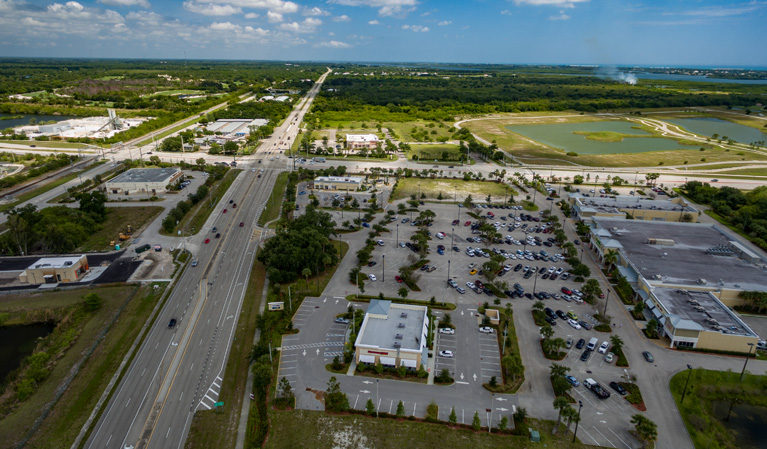 After a burst of activity six years ago that transformed the U.S. 1 and 53rd Street intersection into a major urban crossing, things were quiet for half a decade, but now as large subdivisions near the intersection launch and expand, commercial real estate activity has heated up again.
A Dunkin' Donuts has sprouted out of the ground on the west side of U.S. 1 south of Walgreens and a Burger King is undergoing the approval process next door. At the northeast corner of the intersection, a memory care facility has staked its sign next to the CVS and another out-parcel is under contract to an undisclosed buyer, according to SLC Commercial Realty & Development broker Mike Yurocko.
If the rule in real estate is "location, location, location," the rule for development appears to be "construction begets construction."
Walgreens and CVS set up catty corner from each other years ago in anticipation of residential growth near the intersection, which county planners saw coming. In 2012, 53rd Street, which had dead-ended at U.S. 1, was pushed across the railroad tracks and widened into a parkway from U.S. 1 to 58th Avenue.
That was followed – not coincidentally – by the 2013 opening of Harbor Point Publix shopping center.
Now Grand Harbor's expansion at the end of Indian River Boulevard north of 53rd Street is getting underway with approximately 800 new homes planned or under construction in various nodes, according to Metropolitan Planning Organization Director Phil Matson.
At the same time, Waterway Village on the widened stretch of 53rd Street west of the railroad, is continuing its development push. The subdivision currently has more than 600 homes and is expected to max out at about 1,500. Dozens of other subdivisions are underway or complete nearby, many along 58th Avenue.
The steady increase in rooftops has prompted the county and the Florida Department of Transportation to consider long-term plans for widening U.S. 1 north of the intersection, between 53rd Street and County Road 510.
"It's one of our top priorities," Matson said, though expansion will probably start at the north end of the stretch at CR-510 and move south to 53rd Street.
Ryan Sweeney, a senior planner with the county, said that the large housing developments in the area of U.S. 1 and 53rd Street are what drove the county to extend and widen 53rd Street between 58th Avenue and Indian River Boulevard. The increased traffic and subsequent commercial and retail development would have put too much pressure on the existing infrastructure.
As part of its deal with the county, Harbor Point developers Michael Collard Properties and North American Properties agreed to upgrade the U.S. 1 intersection by adding turn lanes onto 53rd Street, as well as funding the traffic signal at the plaza's entrance on 53rd.
Waterway Village, under development by Pulte/DiVosta Homes, helped fund the widening and extension of 53rd Street.
"Waterway was the bigger driver" for the road's extension, Sweeney said.
SLC Commercial is the listing brokerage for the handful of parcels Winter Beach-based Michael Collard Properties still owns at and near the intersection.
Yurocko sold the Dunkin' parcel and the soon-to-be Burger King site for Collard, and he is continuing to market several other Collard properties.
One parcel is just shy of three-quarters of an acre and sits immediately north of the Burger King site, which sold for $750,000. Yurocko said it would be suitable for either another fast food establishment or a single retail tenant.
He said he expects to reach out to a national developer he has in mind who might be interested in constructing a building for a specific tenant, which is common with these kinds of projects.
He explained that developers often buy land and build for tenants who operate on a long-term lease. Once the construction is done and the tenant moves in, the developer will typically sell the property to an investment firm. It's called a "single tenant net-lease" property, Yurocko said.
Something similar happened with Harbor Point. The developer bought 15 acres in the southeast corner of the intersection, built and leased the shopping center and then, in 2017, sold the completed project to Publix for $20 million. As part of the deal, Publix got 3-plus-acre outparcels, two on U.S. 1 and one on 53rd Street, all zoned general commercial and described as "prime retail."
The other Collard-owned parcels Yurocko is working to sell include two lots adjacent to the CVS on the northeast corner of the intersection.
One lot is under contract and is expected to close soon. Yurocko wouldn't say who the buyer is, only that it would be a medically related facility. Though it would be close to the already announced Certus 64-bed memory care facility, Yurocko said the new business would not be a connected user.
SLC Commercial is also representing PNC Bank, which holds a ground lease on property near CVS it wants to offload.
"It's a great location," Yurocko said of the bank property.
He agreed that much of the construction and development that has occurred and will occur at the intersection is due to the 53rd Street extension, particularly the crossing at the railroad. He said the cut-through opened easy access to the intersection and businesses like the new fast food restaurants for thousands of homes west of the tracks.
"It changed everything," he said, including the traffic pattern.
Yurocko sees the U.S. 1/53rd Street area as being "daily-needs retail" focused – a place to do all the day's shopping in one spot. Need groceries? There's Publix. Need prescriptions? The grocer as well as Walgreens and CVS have you covered. Meals on the go? Fast food's there, too. Hair and nails need a refresher? Harbor Point's the place to go.
"This is a perfect example of that aggregation," Yurocko said, referring to the tendency of daily-needs retail businesses to amass in one place.
But don't expect a sit-down restaurant to move in or any other business that has higher than normal demands for parking. The remaining lots are too restrictive in size to handle the additional parking needed for such a use, according to Yurocko.
As the U.S. 1/53rd Street intersection builds out, Yurocko is looking at the potential for development along U.S. 1 heading north toward Sebastian – the section of the highway that planners want to widen.
"It's still a little green," he said of the stretch – meaning there aren't yet enough rooftops to garner national developers' attention. But as the area continues to grow and people continue to move into Indian River County, it's only a matter of time.