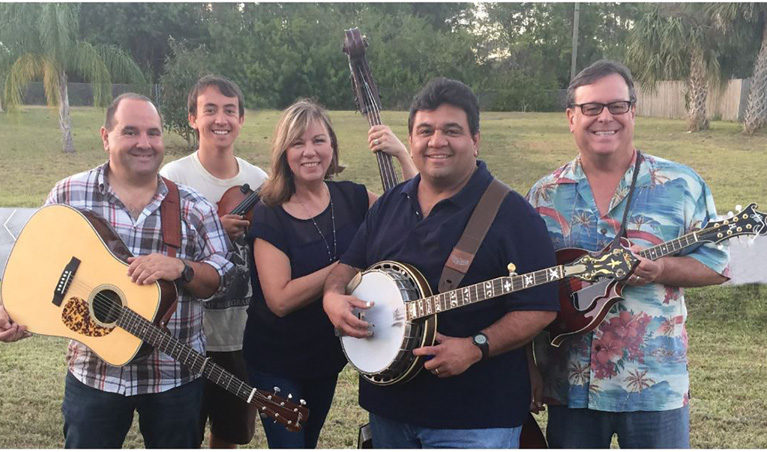 Live music under the moon, beneath the stars, on the ocean. Always an excellent choice on a Saturday night. The Florida Department of Environmental Protection's Sebastian Inlet State Park brings you its next Night Sounds concert this Saturday, May 18. With a different band and music genre each time, this month the popular Penny Creek Band returns with its special brand of "heart-felt, hard driving bluegrass." Regular park admission applies. The concert takes place under the night sky at the pavilions on Coconut Point, 9700 South A1A Melbourne Beach. Bring chairs or blankets. Time: 6 p.m. to 9 p.m. Park admission: $8 per vehicle, multiple occupants up to 8; $4, single occupant; $2, pedestrians, bicycles, extra vehicle passengers. 772-388-2750 or 321-984-4852.
Grab your boots and give your weekend a kick-start with music, a brew or two and a lot of comedy this Friday and Saturday, May 17-18. It's Riverside Theatre's wildly popular, free Live on the Loop concert, this week with a Boots and Brew-theme, paired with the (wild, untamed, hilarious) Comedy Zone. The Live on the Loop motto is "hang out, rock out, chill out." Wise advice. More wise advice: BYO chairs. There are lots set up, but just in case. However, don't BYO pets or any beverages or food. Even water. Not a buzz kill, because you can get all kinds of food and bevs at the full-service bar and grill inside. Bringing the boot-stomping music Friday will be Crooked Creek, with top country hits from Urban, Chesney, Owen, Aldean, Bryan, McGraw and more. Saturday, live country tunes will be provided by another favorite, the Casey Raines Band, with its high-energy, non-stop classic rock, country and pop. Inside, at the Comedy Zone, the laughs will be plentiful: Bringing this weekend's helping of funny will be Ron Feingold and John Charles. Feingold, says his bio, has been on stage since age 10. Through the years, he realized that most of his roles – grade school, high school, college and theater – were comical. So he tried stand up, loved it (as did the audiences) and hasn't stopped yet. Charles is a 30-something "with a penchant for big ideas and broken relationships," has, says his bio, performed in major comedy clubs and "brings his own signature brand of slacker-chic mentality" to his act. He shares his tale of "lost love and new hope through self-deprecating introspection and high-octane revelations." Times: Live on the Loop concert: 6 p.m. to 9:30 p.m.; Comedy Zone: 7:30 p.m. and 9:30 p.m. Tickets: Comedy Zone: side seats, $12; table seating, $14-$18; private special occasion VIP booth, $36/person. Live in the Loop entertainment: free. 772-231-6990.
Mad. Funny. Very Funny. The laughter is manic. The world is awry: critics praised the Obie Award-winning dark comedy "The House of Blue Leaves" in such a way, not surprising in the least from a John Guare work. When you see it at Palm Beach Drama Works (May 17 through June 2), you will certainly find your own adjectives for this play, which Dramaworks calls "surrealistic, heartbreaking and hilarious." The action takes place in 1965 when Pope Paul visited New York City. This is relevant because "The House of Blue Leaves", explains stageagent.com, is about a Artie Shaughnessy, a zookeeper and failed singer-songwriter who hopes a blessing from the pope will help him achieve his dream of going to Hollywood with his girlfriend, Bunny, "hopefully to find fame, fortune, and favor" from his best friend, Billy, a Hollywood director, while sending his totally Loony-Tunes wife, Bananas, to an institution with trees with blue leaves. The chaos is exacerbated by Banana and Artie's son, Ronnie, AWOL from the Army and attempting to assassinate the pope. Soon the family's evening is further disrupted by three nuns and Billy's deaf actress-girlfriend. Artie's songs provide musical elements. Curtain: Fridays, 8 p.m.; Saturdays, 2 p.m. and 8 p.m.; Sundays, 2 p.m.; Wednesdays, 2 p.m. and 7:30 p.m.; Thursdays, 7:30 p.m. Tickets: start at $25. 561-514-4042.