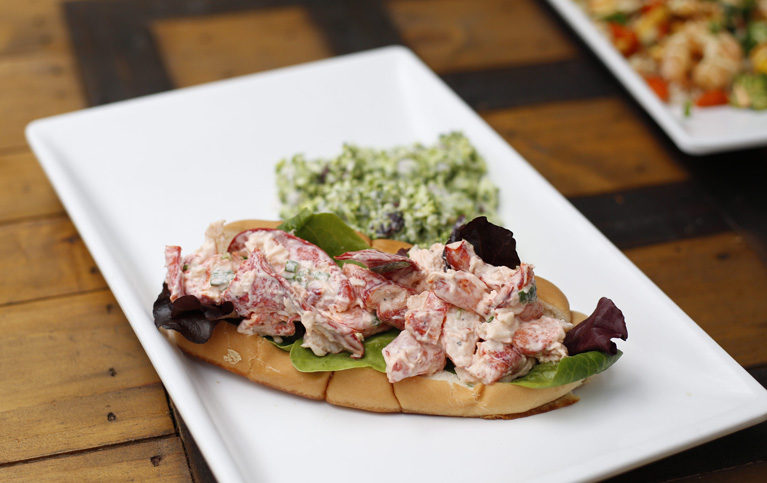 First, it was Brewgrrs. Next came the 21st Street Taphouse. Then the space sat empty. Frankly, empty was better.
But now, this sleek casual restaurant at the eastern end of Miracle Mile has been given a new life as the latest home of Chive.
This is the marriage of a cool vibe with good food that this space has been waiting for. And it's perfect as the third home of Chive.
The big difference between the new Chive and its predecessor on Royal Palm Pointe is you now have dining options.
Oh, the food was fresh and creatively prepared at both.
But when you entered the old Chive, instead of being seated at a table, you were shown straight to the first position at the counter. There, you chose what you wanted (i.e., seared ahi tuna, flank steak, grilled mahi-mahi) and what you wanted it on (tacos, burrito, beans and rice bowl, butter lettuce salad, or po boy).
Then, you moved on to the next counter position, and "personalized" your dish by choosing from 20 signature toppings (i.e., salsa fresca, jalapenos, blue cheese crumbles) and or 16 specialty sauces and dressings (i.e., wasabi mayo, avocado walnut vinaigrette, roasted red pepper sour cream).
You can still order that way at the new Chive, and then take your freshly prepared dish to a table or a comfy booth along the wall. You also could carry it to a table outside in the new Chive's attractive beer garden.
But if, like my husband, you find ordering at the counter and serving yourself a bit too frenetic – especially at dinnertime – you can grab a seat at the new Chive's beautiful 40-place bar, start with a beer, glass of wine or cocktail, and a server will assist you in making a menu selection and bring you your meal.
That's exactly what we did last Friday, and it worked out perfectly!
For starters, I ordered the scallop appetizer ($11) and my husband went for the soup of the day, a cup of New England clam chowder ($4). The coconut-crusted sea scallops were perfection, and my husband – a fanatic on the subject of New England clam chowder – gave Chive's rendition surprisingly high marks.
Then for a main course, I decided to try the ninja bowl ($12.99) and my husband went for the ahi tuna poke ($13.99).
The ninja consisted of brown rice topped with caramelized onion, stir fried vegetables, sautéed shrimp, scallions, judo chop sauce, sriracha and wasabi aioli and a scrambled egg. Very tasty. And my husband's poke featured beautiful chunks of rare ahi tuna set atop a fresh salad. For dessert, we shared a slice of Chive's homemade bread pudding ($3).
Simply put, the new Chive is the best Chive yet. If you haven't been there, it's high time for a visit.
I welcome your comments, and encourage you to send feedback to me at tina@verobeach32963.com.
The reviewer dines anonymously at restaurants at the expense of Vero Beach 32963.
Chive
Hours: Daily, 11 a.m. to 10 p.m. (11 p.m. Friday and Saturday)
Beverages: Full Bar
Address: 390 21St Street
Phone: 772-999-5452