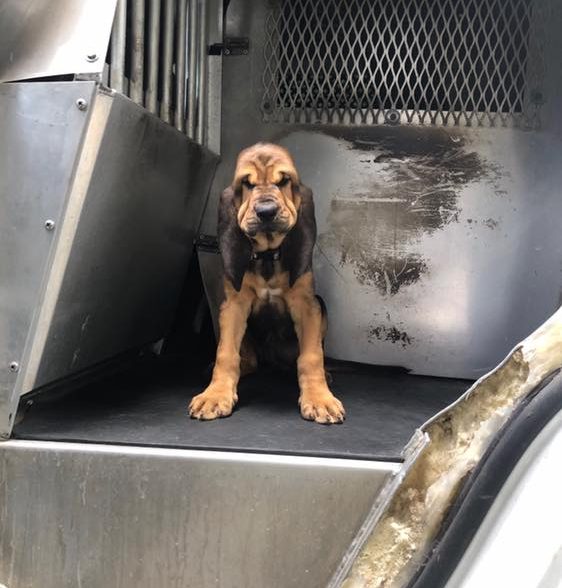 Several years ago, a sheriff's search-and-rescue bloodhound named Dixie trekked through mud and dirt trying to sniff out the location of an 11-year-old autistic boy than ran away from home.
Indian River County deputies searched for the child for more than seven hours, starting in the afternoon and leading into midnight, said the dog's handler, K-9 Deputy Brian Reimsnyder. About 1 a.m., Dixie finally tracked the boy, fast asleep and curled up inside a culvert without water.
He was about 300 yards away from his home on 45th Street. The boy was then returned to his family.
"It was a pretty proud moment for us," Reimsnyder said.
Dixie, who joined the sheriff's team in 2007, is a 12-year-old bloodhound. Dixie has had some notable accomplishments in her 12-year-career sniffing out missing children, adults and those who might be suicidal.
But, time passes. Dixie's body is starting to slow down and in more need of medical attention, Reimsnyder said.
As Dixie prepares for retirement, deputies are prepping a new 17-pound bloodhound pup with long ears, a big, wrinkly face and black and tan fur to take her place. Willow, born in February, will be taking over when her training is complete and will be the youngest member of the K-9 team.
Willow's training should wrap up in a few months, said Reimsnyder, who will also be the puppy's handler.
"Willow is loving and a sweetheart," Reimsnyder said. "She wants to go out and work independently."
Willow will be conducting non-criminal searches for the sheriff's office, Reimsnyder said. Deputies will use scent items – shirts, and other clothing – to train Willow in the natural art of tracking down people.
Reimsnyder said all dogs can make distinctions from one scent to another. All dogs can also track a human scent for more than two miles, Reimsnyder said.
In missing person cases, deputies usually give search-and-rescue dogs a piece of clothing or other item, such as a pillow case, to help find the individual, Reimsnyder said. The dog then ventures off to find the source of the odor.
Time delays and contamination are two factors that could throw off the dog's search for a missing person, Reimsnyder said. The dogs sniff out bacteria that are found on dead skin cells that fall off a person's body.
"If it's wet and damp outside, the odor will hold a lot longer," Reimsnyder said. "If it's warm and sunny, the odor and dead skin will burn off."
Even though dogs are scent discriminate, their search can come to a pause if they detect similar odors of several people while searching for one person in an area, Reimsnyder said. Reimsnyder said he has conducted multiple searches with dogs that have lasted more than three hours.
The sheriff's Search-and Rescue program began in 2007. Though deputies had the K-9 unit, they did not yet have search-and-rescue bloodhounds, like Willow, and saw a need to add this element to the agency, Reimsnyder said.
As Willow's training develops, deputies will have her sniffing out items at locations with different terrains, Reimsnyder said. Even though Willow is just a few months old, the will to seek out those in danger runs in the pup's family.
Willow comes from a bloodline of search and rescue bloodhounds, Reimsnyder said. The other eight puppies in her litter were all placed with law enforcement or other agencies to become search-and-rescue animals.
Deputies received Willow through funds donated from Jimmy Ryce Center, an organization that provides bloodhounds free to law enforcement to help find missing and abducted children and also promotes awareness of sexual predators. Authorities picked up Willow from Judy Braun of Bluegrass Bloodhounds in Kentucky, deputies said.
Reimsnyder also has a K-9 patrol dog, 8-year-old Kobi, a Belgian Malinois. Reimsnyder said he picked up Kobi in 2012 and uses him for criminal cases involving building searches, fleeing suspects and more.
All three dogs live with Reimsnyder. "I have my hands full," he said.
Photos provided by Indian River County Sheriff's Office