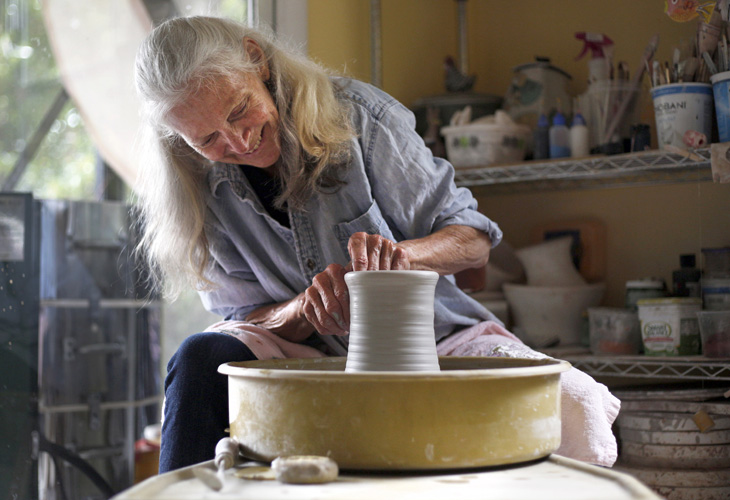 Life experiences often shape the future and such is the case with local potter Peggy Thomas, whose sense of adventure and lack of fear has enabled her to pursue a number of careers, preceding her current one as a teacher and hand-thrown pottery artist.
"I've lived in 11 different states and, for a short time, on the Caribbean island of Dominica. And I've worked as a fisherman, clammer, shrimper, seamstress, carpenter, housekeeper, paralegal, chauffeur and middle school teacher," says Thomas.
"Literally all of these life lessons are now parlayed into my clay creations, with the hopes that the pot will ignite a favorite and incongruous memory in another. Nothing gives me as much joy as seeing people look at my work and start laughing, because I have triggered something special in their recollection."
Born and raised in Connecticut, Thomas graduated with an art history degree from the University of Connecticut. However, that university didn't offer pottery classes, so it wasn't until she married a college professor who taught at Marietta College in Ohio that she had her first pottery lessons at age 29.
"I was hooked on the raw composition and pliability of clay and the way I could sculpt and mold it into whatever I imagined," Thomas recalls.
Still, creating pottery was just a hobby at the time, and her life continued to unfold with unusual twists and turns. Her second husband was a potter who she met while doing an apprenticeship and, as the pair produced production pottery, she became adept at throwing a lot of pots on the wheel.
"We were two college-educated free spirits who followed our dreams without preparation," Thomas says with a laugh. "We lived in California and Texas and finally settled in North Carolina, where we traded our car for a boat and started a fishing business, of all things."
The couple attempted fishing, then clamming and then shrimping off Harkers Island in Carteret County, but not being from the area they received very little help from the locals.
"We really struggled in North Carolina," Thomas recalls. They were even forced to learn how to tie fishing nets back together after theirs were mysteriously cut. "We were wildly unsuccessful."
With money tight and the fishing prospects dismal, Thomas apprenticed herself to a carpenter to supplement their income, before they finally decided to throw in the towel. The carpenter gave them an old car and they drove south, settling in Fort Pierce's Lakewood Park when the car broke down there.
"I guess you could say we went where the wind blew us," she says.
Once again reinventing herself, she began making and selling smocked dresses and blouses to shops on the beach. And, when the lure of the Caribbean beckoned, they packed up their three little boys and moved to Dominica.
"Of course, we didn't realize that there was no way to make a living there, so it wasn't long before we came back to Vero Beach."
When that marriage dissolved, Thomas began working as an elementary school substitute teacher at Osceola Magnet School.
"I finally found my calling," she says. "I loved awakening the creativity in young minds, and I went on to get my teaching degree through IRSC and FAU. I got a permanent job teaching art at Osceola and then at the Freshman Learning Center. I didn't do much of my own clay sculpting and firing during my teaching years, because my energy was depleted creating projects for my students. It was during my retirement that I truly dove into my work and flourished."
Thomas now spends her days experimenting – exploring different glazes, surfaces and techniques, and utilizing several firing methods depending on the desired effect for the finished piece.
For functional ware she fires in Cone 10 reduction, which reduces the oxygen in the kiln. Some of the more decorative work is low-fired and colorful- or pit-fired. But, she says, her favorite method is utilizing a raku kiln, where the intriguing allure of fire and smoke gives her work a blackened color with a copper colored metallic sheen and a crackled texture.
"I enjoy putting on my protective gear and working with the fire and smoke," Thomas explains. "There's something magical about using my tongs to remove a glowing pot from the propane kiln and transferring it to a garbage can filled with newspaper. It literally bursts into flames and then I put the lid on the can to reduce the oxygen and it smokes and smolders. The results are spectacular and it's so much fun to do."
Today, Thomas teaches clay art at the Vero Beach Museum of Art, where her artwork has been showcased, and she is a resident artist at the Flametree Clay Art Gallery in downtown Vero Beach. She has displayed and sold her work at the Vero Beach Art Club's Under the Oaks Art Show, and has opened up her home studio to visitors through the club's annual Art Trail event. Her pieces have also been shown at the Brevard Museum of Art and the Backus Museum.
An avid kayaker and biker, Thomas is often seen paddling on the river or cycling through the area's lush streets and parks. In addition to life experiences, she says much of her inspiration comes from her love of nature.
"I am fascinated with the flora and fauna of Florida," says Thomas. "My work celebrates the gorgeous nature that surrounds me with its rich color and texture. I enjoy creating beautiful, whimsical stories that evoke humor and joy."
Having raised five children who have all gone on to live successful lives, Thomas is now single and remains passionate about her life and her art.
"I read that love inhabits the same part of our brains as creativity," she explains. "When I left my marriage behind, I blossomed creatively. For me, my solidarity fuels my passion and awakens my artistry. I'm very happy filling my life with my family, friends, my art and the nature around me. Nowadays, I have the time, ideas and imagination to create non-stop. Honestly, it's as easy for me to mold and fire a pot as it is to breathe. It's my all-encompassing focus and purpose in life."
Thomas encourages others to explore their artistic talent by taking one of her classes at the museum, promising "anyone can do it and there is no grading. It's just you, a mound of clay and your imagination. I just help you execute the innovation and originality that lies within."