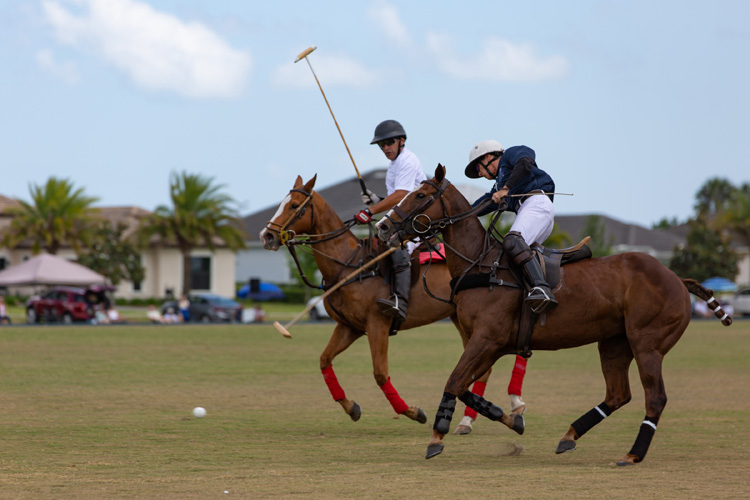 Polo ponies galloped full tilt to score big for New Horizons of the Treasure Coast during Vero Beach Polo's recent season finale game.
As the featured nonprofit of the week, New Horizons received proceeds from the gate to help ensure that Treasure Coast residents will have access to care and counseling for mental health and substance abuse issues regardless of their ability to pay.
"All money raised in Indian River County stays here," said Lisa Rymer, New Horizons chief development officer. "Fifty-seven percent of our clients have no source of income or insurance. The funds that we raise are used to cover the costs of indigent care."
After guests enthusiastically stomped divots during the half-time – replacing clumps of grass and dirt dislodged by the ponies – two-legged guests took a turn parading down the field in a special hat parade and competition, while the younger set posed for photos on a wooden practice pony.
The chapeau procession included boaters and bowlers, Panama-style and sailor hats, each festively bejeweled with rhinestones, feathers and other finery. Yvette Jones Pryor took home the prize for the best hat with her glorious spring-yellow sunhat, its wide-brim jauntily turned up.
In this final match of the season the Sunset Farm and Vero Beach Polo Clubs ended in a 5-5 tie. Polo season will resume in January 2020.
The real winners are the more than 14,000 Treasure Coast children and adults who receive services through New Horizons annually. Roughly 20 percent of clients live in Indian River County, where they have access to outpatient services at two locations. The Fort Pierce location serves as the nearest Baker Act receiving facility when those in Indian River County cannot accommodate the need.
The organization also manages a detox unit, independent recovery program, case management services, Florida Assertive Community Treatment, psychosocial rehab, independent living skills training, a crisis line, emergency screening services, a mobile crisis unit, and stabilization services for adults and children.
Additionally, staff connects with the homeless population through the PATH (Projects for Assistance in Transition from Homelessness) programs, building their trust before bringing them into the fold to connect them with whatever resources they are eligible for through social workers and case managers.
On May 20, New Horizons will feature fashions from designers Mochachino NY LA, Vivre Couture, Starwear USA and Annalise Bean in the upcoming Jazz Art & Fashion fundraiser at the Grand Harbor Golf Club.
For more information, visit nhtcinc.org.
Photos by: Denise Ritchie
Click HERE to see more or buy photos