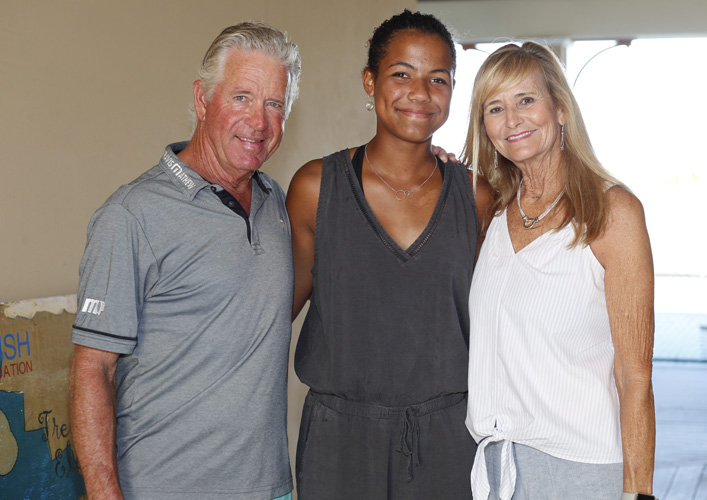 Tennis fans and supporters of the Mardy Fish Children's Foundation converged on the Boulevard Tennis Club Sunday, April 28 for a Kickoff Party to advance the MFCF Tennis Championship, a USTA Pro Circuit event, which concluded this past Sunday.
"It's a great week to watch some tennis. I'm sure these players are going to put on an amazing show for us, but the real purpose is to raise money to help kids," said Tom Fish, Mardy Fish Children's Foundation board chairman. "It's exciting; we're helping a lot of kids. It was a dream of Mardy's to give back to the community. It started at our kitchen table one day and now that dream has become all this."
Mardy Fish, a former Vero Beach resident and top-10 player who currently serves as captain of the U.S. Davis Cup team, founded the foundation in 2007 to improve the lives of local children. Today, more than 2,500 school-aged children are served through its funding of afterschool programs and scholarships focused on healthy lifestyle activities.
Grace Levelston, one of the top junior players in Florida, is a shining example of that success. Now a tall, poised young woman of 13, Levelston was a 5-year-old student at Beachland Elementary School when she first entered the MFCF Kids on Court program.
Hoping to encourage other young people to pick up a racket, she says, "It's great exercise and it really helps widen your social network. I have met a lot of my friends all over the country through tennis."
The reception featured music by the band Riptide, delicious passed hors d'oeuvres and a generous buffet, followed by a special exhibition by eight of the tournament players in a mini-tournament of nine-point tie-breakers.
"We're very happy to be here. This really has become the new epicenter of tennis in Vero Beach," said Randy Walker, tournament co-director, speaking about improvements made under the Boulevard's new owners and management.
He said that even before the main draw, players from around the world converged for the pre-qualifying and qualifying events, adding, "We had 200 people here for the pre-qualifying finals. There are some ATP tour events that don't even get that many people coming out to watch matches. At this level, they play in cities all around the world. But no city embraces this level of tennis more than Vero Beach. Everyone in the crowd here are fine connoisseurs of good tennis."
Additionally, each tournament day showcased a different program funded by MFCF, including the Children's Homeless Foundation's Youth Swim Team, Sherwood Farm's Intro to Equine, Youth Guidance, Treasure Coast Elementary Garden Club, Indian River Golf Foundation's SNAG Golf, LOTA Sports Net Generation Tennis Clinic, Boys & Girls Clubs, Junior Tennis League and Sebastian Elementary School Futures Finals Dance Team Open Cheer.
For more information, visit mardyfishchildrensfoundation.org.
Photos by: Kaila Jones
Click HERE to see more or buy photos