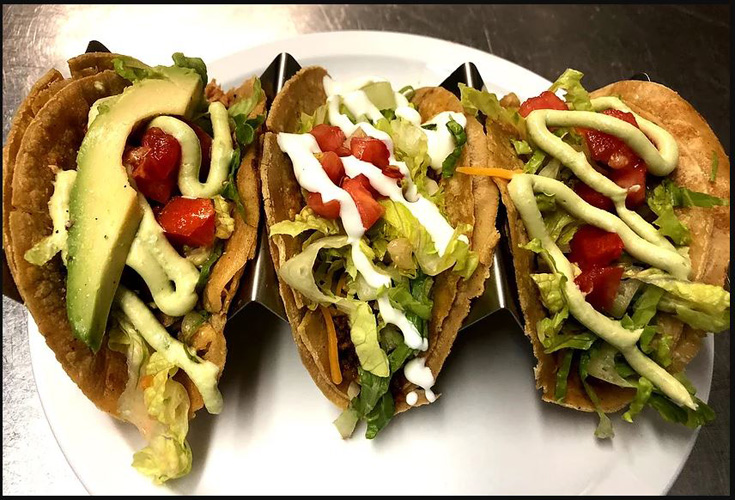 In the days leading up to last weekend's celebration of Cinco de Mayo, I got a hankering for tacos.
While Vero Beach has no place offering Mexican fine dining, finding tacos is no problem with three Tex-Mex restaurants strung out along three blocks of 14th Avenue.
So I decided last week to try tacos at each of the three taquerias: Jake's Tex-Mex & Tequila Bar, the Blue Agave, and Taco Dive.
On the first night (if you can have 10 days of Christmas, why not three nights of Cinco de Mayo?), along with several friends I visited Jake's Tex-Mex & Tequila Bar.
This restaurant – decorated in bright colors, with variety of cacti and southwestern-inspired art – occupies the space that once housed Avanzare.
Our group was generally unenthused about the specials they ordered off the drink menu at Jake's, and the salsa and the guacamole were pretty much tasteless.
But a couple of the tacos – made America-style with flour tortillas – were quite good. I particularly liked the short rib taco, which reminded me how much I always enjoyed the braised short rib lasagna at Avanzare. I miss Avanzare.
The second night, we tried Blue Agave – a bustling cantina that seems best known for its margaritas. Here, the drinks were good, and we also enjoyed the salsa sampler – six different salsas ranging from mild to fiery hot served along with fresh guacamole.
The tacos at Blue Agave are made with corn tortillas, the way they are in Mexico, and I particularly liked the shrimp and jalapeno taco – fresh shrimp mixed with pickled onion and agave slaw, served with very good black beans and roasted veggies on the side.
On Cinco de Mayo eve, we wound up our taco testing at Taco Dive. No margaritas here (they don't serve mixed drinks), but they recently added a white sangria that was very tasty. The guacamole and salsa at Taco Dive were fresh – close to as good, we thought, as at Blue Agave.
The tacos here, made with flour tortillas, were the most creative of the restaurants we sampled. The two we liked the most at Taco Dive were the BLT taco – slices of applewood bacon on a bed of arugula, pimento cheese and tomato, topped with a fried egg – and the taco bella, a marinated and sautéed portabello mushroom with arugula, black bean corn salad and tomato on a layer of guacamole.
By the time we completed our third consecutive evening of tacos, we were ready for Cinco de Mayo to be over.
But Tex-Mex is fun from time to time. Of the three taquerias, the narrow winner of our 2019 Cinco de Mayo competition – based on best guacamole, best salsa and best tacos – was (drum roll please) … Blue Agave.
I welcome your comments, and encourage you to send feedback to me at tina@verobeach32963.com.
The reviewer dines anonymously at restaurants at the expense of Vero Beach 32963.