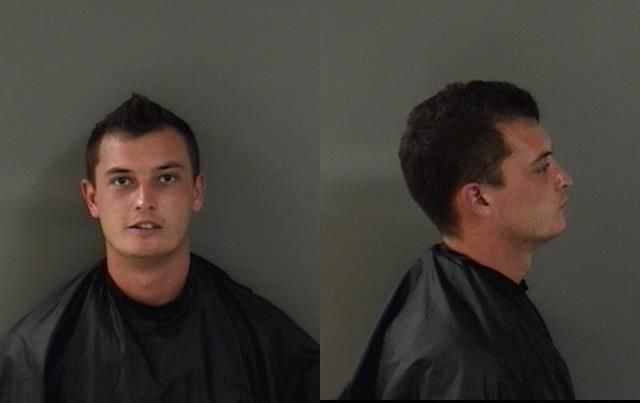 INDIAN RIVER COUNTY — A 22-year-old who stole a woman's car, struck a patrol vehicle and fled the area was detained after deputies deployed stop sticks to deflate the vehicle's tires during a chase, deputies said.
The man – identified as Dylan Michael Lawson – led law enforcement officials on a one-hour chase throughout the county, reports show. Lawson eventually pulled into a yard and surrendered, deputies said.
Indian River County deputies arrested Lawson, of Port St. Lucie, on a variety of charges including aggravated battery on an officer, grand theft auto and fleeing and eluding. Lawson was held Tuesday at the Indian River County Jail on $19,000 bond.
A woman called law enforcement about 3 p.m. Sunday after she and Lawson got in an argument inside her car. The argument turned physical when Lawson began punching the woman in the head and face, reports show.
The woman ran to a resident's home in the 9200 block of 86th Street to call 911. Lawson, who was sitting in the passenger's side, hopped in the driver's seat and fled the scene, reports show.
Deputies later found the vehicle parked in a Publix parking lot in Sebastian. When a sheriff's deputy pulled behind the car, Lawson shifted the vehicle into reverse, accelerated backward and struck the deputy's patrol vehicle, reports show.
Lawson then accelerated forward and sped off from the parking lot, almost striking other parked vehicles. Lawson led several deputies and Sebastian police vehicles on a chase.
Deputies deployed stop sticks several times, but Lawson was able to evade them, reports show. Lawson eventually rolled over the stop sticks on 85th Street and continued to drive with two deflated tires, authorities said.
Deputies were able to call Lawson and convince him to drive back to 86th Street. Lawson drove back to the area, parked his vehicle in a residential yard and was detained.
Deputies arrested Lawson and took him to the county jail. Lawson has an arraignment at 8:45 a.m. June 7, court records show.