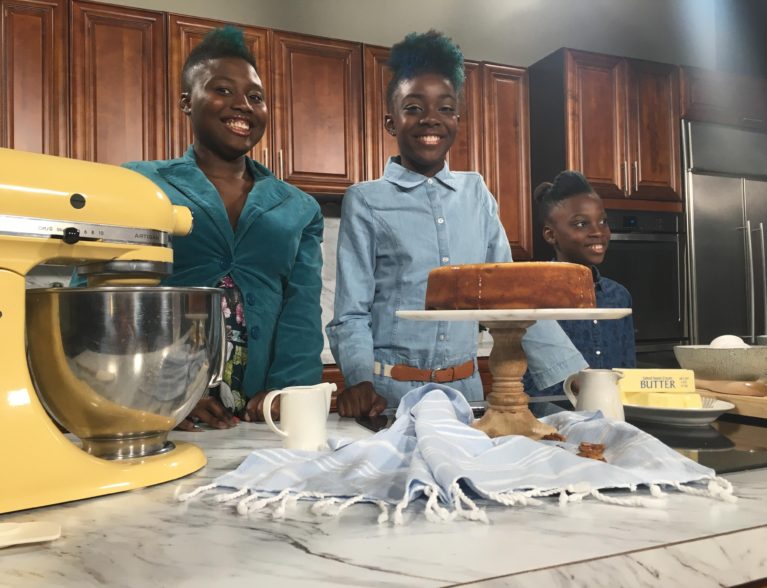 Nazhi Forrest (center) pictured with Shakarra (left) and Italiyah (right), Photo taken April 4, 2017.
Nashanta Forrest feels like she is living in a constant nightmare.
Three of her four children were in and out of the hospital constantly from battling complications from sickle cell anemia, a life-threatening blood disorder. One of her daughters, Shakarra, suffered a severe stroke in 2014, leaving her in an intensive care unit for nine weeks.
"I remember when Shakarra stopped responding. I told the doctor my child was dying," said Forrest, 40, of Port St. Lucie. "Her brain was swollen and bleeding. I couldn't bare to see her like that. The stroke she suffered, people with sickle cell anemia almost never survive it."
Not long after Shakarra's health troubles, Forrest's middle daughter, 15-year-old Nazhi, saw the moment as a change to find a holistic solution for those suffering from sickle cell anemia. The Treasure Coast High School student wants those battling with the condition to eat healthier and avoid "trigger foods," so they won't suffer inflammatory attacks and chronic pain.
Nazhi started her own business where she prepares organically baked goods as an alternative to sugary and carb-filled foods. The 'Kidpreneur,' who calls herself  "Nazhi Thee Baker," said she educated herself on sickle cell anemia.
"I'm so proud to have sickle cell anemia. It feels really great because I can teach more people about it so they can be cautious," Nazhi Forrest said. "It feels good to have my own business. I always wanted to work for myself. I feel I can do anything I put my mind to."
Nazhi's sister, Shakarra, now 20, lived through her health scare. But, the stroke damaged Shakarra's cognitive skills drastically, leaving her to fall behind in school and unable to complete simple tasks, such as crossing the street, Forrest said.
Community Involvement
Nazhi spoke to youth about the dangers of sickle cell anemia April 15 at the Gifford Youth Achievement Center. She also spoke to youth May 1 at Indian River State College in Fort Pierce.
"The GYAC youth were shocked she was so young and doing all these things," Forrest said. Forrest said Nazhi plans to speak to more students at schools to educate them on the serious condition.
Nazhi's efforts on spreading awareness about sickle cell anemia have not been in vain. The teen and her sisters were featured on the LifeTime series Live Life Forward in April 2017, promoting Nazhi's organic goods.
In Sept. 2016, Nazhi received a proclamation for her charity
work during Sickle Cell Anemia Awareness Month from Mayor Wayne Messam of Miramar, where her family previously lived. Nazhi and her family received another proclamation from Miramar in Sept. 2018 for hosting their inaugural Healthy Heart Walk For Families Living with Sickle Cell Anemia, Forrest said.
The Forrest family is preparing to host the 2nd annual event Sept. 28.
Journey to healthier eating 
Forrest noticed she was feeding her daughters inflammatory foods, such as canned goods and frozen entrees, before she decided to switch up their diet. The excruciating chronic pain that comes with sickle cell anemia can be reduced with healthy eating, Forrest said.
"I stayed clear of foods that release insulin into the body quickly," Forrest said. "The girls haven't eaten school lunch in over five years. I prepare meals for them."
Forrest said she started feeding her kids sweet potatoes, whole grain rice, spinach, nuts and arugula. The healthy foods, Forrest hopes, will prevent her daughters from life-threatening trips to the hospital from sickle cell anemia complications and chronic pain.
Forrest said Shakarra described the pain as feeling as if a truck was repeatedly running over her body.
Watching her sister suffer and also experiencing her own pains, Nazhi moved to develop her own recipes aimed at reducing inflammation and started making treats, such as organic peanut butter cookies and cheesecake with walnuts for the crust.
Nazhi uses ingredients for her treats such as raw cane sugar, organic eggs and oatmeal, Forrest said. Some of her main dishes are her mini pound cakes, pecan caramel pound cake and pink strawberry cake.
"She wanted people with sickle cell anemia to eat healthy foods that would not cause flare ups," Forrest said.
Nazhi Thee Baker Angel Foundation 
The Nazhi Thee Baker Angel Foundation is a non-profit 501(c) 3 committed to the family's goals of promoting awareness of sickle cell disease and searching to find a cure.
Sickle cell anemia is an inherited condition where there aren't enough healthy red blood cells to carry enough oxygen throughout a person's body, health officials said. Those diagnosed with the condition can experience episodes of pain, painful swelling of hands and feet, vision problems, strokes and acute chest syndrome.
Forrest said she and her husband each have traits of sickle cell anemia. She said her husband has a rare gene that affects all of their female children.
Nazhi, Shakarra, and Italiyah, 11, were all born with the health-damaging condition. Their older brother De'Armani, does not have the disease, Forrest said.
Through the foundation, the Forrest family once a year donates goods to children who are hospitalized. The TLC bags include a water bottle to stay hydrated, a jump rope to exercise, a stress ball to deal with the chronic pain, puzzles, clothes and more.
Nazhi also bakes organic cakes for kids living with sickle cell anemia. Those who want to donate to Nazhi Thee Baker Angel Foundation can send an email to foundation@nazhitheebaker.com.
"Kids are having heart attacks, strokes and are going into septic shock. We want to bring light to the trigger foods that send youths with sickle cell into a crisis episode." Forrest said. "Dealing with this illness is horrible. Our goal is to educate. So many parents do not realize sickle cell children need to be on special diets to make sure they stay as healthy as possible.
This way of living will increase their quality of life."