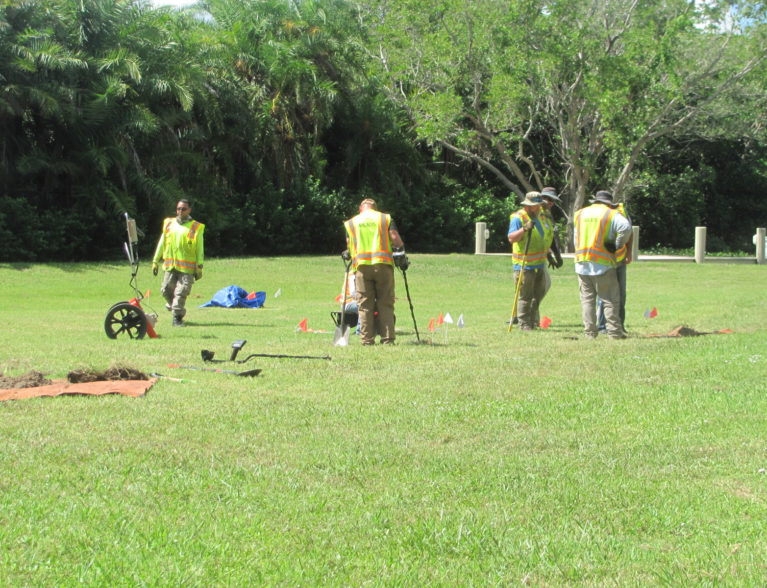 VERO BEACH — The U.S. Army Corps of Engineers will be digging at South Beach Park Wednesday morning searching for any bombs or ammunition left behind by the military decades ago, police said.
Authorities have not said if evacuations were scheduled in the area during Wednesday's search. Vero Beach police said the public may still visit the beach, but would need to stay clear of safety zones where the corps will be working.
The search is part of a munitions program, where Army Corps officials search for weapons used or discarded by the military. The project covers areas from Vero Beach down to Jensen Beach, including North and South Hutchinson Islands, according to reports.
The areas were known as the Fort Pierce Naval Amphibious Training Base, which the Navy used during World War II. Corps officials have conducted ongoing searches for the potentially dangerous items since 2014.
The last confirmed munition found in the area was a World War II-era barrage rocket. The 7-inch rocket, found in a rock garden on an undeveloped patch of land, was being used as an ornament, Army Corps Public Affairs Specialist Amanda Parker said.
A munitions team from Patrick Air Force Base responded to the scene to dispose of the rocket.
Other weapons used in World War II were also discovered on North Hutchinson Island in 2017 and in 1998, officials said.
Police said munitions, or materials used in war, could be buried in the affected area. The items could be dangerous and not easily recognizable, police said.
Officers said residents should never touch, move or disturb something they think could be a munition. Anyone who finds a suspected munition item should immediately call 911.