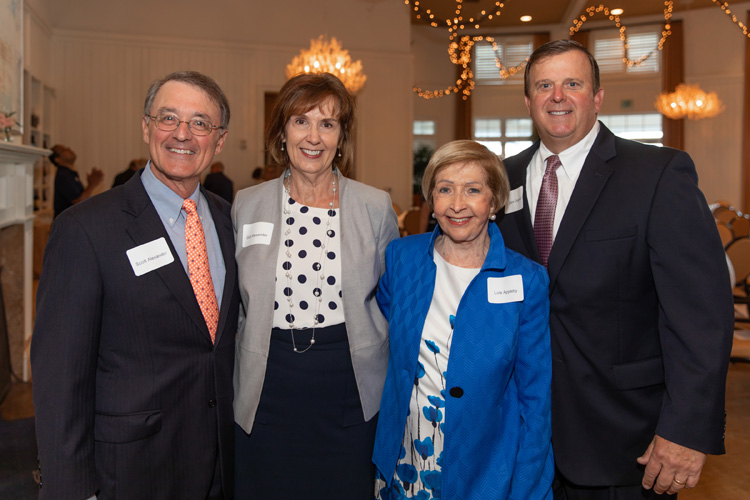 Scott E. Alexander, regional president of Northern Trust, was honored last Tuesday morning at the Quail Valley River Club at the 11th annual Pinnacle Award Breakfast. Recognizing "excellence in charitable planning," the award is presented by the Indian River Estate Planning Council and the Planned Giving Council of Indian River.
"I consider you to be Alexander the great," said Lois Appleby, last year's recipient, as she presented the award.
Prior to that, event chairman David Osgood described Alexander as the "living example of compassion, integrity and being able to mobilize resources for the greater good."
"During my four years as CEO of the Indian River Community Foundation, I've come to believe that Scott demonstrates the best characteristics of what it means to be an engaged and invested community leader," said Jeff Pickering, who nominated Alexander for the award.
"He has consistently engaged in a process of learning about the issues that are important to our community and then he invests his time, his professional experience and his own personal financial commitment in solutions that continue to make our community a better place."
Pickering noted that Alexander has championed several IRCF initiatives, such as encouraging a greater awareness of the intergenerational transfer of wealth, strengthening collaborative efforts with the United Way of IRC, and increasing the visibility of the IRCF and local philanthropy at the statewide level.
"In 2009, when Scott and (wife) Gail were contemplating a move to Vero Beach, he said to Gail, 'I'm going to cut back on my involvement with boards and charitable organizations; maybe one or two,'" said Bob Puff, former IRCF board president, eliciting laughter from the crowd.
In addition to chairing the IRCF board, Alexander served as chair of the Vero Beach Museum of Art and Gifford Youth Achievement Center, and is currently president of the Princeton Club of Vero Beach. He has also served on the boards of Riverside Theatre, Indian River Medical Center Foundation, United Way of Indian River County and the United Way Foundation.
To try to capture the "essence of the man," Puff said four qualities stood out: that he is a class act and very professional; he is dependable and always completes the task; he has great judgment in dealing with people; and he has a wonderful sense of humor.
Susan Chenault, senior vice president and trust officer at Northern Trust, provided background on Alexander's many years in the financial services industry, adding that he was active in the philanthropic efforts of whatever town he resided in.
Shortly after arriving in Vero Beach, Alexander was asked to chair the Gifford Youth Achievement Center board – despite not even serving on the board at the time – and has since worked to increase the organization's financial stability and its overall standing in the community.
"He leads us by example," said Chenault, noting that Alexander had jumped into our local philanthropic community full throttle. "A part of his heart has been forever planted in Vero Beach, and Vero Beach is the better for that."
"What happens in this town is that the community embraces you," said Alexander, thanking the various individuals who guided his entree into and development within the local nonprofit world.
"I would submit to you that so many of the organizations in this town are critical to the success of this community," said Alexander, before expressing his appreciation for the award.
Photos by: Denise Ritchie
Click HERE to see more or buy photos