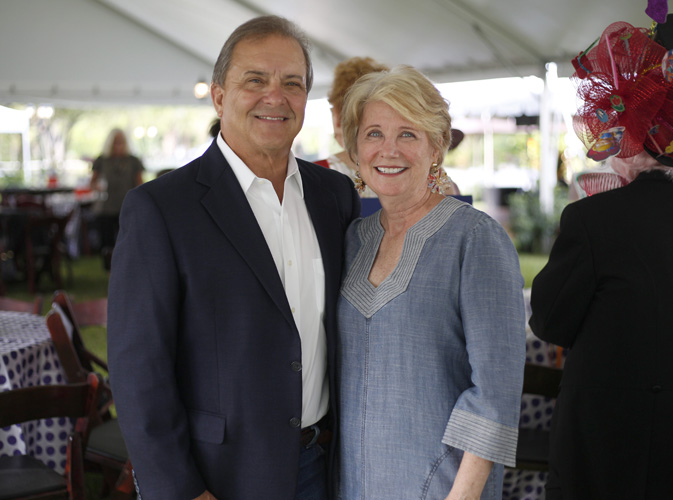 Supporters of The Arc of Indian River happily followed Alice "down the rabbit hole, for a very important date" last Thursday evening at the organization's Mad Hatter Garden Gala Tea Party-themed fifth annual Starlight & Sneakers fundraiser.
A cast of characters from Lewis Carroll's "Alice in Wonderland" came to life at Rock City Gardens with the Queen of Hearts, Alice, the Mad Hatter and the Cheshire Cat frolicking about the beautifully manicured paths as they greeted the arriving guests.
Already known for their glammed-up sneaker competition, organizers this time added hats to the equation and, with a nod to the Mad Hatter, many a noggin donned festive toppers resplendent with feathers and cards, a few cowboy hats made the cut, and there was even one made from palm fronds.
Guests enjoyed cocktails and listened to music by the Gypsy Lane Band while dining on sumptuous fare catered by Elizabeth D. Kennedy & Co. that included a savory Asian station including a full sushi boat, a mixed grill station with mouthwatering fillet, chicken and baby lamb chops and another station with delicious assorted salads.
The lightheartedness of the event never took away from the importance of the work done by The Arc, which since 1975 has empowered individuals with special needs to live their lives to the fullest.
Clients include people like Scott Connelly, a Vero Beach native who was a successful professional living in California when he suffered a traumatic brain injury. After two years in the hospital, he was able to come home, but it quickly became apparent that Connelly would never be able to return to his former life. Suffering from short-term memory loss, he would not be able to live on his own.
Fortunately, his family learned about The Arc through the Replogle family and now, 14 years later, Connelly lives a happy and fulfilling life.
"The Arc has allowed Scott to live somewhat independently. He loves music, and if it weren't for The Arc Chorus and Noreen Davis, I don't know where he would be," shared his sister-in-law, Laurie Connelly.
Later, Scott Connelly joined fellow members of The Arc Chorus, who all sang with contagious enthusiasm for the appreciative crowd. Dillon Roberts and Jeff Petersen kept the momentum rolling with a paddle ask, pitting one side of the tent against the other to raise their paddles high with offers of contributions to fund Arc programming.
"We're able to provide services due to the outstanding support of the community, partnerships and events like Starlight & Sneakers," said Heather Dales, Arc CEO. "The funds raised help to subsidize our programs."
Dales said Florida ranks 50 out of 51 nationally (including Washington, D.C.) for reimbursement rates for services nationwide. More than 2,000 families in Indian River County are impacted by special needs, yet government funding is currently 11 percent less than what The Arc received in 2003.
"It's challenging for us. Everything is getting more expensive. Our rates are less and our client base has increased by about 30 percent," said Dales. They currently offer more than 220 special needs adults a place to engage with others, learn employment skills and live a more fulfilling life.
Thanks to community support, they now also work with disabled youth between the ages of 14 and 21 who are in the school system to help them with job skills, on-the-job training and resume building.
"It's a great program to help our youth learn employability skills, so they have those when they join the employer market," said Dales, adding that otherwise they would join the nearly 90 percent of adults with disabilities who remain un- or underemployed.
For more information, visit arcir.org.
Photos by: Kaila Jones
Click HERE to see more or buy photos