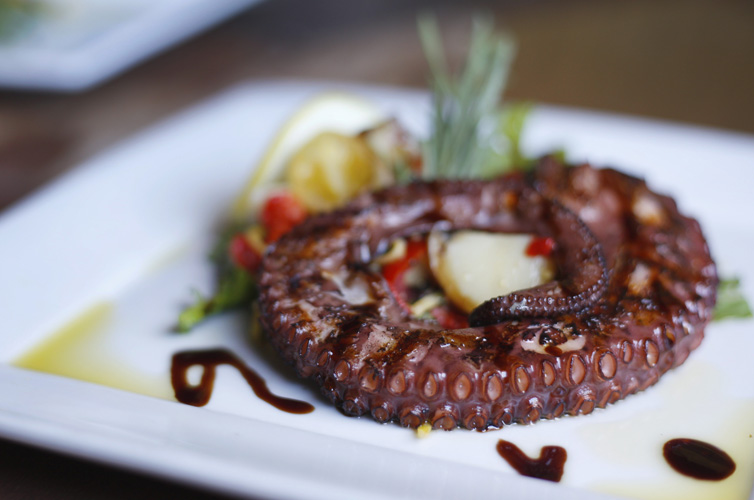 You know the proverb, "Out of sight, out of mind?"
For most residents of the barrier island, Chill & Grill is pretty much out of sight. Located in the middle of nowhere between Vero and Sebastian, you don't drive past this restaurant every week – or even every month. And blasting up U.S. 1 at 50 or so miles an hour, it's easy to miss it.
As a result, this jewel of a restaurant often doesn't come to mind when I am thinking about places to go for dinner. Too bad, because Chill & Grill is easily one of the five best in the Vero Beach area.
But last week, I got a craving for steamed clams, and I'm not likely to forget that no one does them better than Chef Scott Burch, for six years executive chef at Windsor.
So off we went with a couple of friends, arriving around 7:45. Going on the late side is generally a good idea, because the restaurant does not take reservations and is frequently packed by an intensely loyal cadre of long-time fans.
As expected, we found the cozy grill full; but with a couple of early tables turning over, we were soon shown by Chef Burch's wife Csilla to a nice table.
After taking our drink orders (no cocktails here, but a more than adequate selection of wines, and some interesting specialty craft beers on draft), our server Justin asked about appetizers.
Needless to say, I immediately ordered a bowl of steamed little necks ($13.99) and my husband and our companions all went for another of our favorites, the calamari fries ($10.99).
The latter look just like French fries but are thin slices of big ocean squid cut lengthwise, rolled with panko bread crumbs, and flash fried just enough to make them crispy. Served with aioli, they make a tremendous appetizer.
The steamed little necks in a pinot grigio, garlic and clam sauce were, as usual, heavenly. The broth is to die for, and the bowl is brought to the table with a delicious baguette (why do so many restaurants scrimp on the bread) for soaking up every last drop.
Then for entrées, I ordered the shrimp and grits ($17.99), my husband decided to have the BBQ salmon ($23.99), one of our companions opted for the grilled chicken breast pasta ($15.99) and the other went for the shrimp and crab pasta ($22.99).
My husband's gorgeous piece of BBQ glazed salmon, perfectly prepared in the wood-burning oven, was served atop spinach with bacon, onions and crispy shallots.
Our companions also both enjoyed their pasta dishes – the bite-sized chunks of chicken served with penne pasta were moist and tasty, and the crab cake atop the angel hair pasta was surrounded by five plump juicy shrimp.
But my blackened shrimp served with cheese grits – accompanied by Andouille sausage, garlic, white wine and butter, and perfectly seasoned – was absolutely sumptuous.
We finished with one of Chill & Grill's homemade desserts, the brownie sundae ($6.50). Dinner for two with a couple of glasses of beer or wine should run in the $90-to-$110 area before tax and tip.
If you haven't been there lately, summer is probably a good time to refresh your memories of Chill & Grill. For many, it's a bit out of the way – but food this good is worth more than the few extra minutes in the car.
I welcome your comments, and encourage you to send feedback to me at tina@verobeach32963.com.
The reviewer dines anonymously at restaurants at the expense of Vero Beach 32963.
Chill & Grill
Hours: Dinner from 5 p.m. to 9 p.m. daily except Monday
Beverages: Beer & Wine
Address: 7401 U.S. 1, Vero Beach
Phone: 772-562-5477
Photos by: Kaila Jones
Click HERE to see more or buy photos