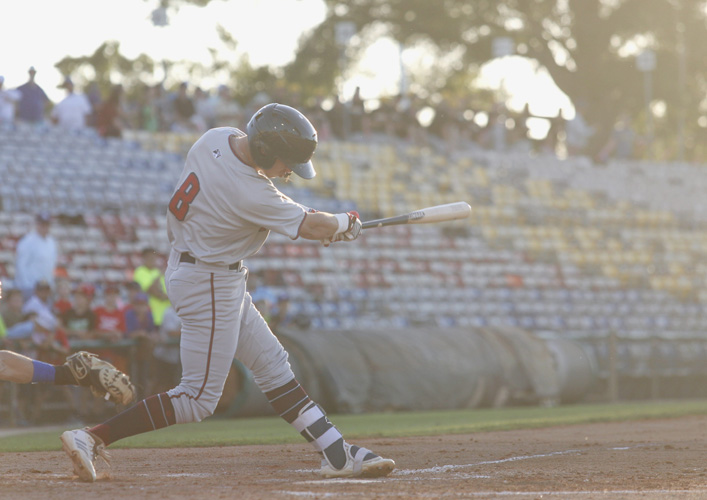 Photo: Kaila Jones        The United Way hit a home run last Monday evening with the sixth annual Jackie Robinson Celebration Game at the newly renamed Jackie Robinson Training Complex, formerly Historic Dodgertown.
There wasn't an empty seat in the stands as more than 4,500 baseball fans flooded Holman Stadium to honor the life and legacy of the great Jackie Robinson while benefiting the United Way of Indian River County.
The UWIRC has received more than $125,000 in proceeds from Jackie Robinson Celebration Games since the first one in 2014; contributions added to each year's annual campaign. This year's campaign, which runs through June, is just shy of its $3 million goal. The local United Way lists 45 funded programs and 35 partner agencies, all rallied around the mission to improve lives by mobilizing the caring power of the community with the mantra, "United we win."
"Today is about bringing the community together," said Michael Kint, UWIRC CEO. "For many who attend this family-friendly event, it brings back memories of sitting on the berm, watching the game. For others, it's about their love of baseball and this community."
Jackie Robinson stepped up to the plate as the first African-American to play in major league baseball, using his bat and glove to fight against segregation. Robinson hit a home run at Dodgertown on March 31, 1948, the first fully-integrated spring training site in the south.
"It is a historic day. Seventy-two years ago Jack Roosevelt Robinson crossed the color line with the Brooklyn Dodgers. But his legacy lives further on than just baseball. When he retired he went into activism and continued to break lines and push for equal rights," said Robinson scholar Carolyn Alvarez.
"Jackie wanted to make sure that everyone felt included at all times and so we work to further his message and to bring about a new future where we don't have to break any more color lines, where we are color-blind."
This year Robinson and the City of Vero Beach both celebrated 100-year birthdays. In honor of their shared birthdays, City Council Vice Mayor Tony Young read a proclamation declaring April 15 as Jackie Robinson Day. Robinson had spent nine spring training camps at Dodgertown and Young noted that the Dodgers advanced to the World Series five times during those years.
Lisa and Doug Ross with their son Lennon traveled from North Carolina to attend the game, having recently visited all 30 major league baseball parks. The inspiration for the family quest came after taking their son to a game, which brought back a flood of childhood memories they hoped to recreate. It took them two years but was well worth all of the hours on the road, shared Lisa Ross.
With major league parks in their rearview mirror, the family decided to tackle minor league parks, and after hearing about the Jackie Robinson Celebration Game, knew they had to come.
"We love the game, and this one in particular exposes our son to an important part of our history. We've come a long way, but we have a long way to go. Anyone that's here tonight understands that and is supporting that," she said.
As to the game itself, the Fort Myers Miracle bested the St. Lucie Mets, 15 to 7.
The United Way will host the 33rd annual Citrus Golf Tournament on June 8 at The Moorings at Hawk's Nest. To register, call Caitlin Puppo at 772-567-8900. For information, visit unitedwayirc.org.
Photos by: Denise Ritchie and Kaila Jones
Click HERE to see more or buy photos