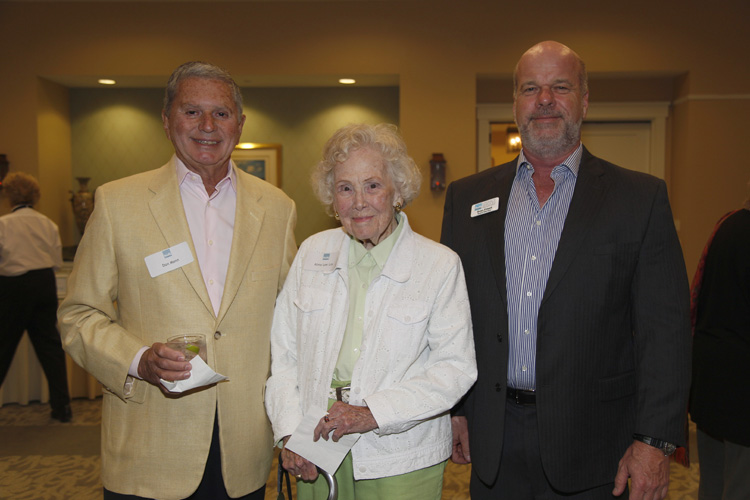 Photo: Kaila Jones          Literacy Services of Indian River County thanked its generous Friends of Literacy donors at a recent reception at Northern Trust Bank, sponsored by longtime supporters Don and Sandy Mann.
"We are so grateful and honored to have you here and for the support you give to our students throughout the year," said Sven Frisell, board president. "Your investment in their literacy journey has a tremendous impact on their lives, their families and the community."
"All the work that we do is to try not just to make people learn to read, but to learn to think and to get jobs," said Don Mann. He noted that the county as a whole is less productive when one in five adults are literacy challenged and unable to find meaningful employment. "We are very effective. We turn people's lives around and go a fair way to stopping generational literacy."
"Each of you here is a Friend of Literacy," said Jessica Schmitt, executive director. "You see our mission, the work of our tutors and the success of our students. Each of you is vital to our mission. With your support, last year we served 295 students with quality literacy and language tutoring."
She noted that the nonprofit receives no government assistance; instead more than 75 percent of their funding is derived through individual donations. Those donations enabled students to improve their literacy skills and job situations, and become more engaged in their children's education. Thirteen of their English as a Second Language students have become U.S. citizens.
Venezuelan-born Elda Maritza Ugarte spoke eloquently and passionately about her efforts to learn English with Literacy Services tutors, saying that thanks to their tutelage, she has gained more confidence. An industrial engineer in her country, Ugarte currently works in Sam's Club as a greeter.
"Due to the terrible situation in my country, two and one-half years ago I decided to move to this wonderful country and I found great opportunities to grow and adapt to my new way of life," said Ugarte, noting that in addition to learning a new language, she also had to study this country's culture and customs.
"I am sure that I am going to be successful, because in my heart I have the conviction to achieve my goal with courage and persistence. I would like to give my thanks to Literacy Services for being my fierce support to overcome my fears and limitations," added Ugarte. "This program gave me the opportunity to get the answers to many questions, gave me the opportunity to correct my mistakes, learn idiomatic expressions, learn different ways to express my ideas and understand the conversation context."
"Our dream is that every person who comes to Literacy Services for help finds the resources they need to feel empowered to turn the page, to write a new chapter of success and to achieve their dreams. Together we can end generational illiteracy and build a community of readers," said Schmitt.
Photos by: Kaila Jones
Click HERE to see more or buy photos