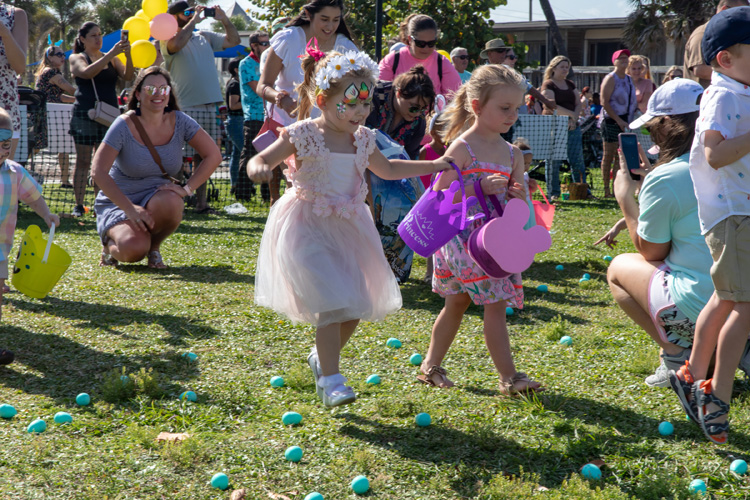 Photo: Denise Ritchie             Things were really 'hoppening' at Humiston Park last Thursday afternoon, where hundreds of children and their families gathered for the third annual Vero Beach Easter Parade and assorted festive activities hosted by Dale Sorensen Real Estate.
Once given the OK, youngsters excitedly dashed about, eagerly gathering as many of the 25,000 Sorensen-blue eggs scattered about the park as they possibly could, stuffing them into bags, pockets and baskets. They also posed with the Easter Bunny, spruced up their look with fairy hair and face painting, and participated in various craft-making activities.
Later, colorfully dressed men, women, children and dogs strutted their stuff amid a cacophony of bubbles and music, showing off a spectacular array of bonnets and ball caps decorated with bunnies, daffodils, eggs, butterflies and feathers; some even settling the question of whether real men do wear tulle.
The afternoon's festivities ended with a golf cart parade led by the Vero Beach Police Department Color Guard. It was a procession of about 40 golf carts, festooned with flowers, eggs, ducks, palms, flamingos and bunnies. Themes included rabbits enjoying a day at the beach, bees buzzing around a giant hive, grass skirts swaying in the breeze, a bicycle built for six and, on the DSRE golf cart, even a house for the Easter Bunny.
"The children have such a wonderful time. We're so happy the community supports this event so wholeheartedly," said Matilde Sorensen, event founder.
"The Vero Beach Easter Parade is all about the community and a celebration of Easter and spring. It could not be the success it is without the support of all the sponsors and our dedicated and hard-working volunteers," added Dale Sorensen, noting that all the volunteers were associated with DSRE. "They are committed to making sure the community has a wonderful time."
Proceeds from the event benefit the Boys & Girls Clubs of Indian River County, in support of the various programs that help enable club members to realize their full potential as productive, responsible and caring citizens.
"This is a wonderful event and we really appreciate Dale Sorensen Real Estate's support," said Elizabeth Thomason, B&GC executive director. "We've got two carts in the parade and the kids are going to be out there tossing out candy. It's a great way to kick off this weekend."
Photos by: Denise Ritchie
Click HERE to see more or buy photos