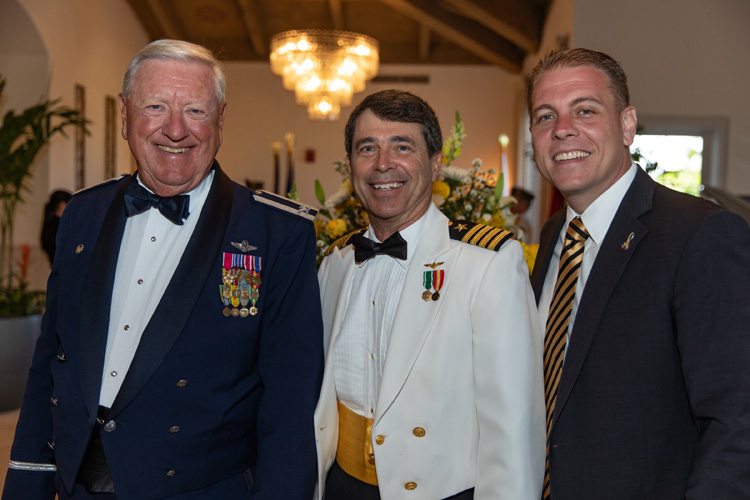 Photo: Denise Ritchie          Guests snapped to attention at the Grand Harbor Clubhouse for an inaugural Stars & Stripes Spectacular Gala hosted by the Veterans Council of Indian River County to benefit the Veterans Helping Veterans program.
The Veterans Council supports local veterans and their families through collective community efforts such as Veterans Helping Veterans, a program developed to provide safety, accessibility and home improvements for veterans needing assistance.
Members of the Next Generation Veterans and others of their ilk have been lending a hand when one of their comrades needs help, providing the blood, sweat and tears to make home repairs, but the need is far greater than they initially realized.
Gala organizer Leydiana Collins said that funding from the $100,000 Impact 100 grant which the Veterans Council received last year has nearly all been disbursed. The grant enabled them to hire and pay home improvement contractors to repair, upgrade and increase handicap accessibility for impoverished veterans.
"We had a World War II veteran living without air conditioning, a Vietnam veteran with lung cancer that had mold issues in his bathroom, and others needing handicap ramps and roof repairs. There is enough need out there that this fund needs to be sustained," said Collins.
Grand Harbor staff went above and beyond the call of duty to make sure the evening was a Star-Spangled success, lighting the room with red, white and blue. Sponsored tables bore flags representing the Army, Navy, Air Force, Marine Corps and the Coast Guard.
Guests enjoyed cocktails and hors d'oeuvres while perusing silent-auction items, before dining on a buffet dinner. Throughout the night, some of the comrades-in-arms gave each other a bit of good-natured ribbing about just which branch of the service is the best.
As the Sebastian Area Honor Guard presented the colors and Telly Antona sang the National Anthem, it was apparent that their collective experience serving the United States of America was a bond that remains unbroken. Col. Martin Zickert, U.S. Air Force Ret. also raised a glass to toast the fallen, prisoners of war and those still missing in action.
To a standing ovation, 101-year-old World War II veteran Capt. Henry Trumbower was recognized and thanked for his service as a member of the "greatest generation."
The evening's keynote speaker was Vietnam veteran Sylvester McIntosh, Sgt., USMC, an Indian River County native who passed up a scholarship to Florida A&M University to join the Marine Corps.
As a member of the 1st Battalion 9th Marines, McIntosh was part of a group that saw the longest sustained combat and suffered the highest killed-in-action rate in the history of the Vietnam Era Marine Corps. While his platoon was oft referred to as the "walking dead," McIntosh said that with a lot of help from God he made it back home, where he went on to become a minister and a beloved member of the Gifford Community.
It took more than 50 years, but local veterans stepped in after learning that despite McIntosh's heroic efforts – throwing himself on hand grenades on three different occasions and dragging three soldiers to safety after having been shot in the chest himself – he had never been recognized for his actions.
In 2016, McIntosh finally received the Silver Star Military Award for Conspicuous Gallantry and Intrepidity in Action Against the Enemy. He is currently awaiting notification regarding the awarding of the Medal of Honor or Navy Cross.
For more information, visit veteranscouncilirc.club.
Photos by: Denise Ritchie
Click HERE to see more or buy photos