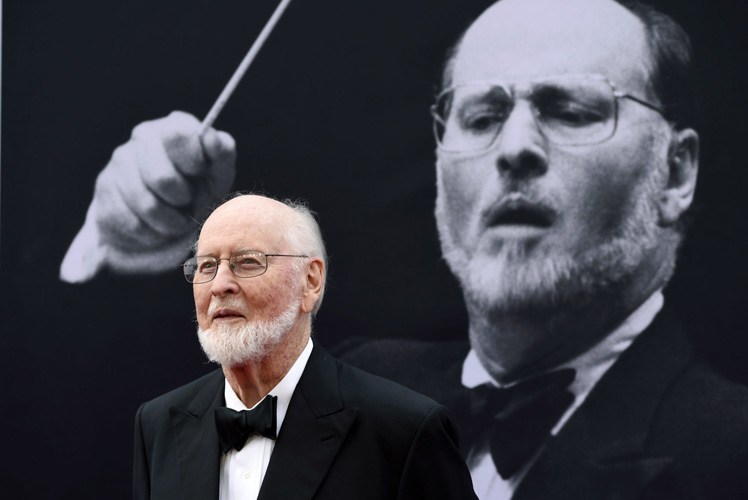 Next Sunday. Try to imagine a movie without music: From the depths of the ocean to a galaxy far, far away, a score can transform a film's words and visuals to create a completely absorbing emotional experience. (Who can forget those two ominous notes that defined terror lurking beneath the waves?) When it comes to creating breathtaking, unforgettable movie scores, the incomparable John Williams stands alone at the summit. This Sunday, April 28, at the VBHS Performing Arts Center, the Space Coast Symphony Orchestra continues its exciting 10th anniversary season with a smashing multi-media concert celebrating Williams, one of the most lauded composers of all time, a brilliant talent who has composed some of the most popular and recognizable film scores in cinematic history. More likely than not, your favorite score was written by Williams, sometime during his more than six-decade-long career. As the concert promo puts it, Williams' music "has transported us beyond our imagination – to new worlds – through heart-pounding adventures." For this not-to-be-missed concert, Maestro Aaron T. Collins will conduct 18 pieces – selections from "Superman," "Jurassic Park," "E.T.," several from the "Star Wars" series and more. The orchestra's principal clarinetist, Jennifer Royals, will solo for "Victor's Theme" from "The Terminal," and Concertmaster Carey Moorman will perform the violin solos in the "Schindler's List" selection. On-screen movie clips will also be a part of the concert. Gleaned from Wikipedia, here are but a few reasons Williams is a true musical icon: numerous unforgettable scores, all but four of Steven Spielberg's feature films during their 40-plus-year partnership, the 1984 Summer Olympics and NBC Sunday Night Football. Plus he was the Boston Pops' conductor for 13 years, has won 24 Grammys, seven British Academy Film Awards, five Oscars and four Golden Globes, a coveted Kennedy Center Honor, and a ton of other accolades. "I grew up with the music of John Williams front and center in my life," Collins shares. "His ability to convey action, excitement, drama and every conceivable human (or alien) emotion through his film music made me realize that orchestral music was for me." Tickets are going fast. Time: 3 p.m. Tickets: $25 in advance, $30 at the door, under 18 or with student ID, free. 855-252-7276 or www.SpaceCoastSymphony.org.
Animal lovers and/or art lovers – make a note: Through the ages – from the walls of prehistoric caves to the halls of Versailles, ancient Egypt to Wall Street – animals have always been a favorite subject of art in its various forms. Opening this Tuesday, April 30, at Gallery 14, and running through May, dogs and cats will again be the inspiration for art. The works on display will not only be "of" dogs and cats, but also "for" dogs and cats, says the show promo. "Artful Animals II" (a repeat of the successful 2017 event) will benefit a pair of nonprofit animal support organizations, Indian River Community Cats, and Dogs and Cats Forever. You'll discover all sorts of creative pieces in oil, acrylic, watercolor, mixed media, collage, sculpture, ceramic, jewelry and photography by the gallery's 14 artist-owners, its represented artists, and well-known animal artists Georgina Love, Gail Damon and Keri Keene. And the animal theme isn't limited to only dogs and cats, but includes other species – domestic and wild. Drop by the gallery reception Friday, May 3, during the Historic Downtown Vero Beach First Friday Gallery Stroll. Stroll time: 5 p.m. to 8 p.m. 772-643-6782.
Keep those laughs coming: We could all use a little more levity, right? The place to find laughs and more (more being live music, food, bevs and a great venue) is Riverside Theatre, most weekends throughout the year. This coming Friday and Saturday, May 3 and 4, it's the Comedy Zone: a pair of stand-up comics whose mission in life is to put a smile on your face, and humor that best suits 18 and up. Bringing the funny this weekend will be Sid Davis and Gali Kroup. Davis came to stand-up late, being otherwise occupied with raising a family. When he did enter the comedy biz, he wasted no time getting noticed and boosted by the likes of Joan Rivers, who nabbed him for her opening act after watching his video for about 20 seconds. Kroup was born in Israel and had the "stage bug" right off the bat, along with a "highly developed sense of humor and a zany wit," according to the Riverside promo. Before and during the comedy shows inside, you can hang out under Riverside's famous oaks for Live in the Loop, the free live music venue, with a full bar and grill to go with. This Friday, the Bobby Owen Band will keep the tempo up with classic rock. Keeping the rock classic on Saturday, the Oddessey Band covers the Allman Brothers, CSN, Jimi Hendrix, Grateful Dead and the like. Times: Comedy Zone: 7:30 p.m. and 9:30 p.m., Live in the Loop, 6 p.m. to 9:30 p.m. Tickets: Comedy Zone: side seats, $12; table seating, $14-$18. private special occasion VIP booth, $36/person. Live in the Loop entertainment: free. 772-231-6990.