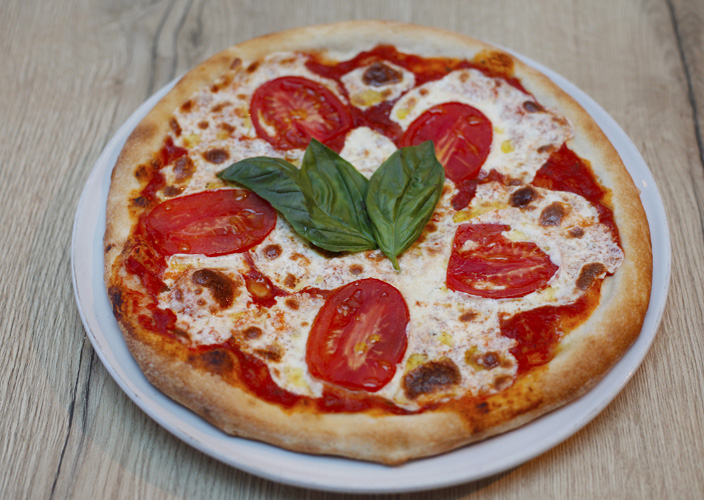 Photo by Kaila Jones
Not many island restaurants that were here a quarter century ago are still in existence, let alone still packing 'em in.
But Nino's Café, a beachside pizza joint that also offers a variety of authentic red-sauce Italian-American dishes, appears to be going even stronger today than when we first visited in the '90s.
Just as its longtime neighbor on the south side of Humiston Park, Corey's Pharmacy, seems to get better with each passing decade, Nino's recently was freshened and now appears brighter and more inviting than ever.
For years when heading to Nino's, we generally ordered pizzas, which we've long considered the best thin-crust pizza on the island. The basic Maria's pizza – fresh tomato, basil, spinach and garlic – was always our favorite.
But on this visit, we thought we would try some of their other classic dishes.
To start, we ordered the fried calamari appetizer ($10.95). While the calamari rings could have been a bit crispier, they were tender and tasty, and served with a light tomato sauce.
Then instead of the house salad that comes with entrées, we decided to share a relatively new item on the menu, the burrata salad ($12.95). The creamy burrata was surrounded by slices of some of the best vine-ripened tomatoes I have had recently. Wonderful.
Our server also brought us a basket of the warm, buttery garlic sticks that are included with dinner orders. The garlic sticks are to-die-for.
For entrées, I chose the cannelloni ($16.95) and my husband ordered the eggplant parmigiana ($14.95).
My cannelloni consisted of excellent homemade crepes filled with a well-seasoned mix of ground veal, sausage and spinach, set atop a light tomato sauce and covered with a creamy bechamel parmesan sauce.
My husband's eggplant parm – layers of thinly sliced eggplant and parmesan cheese, topped with a light tomato sauce and mozzarella – was served with a side of al dente penne. Both entrées were very good.
For dessert, we finished with a slice of tiramisu.
Dinner for two, with a half-carafe of the house wine, is likely to run $50 to $70 depending on whether you have appetizers and desserts.
But the big news here after all these years is you are no longer in trouble at Nino's if all you have in your pocket is a credit card.
After a quarter of a century of insisting on payment in cash – even installing an ATM in the front room so customers could make a withdrawal on the spot – Nino's is now willing, albeit a bit grudgingly, to accept credit cards.
For a very casual dinner on the beach, it may be tough sometimes to get into Nino's – but for simple Italian fare, it's also hard to beat.
I welcome your comments, and encourage you to send feedback to me at tina@verobeach32963.com.
The reviewer dines anonymously at restaurants at the expense of Vero Beach 32963.

Nino's on the Beachside
Hours: 11 a.m. to 9 p.m., Open to 10 p.m. Fri. and Sat.
Beverages: Beer & Wine
Address: 1006 Easter Lily Lane
Phone:

772-231-9311