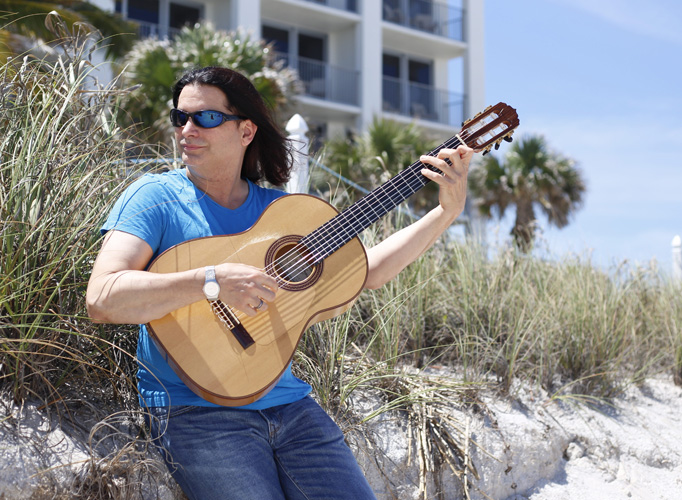 Photo by Kaila Jones
Greg Reiter has spent most of his life practicing and perfecting the lively, rhythmic, percussive sounds of the flamenco guitar. And, while his appearance and musical style is that of a true Spanish-born tocaore, Reiter was actually born in Philadelphia.
Reiter's flamenco-fusion style captures the essence of flamenco, merging the passion, fury and romance of the acoustic guitar with the primal beats and rhythms of Africa, Asia and beyond. Like a gypsy exploring various cultures, he attempts through his music to take the listener on a journey without borders.
Although strongly influenced by some of the masters of flamenco, such as Paco de Lucia and Vicente Amigo, he says he doesn't not follow the genre in its purest state. Instead, he infuses the classical sounds of Renaissance and Baroque music with a pop structure, creating his own unique style of composition.
His craft has taken him all around the world and has also garnered him some measure of national acclaim. In 2009 his album "Sedona Sun" won both the Phoenix and L.A. Music Awards in the instrumental music category. That same year another album, "The Gathering," a melodic collaboration with a Native American flute player, was nominated for a NAMMY (Native American Music Award). The "Flamingo Fusion Guitar" album he released in 2010 has garnered more than 300,000 plays on YouTube alone, and his work is readily available on Spotify and Pandora.
"I started playing the guitar when I was about 5 years old," says Reiter, explaining that he took private lessons throughout most of his childhood before attending Berklee College of Music in Boston.
While there, began to create his own unique blend of flamenco fusion and at the same time immersed himself into orchestrating sound tracks and composing for television.
"I learned the production end of the music industry which I was able to use throughout the rest of my career," says Reiter. "In the mid-'80s I played in a rock band which later evolved into the multi-platinum selling band, Cinderella."
When the lure of traveling the world beckoned to him in the mid-1990s, he spent most of the next decade performing on cruise ships.
"It was an incredible experience," Reiter recalls. "I played to audiences of thousands every night of the week and was a ship celebrity of a sort. I actually had a hard time with that notoriety, as I am really quite reserved and shy. I remember I would have to sit at different guest tables in the dining room and converse with the passengers. I think that was the hardest part of the job. I worked on many different cruise lines including Oceana, Regent Seven (Seas), Silver Seas, Holland America and Princess. It was a wonderful part of my career, but it was very difficult on my family life, and I ended up divorcing my wife."
Once back on dry land, Reiter continued performing, but in night clubs in Miami and Fort Lauderdale. After meeting wife Veronica, they visited Vero Beach to escape the madness of South Florida.
"We fell in love with Vero's beauty and serenity and knew that we wanted to move here," says Reiter. "Finally, in 2016, I had the opportunity to take a job as a video producer for an internet TV station broadcast out of Vero Beach and we made the move. My wife loved telling her friends that she was moving to a town that was named after her, insisting that the Vero was short for Veronica. We bought some property and we're looking forward to building a house and living here full time."
While his day job limits his performance time, Reiter occasionally plays at Grind + Grape and Vinz, as well as at weddings and special events when he can work them into his busy schedule.
"Most weekends I still have gigs down in Fort Lauderdale, so I've actually had very limited exposure in this area," explained Reiter. "I am thrilled to be performing locally in May at the annual (Cultural Council of IRC) Laurel Awards."
Reiter says he looks forward to eventually being able to focus solely on his music and composing sound tracks for movies and television.
"That is a dream I'm working toward and I hope to be able to do that out of my home in Vero Beach."
In the meantime, Reiter says he has been playing at a local oncology practice for patients undergoing chemotherapy.
"There are studies that show music has healing qualities and I am humbled to be part of this pilot program in Vero Beach. It has been my pleasure to play for 10 to 20 patients receiving chemotherapy simultaneously,' says Reiter with a broad smile.
"I play for three to four hours and I would say that at least half of the patients are engaged. Some just sit back, close their eyes and listen quietly; others tap their toes to the beat. Many have tears in their eyes as the music allows their mind to drift away from the task at hand. It is truly the most rewarding experience I've had as an entertainer. I would literally do it every day if I had the opportunity."
He says that while his music has taken him around the world, he is very happy to have made Vero Beach his home.
"You locals may take it for granted, but Vero Beach is truly paradise and there is nowhere else I'd rather call home."